The calendar has flipped to June and the Razzball Commenter Leagues are in full swing.  This is also the time of year where I like to take a look at which RCL teams are killing us in win-rate and which teams have just had some crap luck in the win column.  Now, Rudy will tell you that Wins are actually predictable as shown by his Ombotsman.  While the data and the bots may tell you this, as a human, it still seems like they are luck-based, do they not?  Today we're going to take a look at "win luck".  There's no doubt it takes some luck to win a fantasy baseball league.  Injury luck is probably the biggest factor in winning a league.  As good a manager as we think we are, if your number one pick goes down for the year, you're going to be at a disadvantage.  That's just common sense. "Win luck" is another area that is seemingly out of our control.  Let's face it, wins are brutal.  I'm a big proponent of the mantra, "Make your own luck" and I certainly think that can be applied to "win luck".  "Win luck" is a term often tossed around to describe a team that is raking in the wins and/or a team that can't seem to buy a win.  Can you make your own luck in regards to wins?  Of course, you can.  You can stream those valuable middle relievers, especially the ones that frequently work multiple innings in the middle of games (Yusmeiro Petit perhaps).  When a lead change occurs, these relievers are typically the benefactors.  It's no guarantee of course, but it can't hurt your luck any.  There are other ways to increase your win luck too.  Let's take a look at another big one as well as who is getting lucky and who got lucky this week in the week that was, week 9:
Another nice way to increase your win luck is to borrow a tip from the DFS side of the fantasy baseball landscape and utilize the Vegas odds.  I know not everyone dabbles in DFS waters, but Vegas is a good companion there and in your season-long leagues.  Here's how to use it.  First, find yourself a website that lists all the Vegas consensus odds for the day.  There are several out there, but I typically run with THIS ONE.  Go ahead and bookmark that for future reference.  If you aren't familiar with Vegas terminology, you want to look at the "Money Line" which is the number greater than 100 with either a "+" or a "-" in front of it.  This shows you how much you would have to bet on a team to win $100 (in the case of the negative amount) or how much you would win if you bet $100 on a team (in the case of the positive amount).  The negative value indicates the favorite.  So, if a team is a -140 favorite, you would need to bet $140 on them to win $100.  If a team is +140, if you bet $100 on them, you would win $140.  You can start to see where this might come in handy.  Anything over about -140 is pretty good.  Take a look at those odds, check to make sure the over/under (run total) for the game isn't too huge, use some common sense, or at least some risk/reward management, and stream away.  If you're a really savvy roto player, you've purchased access to the Streamonator where you can filter by day and sort by wins.  There you would see that Matthew Boyd is the player with the best shot at a win today that is available 65% of RCLs.  Chasing wins may seem to some like a fool's errand, but you can take a couple of steps to make your own luck.
Here are the best ("luckiest") and worst ("unluckiest") teams in the RCL universe in terms of win % (Wins/IP * 100):
LUCKY:
| # | Team | League | W | IP | Moves | WIN % |
| --- | --- | --- | --- | --- | --- | --- |
| 4 | Disgustipated | RCL 2021 (#27) | 46 | 487 | 69 | 9.45 |
| 11 | Team bnrgoalie | RCL 2021 (#1) | 48 | 518 | 140 | 9.27 |
| 112 | Vegans | ECFBL | 37 | 401 | 140 | 9.23 |
| 41 | VottomanEmpire | RCL 2021 (#26) | 45 | 494 | 117 | 9.11 |
| 147 | BallBusters | RCL 2021 (#11) | 44 | 484 | 58 | 9.09 |
| 270 | Lockdown Heroes | RCL 2021 (#6) | 41 | 463 | 59 | 8.86 |
| 286 | Team Winners_DO | RCL 2021 (#10) | 49 | 557 | 0 | 8.80 |
| 18 | Stl Squat Cobblers | ECFBL | 45 | 520 | 177 | 8.65 |
| 513 | Winnemucca Hobos | RCL 2021 (#31) | 31 | 359 | 0 | 8.64 |
UNLUCKY:
| # | Team | League | W | IP | Moves | WIN % |
| --- | --- | --- | --- | --- | --- | --- |
| 545 | Nyshogun | RCL 2021 (#8) | 22 | 536 | 34 | 4.10 |
| 516 | Dylan Vaughan SCORE-ISH | Writers League | 21 | 504 | 8 | 4.17 |
| 318 | Savoy Special | RCL 2021 (#5) | 22 | 526 | 58 | 4.18 |
| 325 | Rocky | RCL 2021 (#33) | 21 | 476 | 46 | 4.41 |
| 307 | Team tkdc | RCL 2021 (#6) | 19 | 419 | 6 | 4.53 |
| 550 | Team bostonyuppie | RCL 2021 (#1) | 19 | 413 | 0 | 4.60 |
| 523 | Puk this team | RCL 2021 (#6) | 23 | 498 | 36 | 4.62 |
| 483 | Team sipo | RCL 2021 (#27) | 25 | 531 | 62 | 4.71 |
| 280 | Team StlPerfectos | RCL 2021 (#29) | 27 | 571 | 35 | 4.73 |
Disgustipated from RCL #27 are leading the charge in win luck with 46 Wins in 487 IP, good for an 9.45 win%.  Team bnrgoalie is right behind them with 48 Wins in 518 IP, a 9.27 win%.  Both these teams are in the top 20 overall, with Team bnrgoalie sitting in 11th overall.  STL Squat Cobblers also makes this list in 18th overall and is one of two ECFBLers to make the list.  Nice work so far! 
On the unlucky side, Nyshogun has the fewest wins per innings pitched of any team in the RCLs.  22 Wins in 536 IP is very unlucky.  That's a 4.1 win%.  536 IP isn't even behind the pace needed to hit 1400 IP, which limits the time needed for that luck to even out.  That's just a bad break.
Each week we'll peek in at our resident 'perts to see who is laying claim to best "expert" RCLer in the land.  We'll take notes, check the standings and generally stalk them.  The heading is also hyperlink, so feel free to follow along as we go.
Nothing changes at the top of the 'Perts League standings as Son just continues his dominance.  Coolwhip, the only one to give Son any pressure lost three points this week while Son gained 0.5 and continues to laugh at our feeble attempts to catch him.
The big movings and shakings this week were Cram It showing up to the season.  Cram paired a solid offensive week with a wins, saves and ERA-leading week of pitching to gain a league-best 11 points and get out of last place.  Little victories Cram, little victories.  
Itch lost the most points this week, 5.5 and fell two places to seventh.  Ralph also fell two spots this week to land in last.  Ralph Lifshitz really is dead it seems.
Each week we'll also take a look at the top ten overall standings in our other Razzball sponsored league, the RazzSlam.  This is our NFBC Best Ball league with managers from all across the industry, from content providers to fans and readers just like you.
Much like the 'Perts League, the top two spots in the RazzSlam remain unchanged for another week with Nicholas Mariano and Yatta holding things down.  Brian Seymour managed to get back into third place this week by leap-frogging Sammy Reid and Joseph Asher.
Donkey Teeth continues to rep Team Razzball in the top ten, keeping sixth place on lockdown.  Ryan Owen also held onto seventh place this week.
Rounding us out, Coolwhip, Zachary Meyer, and Yancy Eaton jumped back into the top ten this week, hitting eighth, ninth, and tenth place respectively.  Coolwhip adds a second member of Team Razzball to the top ten and JKJ is knocking on the door, currently in a tie for 11th.  It was a good week overall for Team Razzball as our very own, Grey Albright was the biggest points-gainer this week with 157 points!
TOP 10
For those too lazy to check the MASTER STANDINGS, I present to you, the current top 10
Similar to the RazzSlam, the top three spots in the RCL overall standings remain unchanged this week as Son, Laura and Team mpaltrow continue their hold on the podium.
Disgustipated and Coolwhip swapped spots this week in fourth and fifth and Vottoman Empire moved up three spots to sixth.
Team cubbiebluez is the first of a pair of new faces in the top ten this week, jumping up from 21st last week.  You'll see their name again later on in this update.
Orlando Calrissians falls one spot to eighth and FlowersbangsAl waysRoyalmom… debuts in the top ten, up from 26th last week.  They also appear later on in this update.  Are you sending a trend?
Finally, your's truly rounds out the top ten.
TRADES
All the trades that have gone down in the past week.  Public ridicule is not only allowed, but encouraged.
I thought it was interesting, especially in a week where I made a move for him, that Jacob deGrom got traded three times this week.  I guess, if you're going to trade him, now is the time because that ERA has nowhere to go but up, right?  I was struggling for ratios in the league where I traded for him and have managed top threes in runs, HRs, RBIs, and average with Juan Soto not doing much of anything, so why not?  Which deal for deGrom do you think is the best and worst of the bunch?  Personally, I like moving Sonny Gray and an injured Mondesi for him, that's a bargain and a half!
WEEKLY LEADERS
The best of the best from the week that was.
R – 66 – FlowersbangsAl waysRoyalmom… (RCL 2021 (#36))
HR –23 – Vin Garr (RCL 2021 (#1))
RBIs – 67 – Vegans (ECFBL)
SB – 14 – J&G (RCL 2021 (#25))
AVG – .350 – Team cubbiebluez (RCL 2021 (#8))
K – 105 – Accordion (RCL 2021 (#22))
W – 10 – Game Over (RCL 2021 (#19))
SV –  9 – 4 Teams Tied
ERA (Min. 40 IP) – 0.98 – Dunphys Joint Venture (RCL 2021 (#23)) (in 46 IP)
WHIP (Min. 40 IP) – 0.784 – UnShoed (RCL 2021 (#13)) (in 44.2 IP)
It was a good week for FlowersbangsAl waysRoyalmom…, they set a new runs record and that was enough to push them into the top ten overall for the first time this year.
You'll see Team cubbiebluez here as well.  Making this weekly list certainly can't hurt in your efforts to make the top ten.
TEAM OF THE WEEK
Our weekly shout-out to the team that killed it the previous week.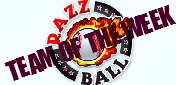 Team: Nothing Going
League: RCL 2021 (#21)
Stats:   AVG: .273, R: 58, HR: 21, RBI: 59, SB: 3
IP: 82, ERA: 3.18, WHIP: 1.195, K: 82, W: 7, SV: 8
Summary: Nothing Going has it all going this week.  The team was right in the thick of things in every offensive category in the weekly leaderboard and was just one off the big tie for the saves lead.  Nothing GOing was led by offensive superstars, Cedric Mullins, Patrick Wisdom, and Eric Haase this week…just like we drew it up.  On the pitching side, Jacob deGrom was a one-man category winner.  Streaming starts from Elieser Hernandez and Kyle Gibson helped too.  Nothing Going even overcame streaming the David Peterson batting practice session on Wednesday.  All that was good for 4.5 league points and a jump from fourth to third, with second now just one point away.  Nice work!
Want to be Matt's Twitter pal?  That's kinda creepy, but you can follow him here: @MattTruss