Happy 4th of July week Razzball Commenter Leaguers!  This week not only marks the birthday of our fine U.S. of A., but more importantly, marks the halfway point of the fantasy baseball season!  We just finished ~13 weeks and there are ~13 weeks remaining. While we typically use the All Star Break to mark the halfway point, this week is the real deal.  If you were exactly on pace with your innings pitched, you would have 700 on the button. You can use that as a nice gauge to see if you need to be streaming your buns off the next 13 weeks or if you can chill out a bit and wait for the choice match-ups.  This week, in addition to the weekly leaders we will take a look at our halfway point leaders. It will be a quick shoutout to those teams that have started hot in each of the roto categories. Obviously, our team of the halfway point is the leader of our Master Standings.  Who might that be you ask? It might not be who you think. Let's take a look at that and the rest of the week that was week 13 in the Razzball Commenter Leagues:
Each week we'll peek in at our resident 'perts to see who is laying claim to best "expert" RCLer in the land.  We'll take notes, check the standings and generally stalk them.  The heading is also hyperlink, so feel free to follow along as we go.

I barely hung onto first place for a second week, but this week, I'm sharing it with B_Don.  Technically, I'm still in first since FanTrax calculates in the tiebreakers when it makes up the standings page.  Isn't that handy!? That's something ESPN couldn't handle. The first tiebreaker we look to, in case you are wondering, is "Ahead in more scoring categories".  Still, it was a great week for B_Don who soars up the standings, gaining 13.5 points and moving from seventh to second. That's an impressive jump. B_Don led the league in Runs (60), average (.361), Wins (6), and strikeouts (82) this week.
The league is silly close, with only eleven points separating first and seventh right now.  This really is anyone's game at this point. Expect a lot of lead changes over the coming weeks.
On the not so good side of things we had Pert-Wan dropping seven points this week and Ralph losing ground in the standings, falling three spots to fifth.
TOP 10
For those too lazy to check the MASTER STANDINGS, I present to you, the current top 10
New leader alert!  I barely squeaked by the Fat Fuckin Babies this week by a mere 0.2 points to claim first place overall.  We'll see if it can hold up. Also, here seems like as good a place as any, but a manager in RCL #57 has deleted themselves from one of the teams.  The team was in second at the time, now sits in fifth and needs a replacement owner. This isn't like the manager stopped setting a lineup and is a deadbeat, this is like, there is no owner of the team at all, just blank.  So, if you want a shot at the RCL #2 overall team, let me know in the comments and we can get you in there.
UpNorth and Licketty Splits remain in third and fourth, respectively and my ECFBL team moves into fifth place.
Team mcafeeeee falls one spot this week to sixth and J&G moves up three places to seventh.
The Cherry Stones debut in the top ten this week, checking in at eighth place while the Squat Cobblers 2 stay in ninth for another week.
Rounding things out, we have Team razzkai jumping into the top ten for the first time this week after reaching 13th last week.
TRADES
All the trades that have gone down in the past week.  Public ridicule is not only allowed, but encouraged.
As slow as trading was last week, you all made up for it this week with 14 trades busting out.  Our former RCL leader, FFB did some work this week swapping CJ Cron and Zac Gallen for Didi Gregorius and Jose Leclerc in separate deals.  Nothing major stands out this week, but I'd trade Jose Abreu for Bryce Harper everywhere I could. Nice!
WEEKLY LEADERS
The best of the best from the week that was.
R – 69 – Sauceman's Sluggers II (RCL 2019 (#37))
HR –26 – 4 Teams Tied
RBIs – 78 – Another Day in Paradise (RCL 2019 (#21))
SB – 14 – Team Stop Short (RCL 2019 (#20))
AVG – .372 – Team coachdalmore (RCL 2019 (#12))
K – 104 – Shrimp Shack Shooters (RCL 2019 (#66))
W – 10 – Team Dalmore (RCL 2019 (#31)) & Acuna Moncada (RCL 2019 (#46))
SV –  10 – 3 Teams Tied
ERA (Min. 40 IP) – 1.53 – iowa yanks 4 (RCL 2019 (#25)) (in 47 IP)
WHIP (Min. 40 IP) – 0.754 – Team rudygamble (RCL 2019 (#1)) (in 61 IP)
No records were broken this week, but we did tie the steals and wins mark.  We now have a four team tie for the stolen base lead and three team tie for the wins lead.  We need someone to break those, please and thank you. Look, there's Rudy leading the RCLs in WHIP this week!  We haven't talked much about Rudy's team this year. He's quietly leading RCL #1 and sits in 52nd overall. Nice work Rudy!
HALFWAY POINT LEADERS
The best of the best from the year that has been thus far.
R – 727 – Backdoor Sliders (Frequent Commenters League)
HR – 238 – Uno Mas Cerveza (RCL 2019 (#15))
RBIs – 690 – 1992 City Champs (RCL 2019 (#45))
SB – 112 – Team Stop Short (RCL 2019 (#20))
AVG – .292 – Man With The Golden Glove (RCL 2019 (#16))
K – 999 – @Roto_Chris (RCL 2019 (#19))
W – 77 – Rocket City Trash Pandas (RCL 2019 (#54))
SV –  103 – The Brown Horse (RCL 2019 (#60))
ERA (Min. 520 IP) – 2.83 – The Seven-Year Yelich (RCL 2019 (#17)) (in 696 IP)
WHIP (Min. 520 IP) – 1.017 – Bad as Can (RCL 2019 (#13)) (in 680 IP)
For some reference of how this season is going, we are up 72 Runs, 33 HRs and 0.36 ERA from last year's halfway leaders.  We are down 9 saves and only up 1 strikeout, which surprised me.  Congrats to our halfway leaders!
TEAM OF THE WEEK
Our weekly shout out to the team that killed it the previous week.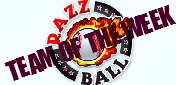 Team: FANTASY ICON
League: DFSers Anonymous
Stats:   AVG: .321, R: 62, HR: 19, RBI: 49, SB: 8
IP: 70.2, ERA: 2.67, WHIP: 1.118, K: 78, W: 7, SV: 3
Summary: Fantasy Icon put up a heck of a week in one of the toughest RCLs so far this year.  The result? They jumped from 107th to 41st in the overall standings and gained 6.5 league points, pushing them into second place, behind only the RCL overall leader.  Not a bad week I'd say! David Dahl's four homers and 14 RBIs led the offense while Madison Bumgarner and Gerrit Cole led the way on the pitching side. Nice work Fantasy Icon!
Want to be Matt's Twitter pal?  That's kinda creepy, but you can follow him here: @MattTruss