I hope everyone was able to enjoy a nice long weekend.  As I mentioned Saturday, I wasn't really in a flag-waving mood after recent events and the events of Monday in Highland Park did nothing to help matters.  My family was able to at least enjoy a cookout with my parents, grandparents, and my little sister's family followed by a hike and some time with friends.  I'm writing this late Monday and really not looking forward to heading back into work in the morning.  For this week, I thought I would look into the biggest move-makers in the RCLs.  I noticed FFB was creeping up on my top two teams and saw they had made over 150 more moves than my top team.  That's substantial.  FFB's 266 is not the most moves in the RCL universe, however:
That honor belongs to Rmuzz55 of RCL #12 with 311!  FFB actually ranks fourth.  Vin knows what's up and has three teams in the top ten and Scoboticus has two in the top ten, one of which is in the top ten in the Master Standings as well.  As for the leagues, well, COUGS R US (FFB's league) is running away with it:
| LEAGUE | MOVES |
| --- | --- |
| Cougs R Us | 1728 |
| Night of the Living Zombinos | 1365 |
| RCL 2022 (#17) | 1244 |
| RCL 2022 (#26) | 1134 |
| ECFBL | 1005 |
| RCL 2022 (#39) | 945 |
| RCL 2022 (#21) | 900 |
| Original Recipe | 858 |
| RCL 2022 (#43) | 842 |
| RCL 2022 (#8) | 799 |
Almost 400 more moves than NOTLZ.  ECFBL makes an appearance here and it won't surprise me if these are the top three LCI leagues at the end of the season.  This makes me nervous for my top teams as 'Perts and DFSers could be hurt in the LCI department late, especially if teams not making moves don't hit the IP limit.  Being ahead now is well and good, but it only matters if you're leading in week 26.  Here's the rest of the data from the week that was, week 12:
Each week we'll peek in at our resident 'perts to see who is laying claim to best "expert" RCLer in the land.  We'll take notes, check the standings and generally stalk them.  The heading is also hyperlink, so feel free to follow along as we go.
Coolwhip and Cram It swapped spots this week as Whip lost two places and Crammy gained two.  Likewise, Grey and Malamoney swapped spots with Malamoney rising and Grey falling.  I hung onto the top spot despite losing two points.  Cram It was the biggest points earner this week, gaining 8.5 with their big jump.  Coolwhip was the big loser, dropping 6.5 points as he went the other way.  Cram led the league in Runs, RBIs, and steals this week while co-leading in wins.  Laura had a phenomenal pitching week, throwing 74.2 IP and earning a 2.17 ERA and 0.964 WHIP while collecting 93 strikeouts.  My DFSers team is battling for the top RCL ERA with Laura and she took the lead by 0.01 with this performance.
Each week we'll also take a look at the top ten overall standings in our other Razzball sponsored league, the RazzSlam.  This is our NFBC Best Ball league with managers from all across the industry, from content providers to fans and readers just like you.
We've got about a week until the first playoff round starts, so this is the week you've got to get into the top three in your league.  Not that you have any control over that at this point outside of cheerleading your squad.  Mine just fell four points out of third this week, so I'm really rooting for Seiya Suzuki to have a bonkers return so I can make the playoffs.  The following won't have anything to worry about including Zach and Nate who continue to anchor Razzball spots in the top ten overall:
The Squat Cobblers and Tindor made big jumps this week with the Cobblers leading the RazzSlam in points this week with 702 and Tindor making the biggest jump, moving up 40 spots.
TOP 10
For those too lazy to check the MASTER STANDINGS, I present to you, the current top 10
My two teams held the line this week and FFB moved into third, followed by stechsjj as Donkeycorns slipped to fifth.
Scoboticus remains in sixth this week as my RCL #37 team had a good week and pushed from 13th to seventh.
Fred Garvin MP falls one spot to eighth as Son moves up one spot to ninth making from for AllRice to sneak into tenth overall, up from 31st last week, what a jump!
TRADES
All the trades that have gone down in the past week.  Public ridicule is not only allowed, but encouraged.
The most active league also made two trades this week as Athletically Unathletic and FFB just couldn't get it all done in one deal.  I really like the deal for FFB though, dealing Olivares and his inconsistent playing time and Verdugo and his 'meh' play for Nolan Gorman and DJ Lemaheiu.  My odds of catching FFB in Cougs just got slimmer.
WEEKLY LEADERS
The best of the best from the week that was.
R – 63 – Fat Fuckin' Babies (Cougs R Us)
HR –23 – Jersey Pine 2 (RCL 2022 (#35))
RBIs – 62 – Bartilotta (Writers League)
SB – 15 – The Highlanders (RCL 2022 (#6))
AVG – .350 – clate (RCL 2022 (#11))
K – 120 – Seiyantists (RCL 2022 (#10))
W – 9 – 6 Teams Tied
SV –  11 – Greetings from the Humungus (RCL 2022 (#9)) & Lucky Bucky (RCL 2022 (#30))
ERA (Min. 40 IP) – 1.13 – Finkelstein Ballers (RCL 2022 (#10)) (in 55.2 IP)
WHIP (Min. 40 IP) – 0.745 – Satchel Rages (Night of the Living Zombinos) (in 52.1 IP)
One week after setting a new strikeout record, we break it again with a 120 from Seiyantists
TEAM OF THE WEEK
Our weekly shout out to the team that killed it the previous week.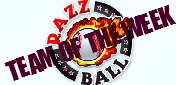 Team: Seiyantists
League: RCL 2022 (#10)
Stats:   AVG: .231, R: 52, HR: 20, RBI: 61, SB: 9
IP: 117, ERA: 3.23, WHIP: 1.299, K: 120, W: 9, SV: 5
Summary: Whenever I see a team with a ton of IP top the TOW charts I always get a little nervous and I have knocked teams for crap hitting when that's happened in the past.  This week though, Seiyantists really had some nice hitting numbers to go along with all those innings.  The average could be higher and the WHIP could be a little lower, but all in all, it's a pretty great week. Parades, Reynolds, and Stanton all had three dingers for Seiyanists and Brandon Woodruff came off the IL to dominate for 11 of those 117 innings.  The fine week moved Seiyanists up from 48th to 25th overall.
Want to be Matt's Twitter pal?  That's kinda creepy, but you can follow him here: @MattTruss