Last week wasn't really enough to call a week, at just four days, with a couple of those being partial days.  This week, we've got an actual week's worth of data to work with and it's starting to feel like the grind of the season is upon us here in the Razzball Commenter Leagues.  That means maximizing those empty roster spots at every opportunity, hoarding all the potential closers (and racing to the waiver wire when one gets injured or demoted), and streaming starters like it's your job.  Even still, you may be sitting near the bottom of the league standings.  It's OK, we can all take a deep breath and repeat the mantra, "It's still early".  Everyone wants to be leading their league after the first week, but only one team can.  I always dream of going wire to wire, but it's a long season, there is plenty of time to win these things.  Joey Gallo won't go homerless all year and Goldy won't hit .138.  Just in case, let's form a prayer decagon, shall we?  Let's take a look at which RCL teams are getting an early jump on their league standings thanks, in part, to streaming and batty-calling their butts off:
Each week we'll peek in at our resident 'perts to see who is laying claim to best "expert" RCLer in the land.  We'll take notes, check the standings and generally stalk them.  The heading is also hyperlink, so feel free to follow along as we go.
We're in wild-swing season and this week it's Son grabbing the top spot with a 39 point gain over last week's four-game deal.  Son led the league in Runs, Steals, and WHIP.  Steve Paulo took the biggest tumble, falling 31 points this week, and now sits in last place.
Each week we'll also take a look at the top ten overall standings in our other Razzball sponsored league, the RazzSlam.  This is our NFBC Best Ball league with managers from all across the industry, from content providers to fans and readers just like you.
Brett Johnson currently leads the pack of RazzSlammers after a week and a half.  No one from team Razzball has cracked the top ten yet, but there are a few lurking in the top 30.  Yahoo's Triple-D seems to be the biggest name on the board at the moment.  Don't forget to get your FAAB on, the first period runs tonight and Steve already gave you a primer yesterday.
TOP TEAMS
For those too lazy to check the MASTER STANDINGS, I present to you, the current top 10
Typically, this will be a quick view of the top of the Master Standings.  Since it takes a couple weeks to get those up and running, we'll just take a look at the teams who have crested Mt. 100 so far this season.
| TEAM | LEAGUE | PTS |
| --- | --- | --- |
| El Marco | RCL #18 | 107.5 |
| MattTruss223 | DFSers Anonymous | 107.5 |
| Jacko1 | RCL #31 | 105 |
| natemarcum | RCL #27 | 103 |
| DonkeyCorns | RCL #6 | 102 |
Five teams have hit the 100 point mark in the early going.  El Marco and I are leading the way, each capturing 107.5 roto points.  Not a shabby start.  Jacko1 checks in with 105 and Nate Marcum makes it two members of team Razzball in the top five to start the year.  Donkeycorns rounds us out with 102 points.  Gotta love those Donkeycorns.
TRADES
All the trades that have gone down in the past week.  Public ridicule is not only allowed, but encouraged.
Five trades went down this week with a couple of young stars getting moved around.  I kinda love getting Giancarlo for Julio Rodriguez here, nice work Al.  As for the Witt / Nola trade, that's a tough one, but I think I like Witt there (Although, watching Nola carve up the Rockies right now could change my mind).  I'm a big Story honk this year and I love MediOAKer Matt's move for him here. 
WEEKLY LEADERS
The best of the best from the week that was.
Here is how the stat leaders have shaken out so far:
R – 78 – Razzkai (RCL #21)
HR –28 – Your Mom (RCL #2)
RBIs – 84 – El Marco (RCL #18)
SB – 16 – Shoheiyasmani (RCL #40) & Horse-Faced Whips (RCL #26)
AVG – .323 – Grand Junction Chubs (RCL #35)
K – 126 – Al KOHOLIC (Original Recipe)
W – 10 – Kailua Boys (RCL #1)
SV –  16 – Vegans (DFSers Anonymous)
ERA (Min. 60 IP) – 1.19 – Jersey Pine (Crab Army) (in 60.67 IP)
WHIP (Min. 60 IP) – 0.76 – RBV (RCL #3) (in71 IP)
TEAM OF THE WEEK
Our weekly shout out to the team that killed it the previous week.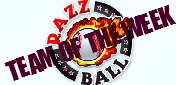 Team: El Marco
League: RCL #18
Stats:   AVG: .292, R: 61, HR: 19, RBI: 84, SB: 9
IP: 75, ERA: 3.12, WHIP: 1.067, K: 78, W: 7, SV: 11
Summary: Team of the week is pretty easy in the early weeks.  It was either me or El Marco and I generally loathe writing about my own teams.  Besides, El Marco is at least leading the RCLs in a stat category, RBIs.  El Marco has a few hot starters in Jo-Ram, Pete Alonso, and Alex Verdugo.  Luis Robert has pitched in five steals to help the cause.  On the pitching side, it's Tylor Megill, Joe Musgrove, and Kyle Wright, just like we drew it up.  Taylor Rogers and Tanner Rainey have combined for six saves and this is also one of my most drafted saves combos this season.  Well done El Marco!
Want to be Matt's Twitter pal?  That's kinda creepy, but you can follow him here: @MattTruss