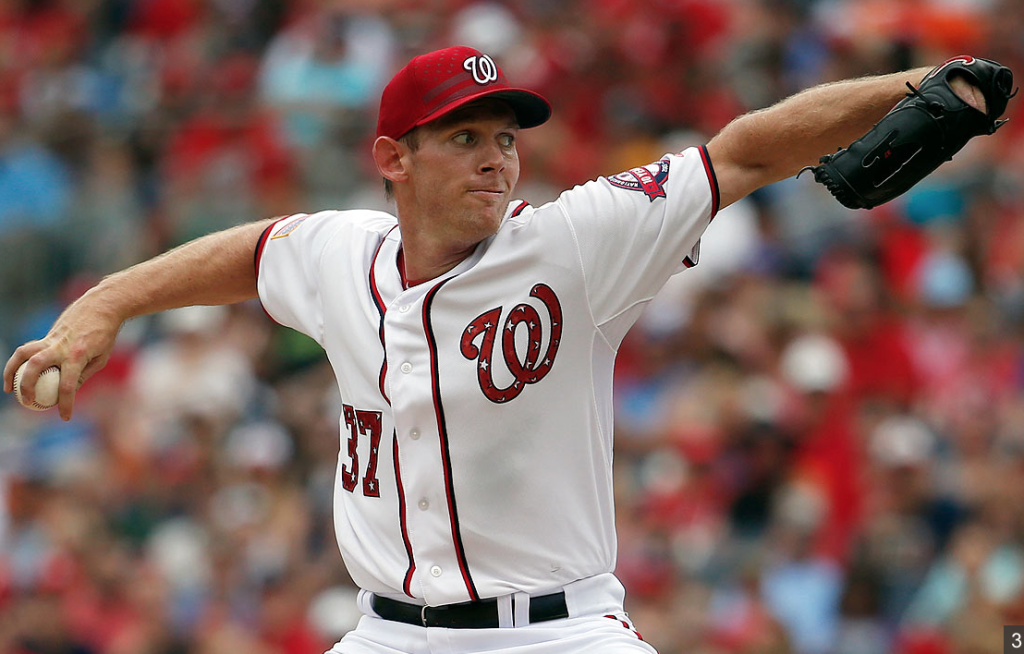 Despite a season of disappointment and injury, Stephen Strasburg won me my points league championship. As one of my keepers coming into this season, I was excited for the potential of a Cy Young campaign. Instead what I got was a season of heartache and despair as he spent more time on my bench than he did in my lineup. In his last three starts however Strasburg threw a total of 23 innings, striking out 37 batters, walking 3 and yielding only 2 earned runs. During that three game stretch he scored 103 fantasy points for an average of 34.33 points per start. I'm happy when I get 25 points from a start. Just when I thought I had my keepers figured out for next season, Strasburg has to go and do this and put his name solidly back into the mix. On a side note, a few weeks back I suggested he grow a Bumgarner-like beard in hopes of helping him find his lost ways. Instead he seems to have shaved himself clean and I am thrilled with the result it has had on his performance. I just re-read that sentence and it can certainly take on a different meaning.
Choo Choo Express
I picked up Shin-Soo Choo about three weeks ago. In the last three weeks only Adrian Beltre has scored more points. Boy am I glad I hopped aboard the Choo Choo Express as his 83 points we certainly welcomed in the playoffs.
Lindor Truffles are delicious
Another guy I picked up for the playoff run was Francisco Lindor. During the same three weeks he was top six point scorer with 76 points. Mike Trout had 75.
No more Pollack jokes!
I think the batter that was most crucial to my season long and playoff success was A.J. Pollock. Considering I drafted him in the 16th round, I'd say I more than got my monies worth. With 19 home runs, he is just one homer shy of the 20-30 club. Pollock currently has 479 fantasy points which is good enough for tenth best among all hitters. To put that into perspective, he outpointed Andrew McCutchen, Edwin Encarnacion, Jose Altuve, Michael Brantley and even Yoenis Cespedes. Knock knock. Who's there. A.J. Pollock…
Posing For Victory
I certainly am glad that I followed my own advice and drafted Buster Posey in the third round. With 448 points he scored 114 more points than the next catcher (Evan Gattis). That's a big win at a position. The next biggest gap between the top two players at a given position is 45 points at third base. Josh Donaldson has 542 and Nolan Arenado has 497.
Rosensave and Gilden-Jensen
Even though he did his best to sabotage my championship efforts in the final week by posting negative points, I'd be kidding myself if I didn't think that Trevor Rosenthal's 48 saves and 496 points didn't player a large part in getting me to the finals. And taking a shot on an injured Kenley Jansen and his degraded ADP sure didn't hurt either. Once he was back, these two packed quite the 1-2 punch, helping me rack up points from the RP spots.
Zach Attack
I'd really love to see Zach Greinke win the NL Cy Young, but I actually think Jake Arrieta might have done enough to slip past him in the final month of the season. The two have been outstanding. The difference. I own Greinke and he has been my ace, leading my team with 713 points. His points per start of 23 was only bested by Arrieta (23.625) and, of course, Clayton Kershaw (24.75). Greinke was one of my five keepers coming into the season and he will be one next. I really hope he re-signs with the Dodgers.
Trading Places
I made three trades this season. In the first I traded Gio Gonzalez and Alex Guerrero for Cole Hamels early in the season. Considering, among many other obvious factors, that Hamels is a potential keeper I think I won that trade. In the second trade I traded away Lorenzo Cain and Rusney Castillo for Jason Kipnis. On paper it looked great. I had an abundance of outfielders and Howie Kendrick at second. Shortly after the trade Kipnis disappeared and Cain soared. And finally, the big deal. Carlos Martinez and Kris Bryant for Gerrit Cole. We can only keep five players and neither CarMart nor Bryant were going to be on those five. Gerrit Cole is a keeper.
Farewell Tulo 
This season will mark the end of a four year relationship between Troy Tulowitzki and myself. His keeper spot will now be occupied by Gerrit Cole. I'd like to say Tulo and I had a good run, but his abundance of injuries really make that a difficult statement to say. Aside from 2011 when he hit 30 home runs and scored 485 points, every season afterwards has fallen short of expectations. Unless, of course, you expected the inevitable injuries. This year he ended with 288 points and a mediocre 0.5475 PPPA. Among shortstops that PPPA was ninth. Among all hitters he finished 121st. It's a sad day in fantasy baseball points leagues, but the truth is that Troy is no longer the goto shortstop.
Here are my 2015 Fantasy Baseball Points League Awards:
AL Most Valuable Hitter: Jose Bautista (531 points, 0.8119 PPPA) (Josh Donaldson)
AL Most Valuable Pitcher: Dallas Keuchel (684 points, 21.375) (David Price)
AL Breakout Hitter: Mookie Betts (438 points, 0.6865 PPPA) (Lorenzo Cain)
AL Rookie of the Year: Carlos Correa (266 points, 0.6378 PPPA) (Francisco Lindor)
NL Most Valuable Hitter: Bryce Harper (558 points, 0.8637 PPPA) (Paul Goldschmidt)
NL Most Valuable Pitcher: Clayton Kershaw (792 points, 24.75 PPS) (Jake Arrieta)
NL Breakout Hitter: A.J. Pollock (481 points, 0.7298 PPPA) (Joe Panik)
NL Rookie of the Year: Kris Bryant (341 points, 0.5361) (Matt Duffy) *
*The NL ROY would have gone to either Maikel Franco or Kyle Schwarber had they had longer seasons.
Nice Surprises:
Mark Teixeira (341 points, 0.7380 PPPA)
Kendrys Morales (433 points, 0.6808 PPPA)
Adam Lind (370 points, 0.6595 PPPA)
Josh Reddick (370 points, 0.6537 PPPA)
Eric Hosmer (422 points, 0.6472 PPPA)
David Peralta (333 points, 0.6441 PPPA)
Mike Moustakas (379 points, 0.6337 PPPA)
Alex Rodriguez (381 points, 0.6245 PPPA)
In related news I heard that Michael Morse and Marcell Ozuna got work in the offseason filming a new Geico commercial. It's so easy a caveman can do it!
I wonder how many of these players were on championship teams. I had Hosmer, Lind and Morales. Well folks, that about wraps up my coverage of fantasy baseball points league for this season. I'd like to thank those of you that took the time to read my posts and participate in the comments section. Hopefully if there is enough demand I will be back next season. Best of luck in your offseason endeavors. Check ya later!