Michael Pineda has been nothing short of dominant this year. Sure, his 4.08 ERA isn't too dazzling, but with a 2.73 FIP and 2.80 SIERA, it seems as though sequencing and BABIP have hurt him more than poor pitching. Take a glance at Pineda's .349 BABIP — a number 60 points above his career average .279 — and it isn't too difficult to see an overly inflated ERA, especially given a reasonable 0.87 HR/9 thus far. This is all impressive, but I haven't even begun to wax poetic on his 11.8 percent swinging strike rate or 24.6 percent strikeout rate, both numbers rate him in the top-20 for qualified pitchers. Before we get too invested in what he's doing, let's take a look at how Pineda got here.
After a number of shoulder injuries, setbacks and a surgery, Pineda has had more than enough time to think about his approach to pitching. Coming back from his most recent injury last season, Pineda unleashed a new pitch, one which you've probably guessed given that it is in the title of this post. Prior to his injury he was primarily a fastball/slider guy, mostly relying on throwing his 94-95 mph fastball by hitters and then finishing them off with his wipeout slider. Since mid-2014 — when he came back from a teres major muscle strain — Pineda has all but ditched his four-seamer in favor of the new cutter. Observe the usage tables below, courtesy of Brooks Baseball.
|  Date | Four-seam | Sinker | Cutter | Slider | Changeup |
| --- | --- | --- | --- | --- | --- |
| 2011 | 61% | 1.0% | N/A | 32% | 6% |
| First half 2014 | 44% | 1% | 16% | 26% | 13% |
| Second half 2014 | 25.0% | 2.0% | 28.0% | 37.0% | 8.0% |
| 2015 | N/A | <1% | 55% | 33% | 13% |
Pineda has thrown five sinkers his season, but that doesn't even account for half of a percentage point. The key here is the massive shift we've seen in his repertoire, again, the elimination of his standard four-seamer in favor of his cutter. Certain websites have charted Pineda throwing many more fastballs, however the cut-action and run of the pitch, as well as Brooks Baseball's hand charting have lead me to call it a cutter.
As his pitching style has changed, so has his release point. Via Texas Leaguers, we can separate his release points before and after adding the cutter. Click below to view the gif.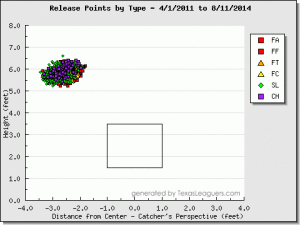 Even a quick glance shows the difference. After throwing from an arm slot that tended to drift away from his body, Pineda has seen his release point come higher and more over the top since he added the cutter.
As a general rule, I'm pretty wary of alleged in-season adjustments or sudden breakouts. Knee-jerk reactions and rash decisions don't have a place in fantasy baseball — unless my league mates want to do that, then go right ahead. That being said, when a real change has taken place, like with Pineda and adding a new pitch while dropping his four-seamer, it's hard to not buy into him. Account for a more normalized BABIP going forward to help his ERA drop and Pineda figures to be an absolute stud for the rest of the season and beyond. The risk is always going to be a factor with any pitcher, particularly one with an injury history as extensive as Pineda, but I'd be comfortable making a trade for him on his strikeouts and ratios moving forward.
You can follow David on Twitter @davidwiers.