Just a quick introduction – I'm the "new guy on the block" here at Razzball, Chris VanDyke. Many thanks to Grey and Jay(Wrong) for asking me to join in all the fun. I've competed with Jay in several deeeeeep and complex fantasy leagues involving more prospects than most care to follow for several years. [Jay's Note: Sorry for trading you Heyward.] When involved in leagues as deep as these, most owners are forced to pan for gold to find hidden gems when drafting.
I plan to utilize this space at least once a week to shine the light on an "under the radar" prospect that most folks haven't necessarily heard much about from noted "prospect gurus" such as Jonathon Mayo, Keith Law, and our revered friends at Baseball America, who typically have to focus on the higher ranked and more talked about future stars, since their readers tend to dig for information about them.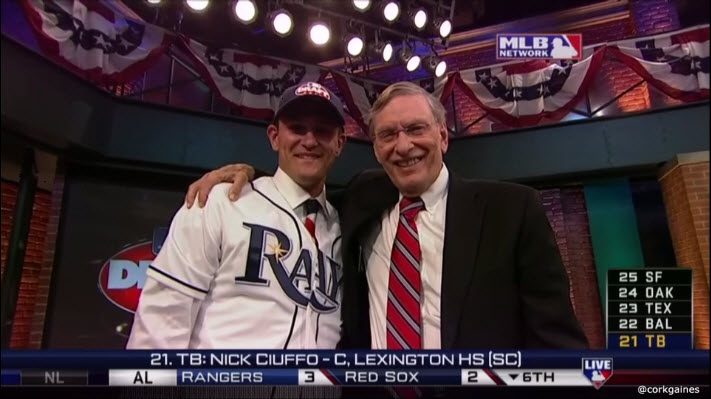 This week's Panning For Gold – Finding The Prospect Hidden Gems focuses on Ryne Stanek, a right-hander currently pitching for Tampa Bay's Hi-A Bowling Green Hot Rods in the Midwest League. The Mariners initially drafted Stanek in 2010 out of Blue Valley High School in Stillwater, Kansas, where he finished his Senior campaign ranked as Baseball America's #42 draft prospect. Rather than signing, Ryne elected to attend the University of Arkansas where he piled up impressive career numbers – 22-8, 2.55 ERA, and a BAA of .255. The Rays then picked him at #29 in the 2013 Draft following his Junior season with the Razorbacks, giving him a slot-value bonus of $1,758,300.
One reason for singling Stanek out is that he reflects yet another area where the Rays front office tends to consistently stay ahead of the organizations that aren't always focused on pinching every last penny – Ryne profiles as a potential front of the rotation (#2 or better) SP, and did at the time he was drafted as well, but many teams allowed him to slide because of health concerns. He underwent surgery on his right acetabular labrum (the ring of cartilage surrounding the hip joint socket) during his 2013 offseason. Now that the slotting system and penalties for exceeding spending caps has begun to take full hold, this year's draft shows that several organizations have followed Tampa's lead, with noted high-end arms like Jeff Hoffman and Tyler Beede taken in the First Round even though they aren't likely to begin their careers prior to the middle of next season.
The main reason to keep an eye out for Stanek to begin climbing prospect ranking lists (he began this season on BA's list at #11 and #14 on John Sickels' list) is two-fold:
1.)   While the Rays will continue to be as careful as possible with his health (Ryne has only made 6 starts including Sunday so far), he's shown much of what was projected – his overall line of 2.16 ERA, 1.17 WHIP, 33.1 IP, with 27 Ks and a 2.7/1 K/BB Ratio have become more dominant as he's worked his way further along, having given up 12 hits and 2 earned runs over his last 18 IP (3 starts) with 15 Ks and only 4 BBs. He's quickly showing he can be pushed a little more aggressively than most of the younger Pitchers at that level (and should be obviously).
2.)   Tampa's economic situation will continue to demand that they produce inexpensive talent capable of competing at the MLB level for the foreseeable future if they hope to remain competitive in the tough AL East, leading to the need to move players along more quickly than most other organizations.
Armed with two potential plus pitches in a fastball that sits between 92-95 MPH (touching 98) and a nasty 84-87 MPH slider, Stanek could become an inexpensive option as a future closer for a team that is always looking to save wherever possible. If the Rays are pushed into the situation where they're unable to wait for him to develop better command and a more deceptive motion and they land reasonable options in return for David Price (whenever they eventually deal him), he definitely fits the profile as a future replacement for the struggling Grant Balfour. Given the combination of the presence of potential closer Alex Colome closer to ready to help at the MLB level and the questions surrounding the potential ceilings of Jake Odorizzi, Taylor Guerrieri, Enny Romero, Nathan Karns, and Blake Snell without knowing what could be coming in a Price deal, expect Tampa to continue to proceed in developing Stanek as a SP until things become more clear.
You can follow Chris and his prospect thoughts on Twitter @clvclv.