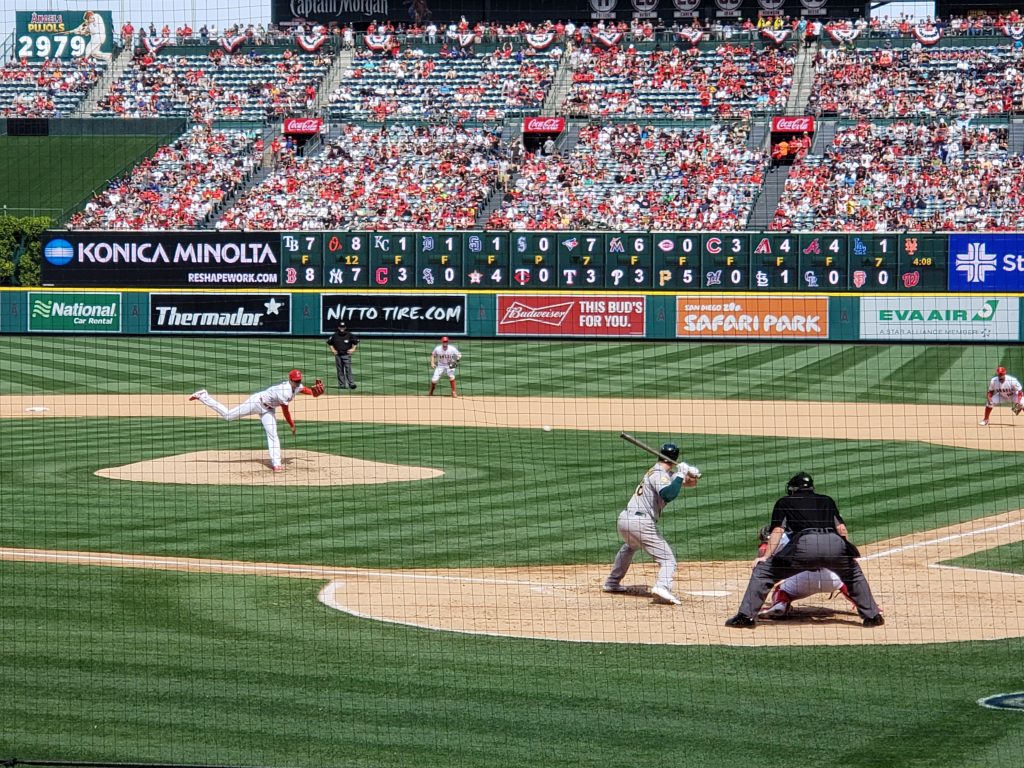 So I attended Shohei Ohtani's start last Sunday and as such this post is going to have some pics that I took along with a quick recap of the experience. But since this is a website about fantasy baseball, we're also going to talk about Brian Anderson. Let's get to it!
Sunday April 8th was a sunny day in Anaheim. We're running late to pick up friends to go to the game; find out we have a flat tire and have to uber it. Just get there in time to see first pitch. Drinking tall boy cans of Modelo, eating hot dogs and peanuts we get to watch Ohtani face the A's. He then proceeded to made guys look silly. Take Khris Davis in two pictures: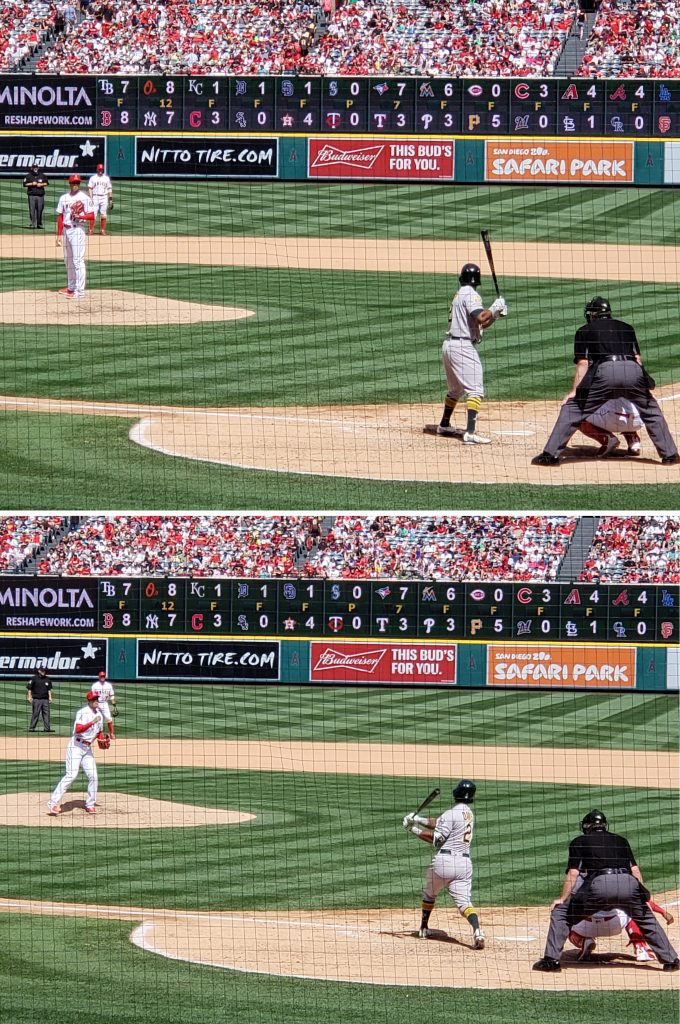 Being Los Angeles (actually Anaheim but same baseball rules apply) the stadium doesn't fill up until the third inning, but when it did and we could see the zeros on the scoreboard and thought if he can get through the A's power part of the lineup the second time (Chapman, K Davis and Olson) he'd be good to go. He did get through them but finally gave up the no-hit bid on a hot shot base hit through the left side of the infield. It was a great performance that earned a standing ovation (from a good 90% of the crowd); in which case I heard the following from two different people sitting near me: "Why is everybody cheering?" and "I can't believe this many Angel fans actually realize what he just did." They didn't but I wish they could have heard each other; it might have broken space and time.
You can tell I wasn't sitting where I could see the pitches hit the catcher's mitt but I did find it interesting that the scoreboard could determine what type of pitch he threw almost immediately after he threw it; has anyone else noticed stadiums doing this? How do they know? Do they have a gun that can measure the angle and how his fingers were positioned when he released the pitch? I need answers, preferably not in the form of a question.
And now for something slightly different…
Brian Anderson, local man of boredom and third baseman for the Miami Marlins. Let me quote Grey on his name, "Ya know what, John Doe sounds too ethnic, can we call this body, Brian Anderson?" Sounds right to me. Don't underestimate the importance of a cool name and at the same time discount a boring guy's name and vice versa. If his name was Lucius Cross he would've been taken in the first round.
Drafted in the third round (76th overall) of the 2014 draft Anderson played second base in college for the Arkansas Razorbacks and was teammates with then 19-year-old Andrew Benintendi. The currently 24-year-old Anderson has worked his way up through the Marlins minor league system, making stops at every level, from teams like the Batavia Muckdogs (A-) and the Jacksonville Jumbo Shrimp (AA). A high school pitcher he showed the arm to play corner outfielder or third base, sticking at third.
Our own Prospector Ralph ranked him as the #87 overall prospect and had this to say, "After two and half years of moderate power and production, Anderson tapped into his raw power in 2017, riding it to a late season callup. I see the Marlins top hitting prospect as a high floor player that could produce solid fantasy seasons in deeper leagues of 16 teams plus. Long term I'd expect a line of .270, 20 HR, 75 RBI at peak, with maybe a little more batting average upside than power. Should be a factor in Miami in 2018."
Between AA and AAA in 2017 his line was 74/22/81/.275/.853 in 120 games before joining the Marlins and struggling for 25 games. That happens. This season Anderson is already a factor in Miami with a line of 8/1/9/0/.317/.949 OPS with an 11.5% K rate and 17% walk rate in 11 games. Feels like he's pouring a good foundation and then we're going to get to the end of the season and realize he was worth owning all along (Future Kyle Seager with a little less pop?).
With ownership numbers of 32% of RCL, 16% Yahoo!, 35% ESPN and 64% of Fantrax leagues, so you don't have to run to get him. You can leisurely stroll, even have a nightcap and sleep on it. But if/when you need third base help could be an injury (I apologize but I immediately thought of Josh Donaldson…I'm sure he'll be fine all season) look Anderson's way; In deeper leagues if you have a corner infielder or utility spot or two open, consider Mr. Anderson.
Lastly: Also on Sunday Mike Trout got off the snide. He was hitting .181 going into the game, left at .240 with a homer (drat! the window to buy low on Trout juuuuuust closed).  See him celebrate below: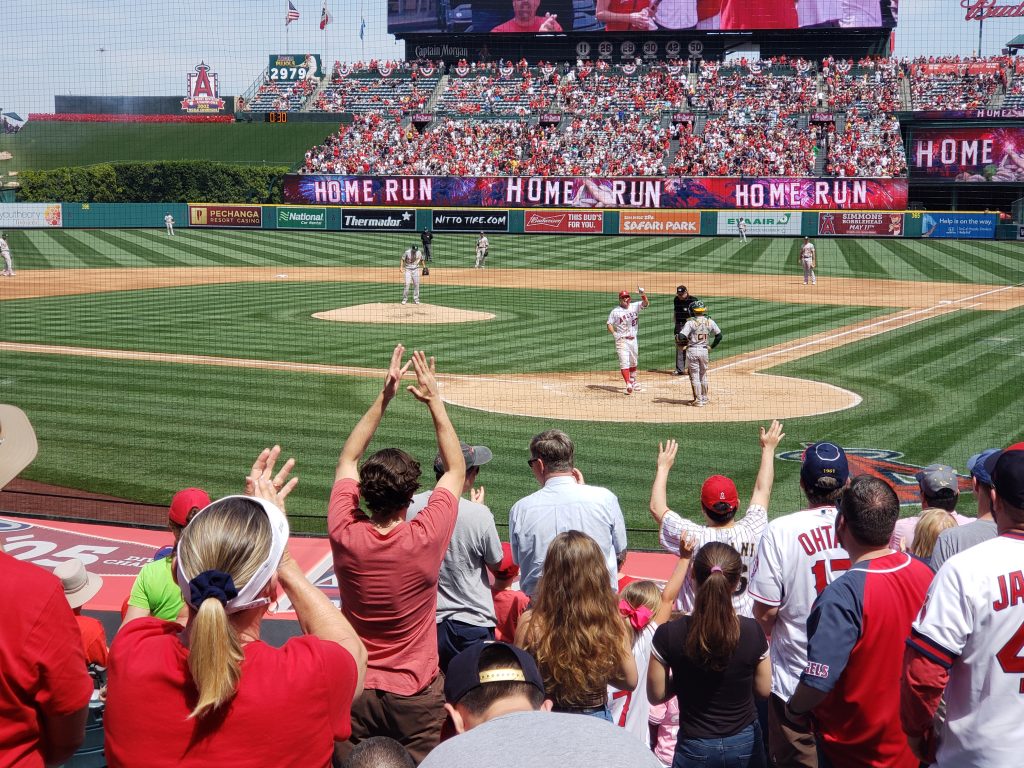 Until next week my fellow Razzballers and Razzballettes!