Happy May day! ¬†Or is it still April? ¬†I 'm not sure because I started writing this in April, but it may not go up on the site until May, and I'm just so confused…and isn't that what you want out of your fantasy baseball 'pert? ¬†(Don't answer that, please). ¬†If you read last week I went¬†to the Angels game the other night, first time. ¬†Those two big ball caps outside the stadium are odd. ¬†Do they serve a purpose? ¬†Like if it ever rains people can stand underneath them (they look permeable)? ¬†As Grey says, I need answers, y'all!
We were able to enjoy some Lexus club seats (and I wonder why Lexus sponsors them; on yeah, probably because they're not cheap.   Then when I looked at Dodger tickets for another game I saw they also have a Lexus club and it makes me wonder do all the teams have a Lexus club?  And then I think why don't I own a Lexus?  Oh right, they're expensive; I be living that Mazda3 life y'all!).  The meal there was pretty great but the deserts tasted like they were from Sam's Club (hat tip to the wife on that one.  I don't know why I like using the phrase "the wife" because I only use it with people I don't know well or not at all; it's a crude way to refer to my life partner, but it still makes me snicker when I say it).
The seats were spectacular and I even narrowly missed a ricochet foul ball.  It skimmed my knee and fell below the seat in front of me, where a kid of about ten got it.  He was super excited, and any time I looked toward him he was holding that ball with two hands.  He's a fan for life and that's just supercool to me.  Did I want to get the ball first, and then give it to him?  Of course, cause that's the cool thing to do.  But would it have been the same for him?  Probably not, so I'm glad it worked out the way it did.
At the same game Trout hit a home run (right before I took this picture):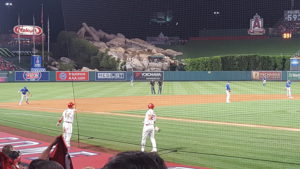 I also saw Yunel Escobar drop the easiest pop fly to third base and when I went looking for that video I stumbled upon the Yunel Escobar Sucks Forum, which I'm not going to link to because it's full of not nice comments; but it's been around since 2010 and it has personal rumors and other stuff.  I don't know why anyone would post to it but a lot of people have (and recently).  Seems like a reddit post before reddit.
Now aren't you super glad I shared all that with you?  Did you enjoy all the tangents just to get to the meat and potatoes, one Mr. Joshua Evan Bell?  I hope so.  I've been touting Bell all the season thus far and I stopped and asked myself, why am I such a fan?
Not sure, maybe it's because I want to call him Cool Papa (if you don't know that's the nickname of one of the fastest guys in baseball history.  But I'd be fine with Josh Bell re-appropriating it). Or maybe it's the pedigree and easy path to at-bats with Marte's suspension and John Jaso being the only competition basically (for playing time and dreadlock length).  I'm not a Pirates fan (any of those out there want to weigh in?) nor do I own him in a bunch of keeper leagues (he was a free agent in my main OPS league after I traded him in the preseason); I guess I just see some value in him.
Bell was a second round pick out of high school and was going to go to University of Texas but didn't because he was drafted and paid a cool five million dollar signing bonus.  Bell even sent a letter to the MLB commissioner's office telling teams not to draft him which is a great negotiating ploy, right?  Since then he's followed a pretty conventional path up the ladder;  first season at A ball, second at A/AA, third AA/AAA, fourth at AAA/MLB, now an MLB regular.  Kind of ho-hum, in fact.
How do you like that regurgitated Wikipedia for ya?  (Regurgitate is one of those words that sounds as gross as what it is; is that called something?  It should be).  Just 24 years old, Bell is 6'2, 230 lbs, hit a grand slam in only his second MLB at bat, walks at a good clip (13.9% in the bigs) doesn't strike out a ton (around 15% thus far) and has alright power.  His BABIP is only .267 as of now so expect that to go up.  Also look for him to improve his OPS to above .800 the rest of the way and chip in some more homers and counting stats.
I like him for OPS leagues and even better for OBP and AVG leagues.  Owned in only 10% of ESPN and 26% of Yahoo! leagues I'm going to continue to tout him until he A) gets owned in more than 50% of the leagues, or B) goes to the minors, in which case we'll never speak of him again.  I'm betting on the former, obviously.  Bell only has 1B eligibility in ESPN but has OF eligibility as well in Yahoo! so use him as a fill-in OF on off days for now.
Better to get in him too early than too late so if you have the bench spot I suggest adding him.  With three homers and an OPS of 1.056 over the past two weeks Bell is only getting hotter.  This week the Pirates travel to Cincinnati for four games and then a home series against the Brewers; I like both those match-ups and will be starting him.  Good luck Razzballers and Razzballettes, see ya next week!