I took part in my second mock draft for 2009 and was hoping for a smoother draft this time around. I showed up on time and found the perfect 2009 draft iTunes mix of Fiddy and Sheryl Crow. So far, so fresh. Going into this draft (sponsored by Behind the Plate Fantasy), I wanted to do one thing, draft a pitcher really early and see how it affected the rest of my draft. Since this was a mock 2009 draft, I wasn't too concerned. In other words, I was winging it. Okay, without further ado, my second 2009 fantasy baseball draft (Mock, ya'll):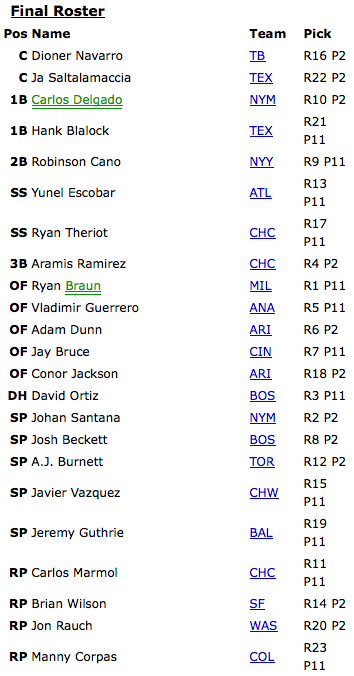 Here's my (mock) draft notes that I jotted down as I drafted:
1st and 2nd picks: I was a bit surprised Johan Santana was still there at the 14th pick. I would never draft him there, but for this (mock) experiment, it was good value. Even if I'm content with finding pitching later, I think he's about as reliable as a fantasy ace as you're going to find. I took him here because this is a mock and I'm interested in seeing how my offense works out taking a pitcher this high. BTW, Pedroia went in the second round. Drafting while on drugs is bad!
3rd and 4th picks: I took Aramis and David Ortiz. Here I'm just trying to set the offense straight. Hopefully Ortiz has a (mock) bounce back year in 2009. Webb, Peavy, Hamels and Halladay were all on the board and I'm already regretting taking Santana with my 2nd pick. Some other guys that went before my picks that I wouldn't have wanted anyway – Brian Roberts and Russell Martin.
5th and 6th picks: I took Vlad and almost took Abreu until I realized this wasn't a draft for 2001, so I grabbed Adam Dunn. At this point I feel like I've set my offense back on track and can begin to grab some pitchers again. That was a mighty deep ditch I had to dig myself out of for five rounds. In the fifth round, I would've preferred just about everyone instead of Vlad… Well, except Jeter and Mauer.
7th and 8th picks: I took Jay Bruce with my 7th pick. The logical explanation is also the most obvious, so let me explain by saying Dusty Baker briefly inhabited my body. And before you mock my mock, someone took Andre Ethier in the 7th round. I'm not sure Andre Ethier would take Andre Ethier in the 7th round. I grabbed Josh Beckett in the 8th round. Another sign that there was plenty of pitching to grab late.
9th and 10th picks:  Someone took Konerko and some of the 'perts chimed in, "Haha! That dude is done," and "I agree." I didn't say, "I agree," I'm just saying someone said they agreed, but I do agree. The ninth round is too early for Konerko. He's like Delgado going into 2008. Wait, but Delgado just had a solid season…. Hmm… And I just took Delgado. And Cano. Mocking on…
11th and 12th picks: Carlos Marmol doesn't have the job officially, but this will prolly be one of the top value picks of the (mock) draft. If they were giving out mock trophies, I would've just won one. Then I grabbed Burnett and officially have secured too much pitching, but you cannot argue with Burnett here. I might try the Santana pick with my 1st or 2nd pick again in a mock draft, but this has all but sealed my draft strategy again for 2009. I just don't see myself as a pitching early type of guy.
13th and 14th picks: I took Yunel and Wilson. Hey maybe Yunel will get traded to the Padres and really suck! Wilson's hard to argue with here, he's the epitome of SAGNOF. Not sure how I went from grabbing Burnett to Yunel in one round. Was I skipped a few rounds?
15th and 16th picks: I was waiting on Greinke or Javier Vazquez. Greinke was taken a few picks before me. Scooped! I think I'm going to end up with Javier Vazquez on a lot of teams in 2009. He seems to be very undervalued. I mean, I snagged him with the 191st pick. That's fool's gold! (Or some cliché that applies.) So my staff is Santana, Beckett, Burnett and Vazquez. I think I could trade away half of that staff and be fine. I'd prolly target Adrian Gonzalez with Beckett. Or something similarly fresh. (BTW, I'm bringing fresh back. You're welcome.)
17th and 20th picks: I'm skipping around now because this shizz is getting wickety-wack on the too-long-for-the-Razzball-reader's-attention-span tip. I grabbed Theriot for middle infield because my team has no speed. Did I mean to (mock) draft a team with no speed? Not especially, but I could trade Johan for Taveras and still have plenty of pitching. Then I grabbed Rauch with the 20th pick because I think there's a good chance he's going to be closing in the desert in 2009.
21st, 22nd, 23rd picks: I usually look at these picks as guys that are hot in spring training or total sleepers that I don't care if I drop before the season even starts. Salty, Blalock and Corpas fit that (mock) bill.