I hate using the term sleeper, it means so many different things to different people. I recognize that there's a wide spectrum of knowledge amongst my readership. So to some of you the Yankees Jorge Guzman is a sleeper, but to other's he's not. That said, with the ease I added Guzman in my 16-20 team leagues this Fall, I'm willing to go out on a limb from first hand experience, and slap and big ole ZZZZZZZ… label on Guzman. Over the last few months if you follow the minors leagues, The Yankees, or more specifically the Yankees minor leaguers in the Arizona Fall League, then you've probably heard all about Justus Sheffield and Albert Abreu, but more specifically Sheffield. A lot. Justus got the BX Bump (which is also a great interracial porn film BTW). If you're a Yankees fan staying hip to all the up and coming prospects, then you're probably aware of Chance Adams, Domingo Acevedo, and Dillon Tate. I'm sure you read about Guzman too, but I'm willing to guess the next statement might shatter all of you pre-conceived notions about the Yankees current minor league pitching oligarchy. Jorge Guzman is the best pitching prospect the Yankees have. That's it, post over. I led you to the cliff only to push you off and leave. I have Christmas, Hanukkah, and Kwanzaa shopping to do… I'M JUST PLAYING BABY! Of course I wouldn't have left you without some gems to help you. Here's why Jorge Guzman might be a player to target in off-season dynasty leagues in 2018.
Let's just start this off with a boner-inducing sentence, so you'll have to employ the tuck and fold for the rest of this post. Don't worry this isn't one of my 2,500 word opuses, this is short. JORGE GUZMAN THROWS 102 MPH, AND CONTROLS IT. Okay, let's take a second to breath. It's not just that he throws 100+ either, it's how he throws it. Watch…
That's easy velo, I'll go out on a limb and say I exerted more effort creating that above GIF than he did striking that goon out. If you slow down some of the videos available on Guzman, and you see he has two things. First, clean repeatable mechanics, second, great timing in said mechanics. There's some debate over this, but there are many that believe the recent influx of arm injuries is really rooted in poor timing, and not just fastball velocity, or an over-reliance on secondaries. One of the first things I look at is what position the pitcher's arm is in when his plant foot first lands. This is usually indicative of timing. This is not my personal theory, it's the theory of Chris O'Leary, if you're not familiar with Chris check out his writing. Here's the best still I could find of Guzman with his arm in the correct position. Though I can't see his front foot, it's pretty obvious based on weight distribution that his leg just landed.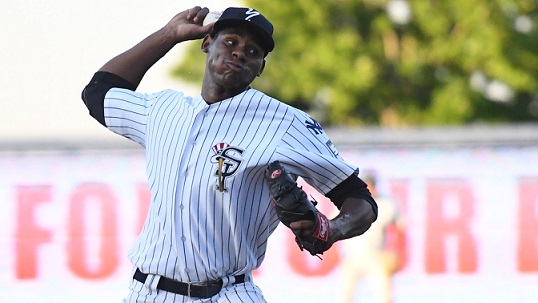 After coming over with the more highly touted Albert Abreu in the Brian McCann trade the Yankees got to work on streamlining Guzman's mechanics. Looking to keep his delivery on center, the coaching staff focused on getting Guzman to drive more with his legs. The thing is, it worked! It wouldn't take a rocket scientist to identify the improvement in Guzman's pitching. Just look at the numbers.
During his brief time in Houston, Guzman had trouble throwing strikes, carrying a 4.4 Bb/9 through 20 professional starts totaling 95.1 innings, as he bounced between the rotation and the pen. The even more peculiar thing is Guzman didn't miss many bats during his time in the Astros organization either, only striking out 83 batters over that 95 innings. Fast forward a year later and in the Short Season New York Penn League, Guzman averaged 11.8 K/9 and 2.4 Bb/9, leading the league in strikeouts, and maintaining his velocity deep into games. At times his control will escape him for stretches, it never manifested itself as a problem though. So this begs the question; How did the Yankees manage to cut his walk rate in half while boosting his K/9 by more than 50%?
Simple, they fixed his mechanics, and in turn it improved his secondaries. About those secondaries…
Now that we've dug in a little on Guzman's fastball, let's go into the rest of the righthander's arsenal. Guzman pairs an above average changeup that sits in the high 80's with a plus breaking ball some identify as a curveball, while others identify it as a slider. Upon my own in-person (YouTube) looks I'm going to call it a slider. As you can see below it has sweeping action, running in on lefties, and off the plate to righthanders.
Paired with his fastball-changeup combo Guzman is able to set hitters down with a variety of pitches when he gets ahead in counts. A fastball like Guzman's will get you to the big leagues, the ability to pair it with a breaking ball, and an off-speed pitch will make you a star. Ask Luis Severino.
Going into 2018 Guzman should see his first full season assignment to low A Charleston, with a promotion to high A Tampa likely by early June. Unless of course the Yankees decide to challenge him with an aggressive assignment to high A. That puts Guzman's ETA somewhere around June or July of 2019. Of course there could be some bumps in the road along the way, and an early 2020 debut isn't completely out of the question, but I'm all about the power of positive thinking. You know what else I'm all about? Guzman's potential upside as a frontline starting pitcher in fantasy. He brings to the table a plus plus fastball with big velocity, a plus breaking ball, and an average, but improving changeup, clean mechanics, and an organization with a recent success story. Go get Guzman!
Find all of the 30 Minor League Previews, and Offseason Rankings on the Minor League Index
On Twitter as @ProspectJesus