In this series of Hall of Fame nomination-based posts, we're going to focus on specific roles/positions.  We'll be reviewing both players on the HOF ballot as well as non-HOFers who we feel deserve re-consideration.
This second post focuses on middle of the lineup hitters – with Jim Rice, Andre Dawson, and Mark McGwire being the highest profile of the bunch.
This marks Jim Rice's 15th and last year of eligibility but momentum is on his side as 2008 marked a sizable jump in voter percentage from 63.5% to 73.2% (75% needed to get in). There's also the fact that every other player who got 70% of the vote made the Hall of Fame.
After sifting through countless posts and articles on the subject, it appears there's a rift between Boston and/or print journalists like Dan Shaughnessy who are pro-Rice and sabermetricians like Bill James and Rob Neyer who are anti-Rice. Jim Rice's candidacy relies solely on his slugging as his speed and defense were below average. My POV is that this requires him to have been a clearly superior offensive force than his peers.  Since I'm comparing him to peers, I might as well analyze a whole bunch of sluggers at the same time (slugger loosely defined as 300+ HR) – even some that are no longer on the ballot (2008 % of HOF votes):
Jim Rice (73.2%), Andre Dawson (65.9%), Mark McGwire (23.6%), Dave Parker (15.1%), Dale Murphy (13.8%), Harold Baines (5.2%), Mo Vaughn (1st year), Juan Gonzalez (Still 2 years away), Dick Allen, Albert Belle, Dwight Evans, Darryl Strawberry, Jose Canseco, Fred Lynn, Reggie Smith, Jack Clark (all off ballot)
My analysis leans on the below.  I factored out any subjectivity like 'reputation' or how much someone was 'feared' as I wasn't around for when most of these guys were at their peak:
OPS+ and btWins – Both these stats are league and park adjusted so they create a level playing field. OPS+ is based on OBP+SLG.  btWins estimates the number of wins a player added relative to the league average hitter.
162 Game rates for HR/RBI/SB – So I didn't get too lost in the abstract stats. Totals can be misleading so I focused on a per 162 game rate.
MVPs/Top 10 MVP Finishes/All-Stars/Intentional Walks per 162 Games – To get a sense of their relative dominance during their era.
Gold Gloves/Position – To get a sense of whether their defense provided additional value.
Durability/Longevity – Looked at # of seasons and Plate Appearances/Season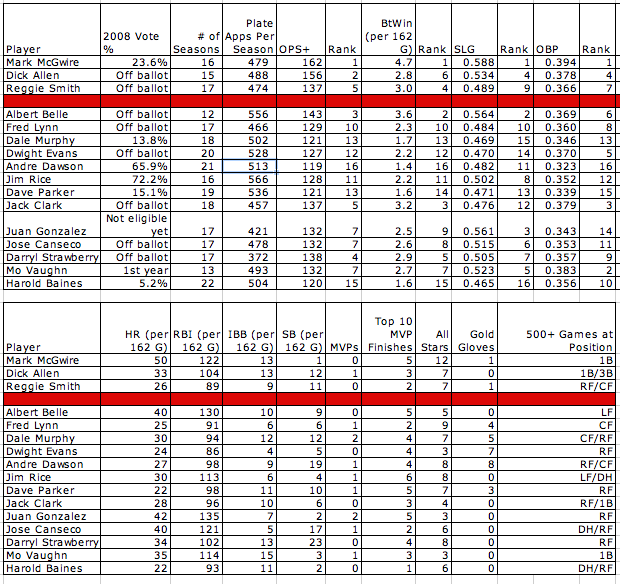 I'd say three of these hitters deserve to be the Hall of Fame – two of which are off the ballot and, for the most part, off the baseball radar.
Here are the players that get my vote (for whatever that is worth):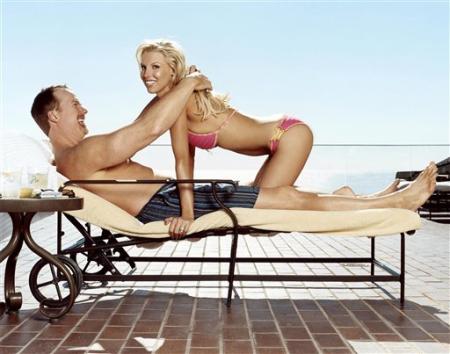 Mark McGwire – You can vote no because of the steroids but that's the only possible reason to keep him out. Was he a so-so fielding 1B, slow, a bit fragile, and hit .263?  Yes, but he did two things awfully well – hit HRs and draw BBs. He ranks 4th all-time among 1B with 3000 plate appearances at OPS+ (Lou Gehrig, Albert Pujols, Jimmie Foxx are top three). He tops this group in every single stat except RBIs per 162 G (to Albert Belle).
Fun anecdotes:   1) Mark's brother Dan was a 6'8″quarterback at San Diego State and was drafted in the 1st round of the 1991 NFL Draft by the Seahawks.  His pro career never took off.  2) The best way to treat backne is rice wine vinegar.
Dick Allen – Allen was a 1B/3B/OF that played from 1963-1977 for the Phillies and several other teams. The biggest knocks against him are his counting stats/lack of longevity (15 seasons/351 HRs), his poor defense, and a bad reputation. But his 156 OPS+ is off the charts vs. these other players and points to the fact that playing in a pitcher's era has dramatically suppressed his counting stats.  If you factor in era and park, Dick Allen was a much bigger offensive force than Jim Rice (or anyone else on this list aside from McGwire).
See here for an interestingly subjective and strong-worded critique of Dick Allen by Bill James and a VERY interesting long-form piece on Dick Allen by Craig R. Wright.  I went into Wright's piece thinking that Dick Allen was an Albert Belle type.  After reading it, I think their only similarities are their performance at the plate and the fact they played under two first names (Richie/Dick, Joey/Albert.
Fun anecdote:  Dick Allen was treated roughly by Phillie fans during his tenure – enduring obscenities, racial epithets, and even heaved flashlight batteries.  While many outside observers suspected racism was behind this unwarranted treatment, their persistent criticism of Caucasian-American Mike Schmidt in the 1970's/1980's proved that the City of Brotherly Love was color-blind when it came to harassing and criticizing homegrown stars.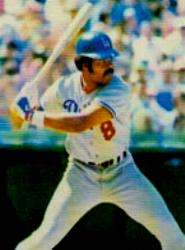 Reggie Smith – A switch-hitting RF/CF who played from 1966-1982 for mainly the Boston Red Sox and Los Angeles Dodgers. Smith's 137 OPS+ is above most of these players and his HR totals are suppressed because of his era and playing at Fenway (with most AB as a lefty) and Dodger Stadium. He was known for a strong arm and was good enough defensively to play about 1/2 his career at CF – a position where power numbers are much lower than the corner OF spots. There are only 8 players with 40% or more of their games at CF that have a better OPS+ than Reggie Smith. 7 are in the Hall of Fame (Mantle, Cobb, Speaker, Mays, DiMaggio, Hack Wilson, Snider). The 8th is Ken Griffey Jr. I'd say Reggie Smith is a borderline HOFer as a corner outfielder but his games at CF put him over the top.  It's ridiculous that he only got one year on the ballot (after getting only 3 votes in 1988).
Fun anecdote:  Don Sutton and Steve Garvey got into a clubhouse fight in 1978 over comments by Sutton in the press that Reggie Smith was the Dodgers real MVP.  There are rumors, though, that this fight was spurred on by another Sutton quote, where he bragged, "I have a nicer perm than any of Garvey's baby mommas."
Here are the notes on the players that I vote thumbs down in order of how I'd rank them:
Albert Belle – Phenomenal hitter but he played only 12 seasons. Was bad in the field and an acknowledged asshole off of it. That's the kind of thing that brings a borderline player down (vs. bump up a Kirby Puckett). But the fact he isn't even on the ballot anymore – he got less than 5% of the votes in 2007 – is still ridiculous since he has a better case IMO than the guys below him on the spreadsheet.
Dale Murphy/Andre Dawson – Their OPS+ is just so-so for this list driven by their pedestrian OBPs (.346 for Murphy, .323 for Dawson). I boosted them on the lists because they put significant time in CF (Dawson played 1,027 games at CF), won a number of Gold Gloves, and had speed on the basepaths.
Anyone who watched Dawson play in the 2nd half of his career could see that the horrible Montreal turf probably robbed him of better stats.  I think what is less publicized – but brought up in this great piece by Baseball Dugout – is the fact that Dale Murphy came up through the minor leagues as a 6'5″ catcher.  Throw 400+ games as catcher and a decade at CF with almost no days off and it's more understandable why he fell off so quickly in his early/mid-30's.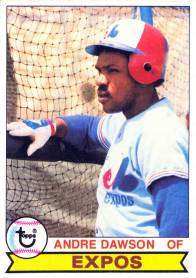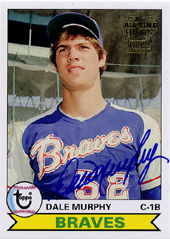 Dale Murphy was undoubtedly a HOF CF player from 22-31 (a non-strike season average of 97/33/95/15/.281/.366/.510) but didn't put together anything better than a league-average season thereafter (failing to clear a .252 AVG or .320 OBP  in 4 full seasons).  Much like Albert Belle, he probably needed 1-2 more peak seasons to warrant being voted into the HOF.  But he was so good in his peak and I can't think of a CF in the past 30 years not named Griffey that could rival it.  I'd say Murphy is a 'No' but I could be convinced.
As for Dawson, his OBP is such an eyesore and his SLG wasn't distinguished enough to counter it.  Dawson's .323 isn't even close to the lowest OBP for a HOF outfielder (Lou Brock – .343).   It's a testament to the power of counting stats (he played 21 seasons) that he's in contention vs. others on this list.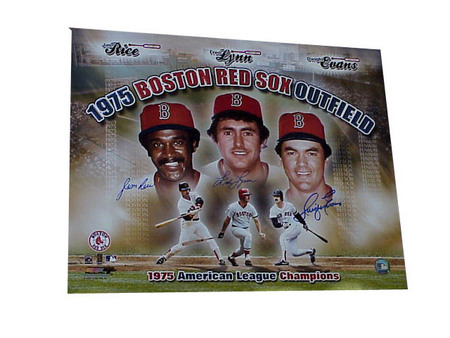 Fred Lynn – While Rice may have been overlooked vs. Lynn when they first started, it's the opposite since they've been retired. Fred Lynn's stats at a season by season level don't look as good as he was always battling injuries – e.g., only 2 100+ RBI seasons.  But he also was a better than average fielder (4 Gold Gloves) at CF. That lifts him above the rest of these players with comparable OPS+ but still falls short of HOF-worthiness.
Jim Rice / Dwight Evans – Let's compare the two longtime Red Sox corner outfielders.  Jim Rice had the showier AVG/HR/RBI but Dwight Evans wasn't that far off. The AVG advantage should be disregarded since Evans had the better OBP (.370 v. .352). He also was a 7-time Gold Glove OFer who was known for a cannon arm.  Rice's appeal to voters comes from his RBI totals, his 'feared' reputation, and his MVP votes. His RBI totals are impressive but – it should be noted – are aided by being in a great lineup (finished in AL top 3 of ABs with runners on base 5 times b/w 1981-1986), a hitter-friendly park, and having a ton of plate appearances/season (hard to argue that Evans wouldn't have put up similar RBI numbers if Rice and Evans switched lineup positions).  Rice's 'feared' reputation is not backed up by his Intentional Walk stats which fall below most of the players on the list.
Yes, Rice was a great hitter but when you compare his stats in a fair way vs. peers (OPS+, btWin), he's just middle of the pack among great sluggers. And with no longevity (if he hits 500 HRs, he's a lock) or other credentials (like defense or speed) to speak of, he falls below everyone above him on the list.  It's arguable that he was the 5th best outfielder to play for the Red Sox in the 1970's (Yastrzemski, Reggie Smith, Fred Lynn, Dwight Evans).
As for Evans, he was very good but not great for enough years – but he would've warranted more than 3 years on the ballot (1997-1999) if he hadn't been such a late bloomer (his HR/RBI splits were 150/514 in his 20's and 235/870 in his 30's – those totals in his 30's are about even with HOFers Eddie Murray and Dave Winfield).
Dave Parker – A great player during his time (1 MVP, 5 top 10 finishes, 7 All-Star games) with a cannon for an arm in RF. But his OPS+ and btWin are towards the bottom of this group. How can you vote him over Lynn, Murphy, or Dawson who had comparable stats and played CF?
Jack Clark – Impressive OPS+ driven by a good eye (high OBP).  His totals suffer from playing almost exclusively in pitcher stadiums. Yes, he was fragile and doesn't deserve to be in the HOF but he warrants more consideration than just 7 votes in his only year of eligibility (1998)
Juan Gonzalez – Hard to make a case for Jim Rice and then not pre-vote in Juan Gonzalez. Won 2 MVPs vs. Jim Rice's 1. Has similarly impressive HR/RBI stats (aided by park and lineup) that, once adjusted, show Juan Gonzalez was slightly better (132 v. 128 OPS+, 2.5 to 2.2 btWin). Despite this, I put him this low on the list given his fragility and his defensive/baseruning liabilities.
Jose Canseco/Darryl Strawberry – Phenomenal power/speed hitters during their peaks. One career made by drugs. One career derailed by them.
Mo Vaughn – Better stats than I would've thought – especially that .383 OBP. But only 13 seasons and his offensive stats aren't that distinguished to overcome the lack of longevity.
Harold Baines – Good player for a long time. His comparably low OPS+/btWin + only 1 top 10 MVP finish + all those years at DH put him at the bottom of this list.