Before we commence with the jamming and the cramming and the whatnot, let your humble-but-nonetheless-handsome Guru pull on your dirty turban about something here – The Razzball Fantasy Football 32 in 32 in 32 Tour kicks off August 4 in Seattle! The Goo and that podcastin' broadcastin' master Nick C-A-P-O-Z-Z-I will be hitting the road for a 50,000 mile frenzy of fantasy ballin' depravity that'll make Motley Crue's 1984 tour look downright virtuous. Razzball Radio will have shows from all 32 NFL cities and I'll be posting the daily dirt on the football side of things so you can follow along. We hope to meet, greet and tip a few back with all you Razzicians, Razzaholics, chronic Razzturbators and four girl readers. There are still some spots available, so get your tix here and you could win a trip to Vegas with the Razzball crew.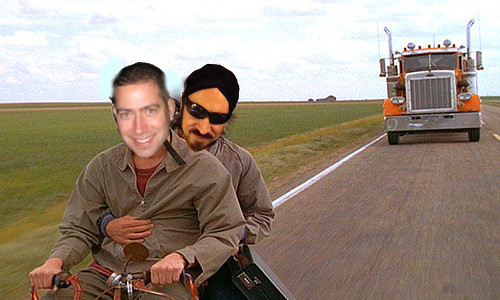 If you're still with me, let's high five and chest bump because that means your fake baseball team is still in the hunt. We are about to hit the most important month of the fantasy season. August is the time of year where the contenders separate from the pretenders and fantasy legends are made. If your team is muddled in the middle of mediocrity, it's time to make some bold moves and push toward the top. If your team is king of the leader board, a minor roster tweak or twerk could be the move that wins you all the cash, prizes, glory and glory holes that come with a fake baseball championship. If your team is stuck in last place, may I suggest fantasy cricket, getting a girlfriend or binge drinking – see you next season.
This week's jammers and crammers are a collection ex's we thought we had sworn off forever. Much like my ex-girlfriend Brenda, they are hard to resist when they call at 2 a.m. promising everything will be different this time. Then, after a couple days of bliss, you wake up to find your wallet gone, the tires slashed on your car and a bunny boiling on the stove. However, we be desperate as Ryan Zimmerman, George Springer and Troy Tulowitzki hit the DL. Who saw that coming? "I did, Guru." Brenda! The court order states you have to stay at least 500 feet away from this blog. It's time to Jam it or Cram it!
Jam or Cram: Chase Headley, 3B, New York Yankees
2014 Stats: 293 AB, 29 R, 7 HR, 34 RBI, 4 SB, .239 AV.
Availability: 55% Yahoo, 39% ESPN.
FAAB $$$ Value: $6. The cheapest Headley you'll ever pay for.
The Gist: Headley got shipped out of PETCO and sunny San Diego for the more hitter friendly House-Across-the-Street-From-the-House-That-Ruth-Built in the Bronx. This change of scenery may be just what Headley needs. Remember when you and Headley were hot and heavy back in 2012 when he hit 31 bombs and knocked in 115 runs? Yeah, good times. Since then he's turned psycho with just 20 homers and a .230ish average.
Key Stats: PETCO Park was not Headley's friend. In 460 games, he hit .245 with 35 homers and slugged .374. On the road, in 452 games, he's hit .286, with 52 home run and a .444 SLG%.
Jam it or Cram it: I'm a firm believer in the geographical cure – that's why I've lived in 10 different cities over the last 12 years. The problem with a change of scenery is you always bring yourself with you – and Brenda always shows up! Hi, Guru. Now, while Headley seems to be digging the new scene in NYC (he's hitting .429 since the cross country move), he's still, you know, Chase Headley. However, besides a tough matchup against Yu Darvish on Tuesday, Chase will have a chance to feast on a collection of struggling starters in Texas and Boston. Sure it feels dirty, but it's a JAM.  
Jam or Cram: Mike Moustakas, 3B, Kansas City Royals
2014 Stats: 265 AB, 29 R, 13 HR, 40 RBI, 0 SB, .200 AV.
Availability: 83% Yahoo, 93% ESPN.
FAAB $$$ Value: $1. This reminds me. Note to self: Open food truck in Maine, sell $1 moose tacos,  make millions off stupid tourists, get shut down by health inspectors when it's discovered "moose" tacos are actually made of tourists, spend rest of life in Super Max, regret plan.  Never mind.
The Gist: Once a top prospect we drooled over, Moustakas found himself searching out the best Greek restaurants in Omaha when the Royals sent him and his .152 average down to Triple-A in May. Since being recalled, he's hit  .243 and was the third best third baseman in the third week of July as he went 7/21 (.391) with five runs, three homers and four RBI.
Key Stats: As bad as Moose Tacos has been, his .200 Isolated Power (SLG% minus BA) is borderline great and better than Adrian Beltre, Evan Longoria and David Wright.
Jam it or Cram it: While Moose has been showing signs of life lately, that .192 BABIP is a little more than bad luck. It's a warning sign flashing "Don't go down this road again." Oh, how I want to believe everything will be fresh and new between me and Moose Tacos, but sometimes it's best to just remember the good times we had and move on with our lives. Hold on a sec, Brenda's on the phone…where were we? Oh, yeah, CRAM.
Jam or Cram: Josh Rutledge, 2B/SS, Colorado Rockies
2014 Stats: 130 AB, 23 R, 3 HR, 16 RBI, 0 SB, .308 AV.
Availability: 88% Yahoo, 93% ESPN.
FAAB $$$ Value: $4.
The Gist: Has our fantasy season come to this? With Troy Tulowtzki on his yearly disgraceful list stint, Dustin Pedroia and Jason Kipnis continuing to struggle and Jedd Gyorko dead to me, in walks former fantasy flame Josh Rutledge. Welcome back, kid. How's things? You look great. Now live up to last year's hype, help win us a fantasy title and all will be forgiven. Since taking over for Tulo, Rut is 10/24 (.417) with four runs, a homer and six RBI. That's a start.
Key Stats: In Rutledge's last four minor league seasons, he's hit .348, .306, .371 and .333. Such a tease.
Jam it or Cram it: Rutledge is taking advantage of the opportunity as he had two hits, a homer and four RBI Friday night. He's hitting at the top of the order, the Rockies can pile up points at home, he has that multi-positional eligibility we love and I like his matchup Sunday against the Pirates and the next four games in Cincy are in play as well. I can't believe I'm about to write this…hold on while I let my pet tortoise Boris type it instead: lhw088g'jjlbou. I believe that says JAM.

Jam or Cram: Oswaldo Arcia, OF, Minnesota Twins
2014 Stats: 187 AB, 22 R, 7 HR, 20 RBI, 1 SB, .225 AV.
Availability: 97% Yahoo, 99% ESPN.
FAAB $$$ Value: $0. Waldo is like the last lonely girl at closing time – free for the taking. Hi doll, ever had a moose taco?
The Gist: Remember that time I mentioned Oswaldo as a possible sleeper jam of the year? No? "I remember, Guru. I remember everything."  Brenda! What are you doing in my closet?! After hitting 14 homers in 2013 (which led all AL rookies), I had visions of a 25 bomb season – only 18 more to go – but those visions were likely wishful thinking or someone slipped a mickey in my Mojito. The kid has legit power, but even homer friendly Target Field can't help Waldo find his swing in that Twins lineup that is 25th in the league in home runs.
Key Stats: Waldo'scareer 18.9 K% and 8.2 BB% in the minors/pro are solid enough for a power hitting outfielder.
Jam it or Cram it: Oswaldo is like the hot new girl you asked out at the gym. Unfortunately, after a couple of dates you realize she got the crazy eyes and wants you to meet her parents. No doubt the potential is there as he hit .314 in seven minor league seasons with 68 homers and 308 RBI in 400 games, but Waldo is better left to be found in 2015. CRAM.
**Bonus Tracks: Other ex's to reconsider**
Josh Reddick, OF, OAK: We had a blast together when you were in Boston. Let's relive old times and head over to Blackthorn's and fight some dudes from Southie. JAM.
James Loney, 1B, TB: Dear James, you were so full of promise back in 2008. Sorry things didn't work out. CRAM.
Mark Reynolds, 1B/3B, MIL: You'll always be Mini-Donkey to me. I just can't quit you. And I need a third baseman. JAM.
Nick Swisher, 1B/OF, CLE: Those sideburns may be sexy, but that .205 average is a CRAM.
If you're looking for more  jams and crams, check out Razzball Radio. Stalk me on the tweet machine @TheGuruGS, check out my blog the dirty turban and join us on the Razzball Football 32³ Tour. Get your tix here.