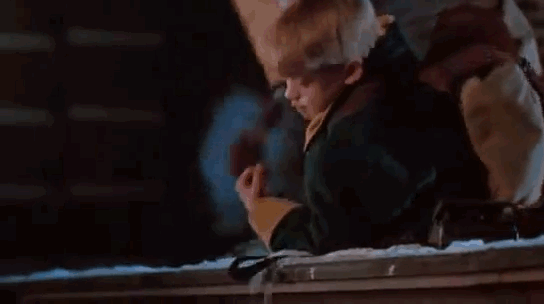 SAGNOF ALERT!!! And maybe who you're not thinking of (unless of course you tetras'd the title together in your brain place). No, we're not talking Travis 'All I Do is Singles/Steals' Sebastian Jankowski, although he could bring some value if you're looking solely for steals. But there's a better option out there. Someone who preseason had the chance to be Jarrod Dyson 2.0 with enough at bats. And then the at bats didn't come. This isn't the first time that storyline played out, though. Every spring training there seems to be some player that comes along, plays well, gets some low key hype leading into the draft and then absolutely bombs. Typically those players wallow in the kiddie pool of minor league baseball mediocrity all year until a September roster expansion call-up, but sometimes…sometimes they prove they belong far before September. I was hopeful it would be mid-April that we would see these stats accumulate for our Creeper of the Week, but an 0-16 start effectively ruptured all chances of contributing early and exited his presence from our fantasy minds. Now, with a 5-5 game under his belt and 5R/3SB in his past three games, somebody's creeeeeeepiiiinn….
Keon Broxton, OF (5.7% owned) – I tried to be sneaky in an NL-Only and a few RCL's by drafting Broxton with one of my final picks, then looked mighty silly two weeks later when he was sent packing to AAA. A close look at the stat sheet over the past 30 days turns that frown upside down, though. In 45 at bats (2/3 of which came in the last two weeks) his slash line reads .378/7/2/9/5 with a 1.126 OPS! Now, the power isn't what you're buying here, but it shows his potential elevates him over other SAGNOF's like Jankowski. I love looking at Total Bases as a strong stat for true value, and Broxton has 24 in his past 15 days. Is that a lot? Um, no. He's no Charlie Blackmon (51 TB in past 15), but when you consider he's only amassed 33 at bats to reach those 24 TB, and Cargo has 26 TB in 32 AB, you see the context. If you're reaching for some speed with a little extra pop in the other categories, you an do worse at this point in the season…especially from a guy owned in less than 6% of ESPN leagues!
Now…enough creepin'. Here are the Top 100 Hitters for Week 20!
Note: These rankings are considered ROS trade value.
RED = Falling
GREEN = Rising
BLUE = New to the 100
Dropped from Rankings: Giancarlo Stanton (17), Jose Bautista (48), Alex Bregman (97)
Brad Miller still holding it down for the Creeper of the Year. Broxton's not someone who will enter the 100, but can bring situational value. Next year Miller's making a case for a top 10 SS, even with the improvement at the position. Another multi-eligibility SS, Jose Ramirez, is red hot as of late. The added pop and steals of the past two weeks are a huge bonus, but I'm not skying him in the rankings quite yet. When I think Jose Ramirez my fear quotient is still in the light yellow level. What does that mean? I don't freaking know. I just fear he has a bad cold streak still in his next six weeks. Nunez, Segura and Perez all continuing to play well as either spot.
Please, oh, please try your best to make moves based on stats and not just name value. Feel hesitant about dropping McCutchen for Dahl, Paquin or Benintendi? Don't. You have six weeks left…no time to waste on name upside.
Speaking of Benintendi…IT'S MOOKIE BETTS 2.0! Can't wait to see this Sawx lineup next year once Moncada joins, as well.
Lastly, once more I'll proclaim my love for Joey Votto…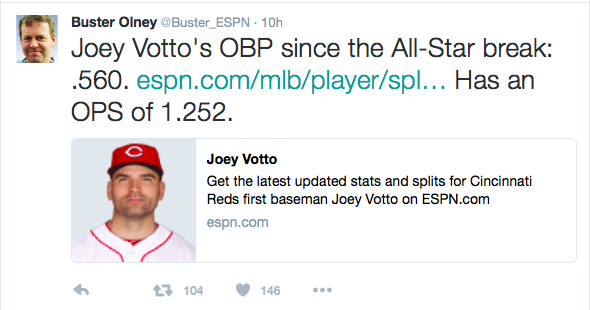 That's all. DROP THOSE COMMENTS!