As a fantasy baseball fanatic, sometimes you have to sit back and give thanks to the Internet and the free online league. I remember back in high school being the commissioner of a league where I had to punch stats from the newspaper into a Lotus123 spreadsheet and then curse the kid who kept dropping and picking up Luis Polonia like he was Luis Polonia dropping and picking up underage girls.
There is one more reason, though, we should give thanks to the Yahoos, ESPNs, and CBS Sports's (they've dropped the 'line') of the online world. Their employment of 'fantasy experts' that oversell certain draft strategies – influencing your league mates to make irrational and predictable draft decisions.
Case in point – this Starting Pitcher primer on Yahoo! Sports.
In this primer, Brad Evans recycles a common refrain: Don't draft starting pitching early (this is after he canonizes Santana over several paragraphs).
While I think drafting only offense in the early rounds could be a formula for success, I do not see this as the only formula. If you are like me and stress maximizing draft pick value over a rigid strategy, it's clear to see that the more people in your league that employ a offense only strategy, the worse that strategy performs. More importantly, it means that there is potential value to be found in drafting starting pitching early.
So on with the debunking…
Pundit View: Starting pitching is too unpredictable to warrant 1st round selection.
Rudy Gamble View: Top tier pitchers provide similar risk/reward ratios to top tier hitters.
There is statistical evidence that projections for pitchers are less predictive than for hitters. But should that fact alone cast a shadow on the top pitchers?
I dug into my 2007 draft sheet to do an unscientific test. Here were my top 10 starters going into last year's draft along with their eventual finish among all players based on my 2007 Player Rater. Just to add impartiality, I'll also add their ESPN Player Rater rank:
Name (2007 Razzball Rank, 2007 ESPN Rank)
Johan Santana (4, 4)
Jake Peavy (1, 2)
Roy Oswalt (59, 46)
Chris Carpenter (n/a)
Roy Halladay (60, 38)
Brandon Webb (7, 6)
Carlos Zambrano (69, 33)
Jeremy Bonderman (326, 180)
John Lackey (10, 9)
Ben Sheets (157, 114)
So out of my preseason top 10, 4 delivered 1st round value, 3 provided good value, one average player (Sheets), and two flops in Bonderman and Carpenter.
Let's look at the top 10 hitters on my 2007 draftboard:
Alfonso Soriano (54, 71)
Alex Rodriguez (2, 1)
Jose Reyes (23, 30)
Ryan Howard (32, 40)
Carl Crawford (29, 54)
Chase Utley (50, 59)
Vladimir Guerrero (33, 57)
Miguel Cabrera (38, 44)
David Wright (12, 15)
Well, there's definitely more consistency. No flops or average performances like Carpenter, Bonderman, and Sheets. But only one delivered 1st round value (A-Rod).
It does say something, though, about the predictability of top performing pitchers when 4 of the top 6 pitchers by year-end were in my preseason top 10 (other two being Sabathia and Beckett) where only one of the top 5 hitters was in my top 10 (after A-Rod, the next 4 rated hitters at year-end were Hanley Ramirez, Matt Holliday, Magglio Ordonez, and Jimmy Rollins).
It's also worth noting that the top tier of pitchers – which in my mind was Santana and Peavy – both ended up in the top 4 in total value. Yours truly took Santana with the 2nd pick of the draft to the amusement of friends and was one of only two people in the draft to get 1st round return in the 1st round (the other pick was A-Rod).
Of course, the guy who got Peavy in round #3 won the league. That happens to be blogmate Grey. Even after seeing first-hand how Peavy probably earned him 3 spots in the standings, the ingrate still doesn't have the balls to draft Peavy in the first 2 rounds.
Pundit View: There is more depth in starting pitching than hitting. You can find pitchers in later rounds while you bolster your offense early.
Rudy Gamble View: There is depth in all positions but you can't rely on lucking out with draft day bargains. Draft the most valuable player available in the top rounds and then look to diversify those bargains across several positions. At current ADPs (Averaged Draft Positions), you can get 2 top 10 starters in the first 5 rounds and get great value.
There were definitely high performing pitchers in 2007 that were available after the 8th round. These include Josh Beckett, Eric Bedard, Dan Haren, Javier Vazquez, and Kelvim Escobar.
If you were prescient or fortunate enough to have two or more of these guys on your team, you'd have done quite well. But there were a lot of poor-performing pitchers that were drafted at this level like Barry Zito, Dontrelle Willis, Bronson Arroyo, Rich Harden, etc. So odds are, you had at most one.
Since you cannot count on mid/late picks producing value like Josh Beckett in 2007, drafting a top starter like Santana or Peavy, another top 15 starter (if there's value) and then promising pitchers staggered throughout the remaining rounds minimizes your team's risk should you not luck out with a Beckett-type.
As for starting pitching being deeper than hitting, this is greatly exaggerated. Here is a lineup of hitters from 2007 who were likely drafted outside the first 8 rounds in many leagues:
C – Russell Martin
1B – Prince Fielder
2B – Brian Roberts
SS – J.J Hardy
3B – Mike Lowell
OF – Magglio Ordonez
OF – Eric Byrnes
OF – Curtis Granderson
OF – Alex Rios
OF – Nick Markakis
CI – Adrian Gonzalez
MI – Khalil Greene
UTIL – Brad Hawpe
Bench – Aaron Rowand
Bench – Adrian Beltre
Bench – Dan Uggla
There is power on this mock roster. There is speed (more if you want to add Corey Patterson). There is batting average. Hell, this offense would've won most leagues. (And, note, I didn't include all the non-drafted contributors like Carlos Pena and Ryan Braun…).
So draft the best players available in the early rounds and then do your best to find value in later rounds.
Pundit View: Top hitters are more valuable because they can impact 5 categories instead of 4 categories.
Rudy Gamble View: Most hitters are at best great at 4, usually no more than 3 categories. Great starters are usually great across 4 categories.
I covered this in an earlier article but here are some quick examples using 2008 Point Shares.
There are only 14 hitters who we project to be above average in all 5 categories for 5×5 12 team leagues (factoring in position). Of those, only three provide more than 0.8 point shares in each category (meaning they'd move a 5.5 point level in the category to at least 6.3). Those players are A-Rod, David Wright, and Ryan Braun. Just because hitters aggregate stats in 5 categories doesn't mean they deliver above average value in each.
A comical example of this misconception is on the 2008 Rotowire cover where Grady Sizemore is shown with the subheadline "Five Category Production".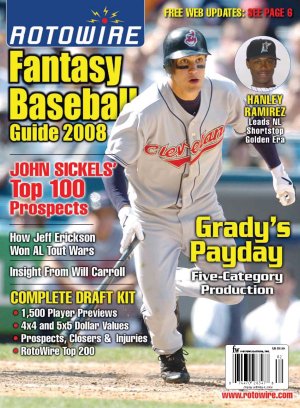 Really? Because while he might hit 1.000 and never strike out at Cleveland bars, last year's .277 BA and 150+ Ks don't suggest his average will be doing favors for any fantasy team this year. We have him down as a slight negative on average for an OF and barely a plus with his RBIs. Should he move to the 3rd slot, his RBIs should shoot up but his Runs and SBs might decline. Net-net, Sizemore is really a 3-category guy (R, HR, SB) who doesn't kill you on the other two (RBI, AVG).
Johan Santana and Jake Peavy, on the other hand, ROCK four categories. Their ERA/WHIP/K contributions are equal to better than A-Rod's R/HR/RBI contribution. And their Wins offer strong value as well. Brandon Webb isn't quite at their level but is above 0.8 point shares in the 4 categories.
(Note: Some might consider Bedard to be better than Webb – I'll take Webb's consistency over Bedard's upside.)
Pundit View: Santana ADP (12.1), Peavy (19.8), Webb (37.8)
Rudy Gamble View: Santana's Predicted Value (1), Peavy (4), Webb (11)
The average draft positions of Santana, Peavy, and Webb are from MockDraftCentral.com (as sourced by the Y! writer). The predicted values are from my 2008 Point Shares that are based on PECOTA and Shandler projections.
Based on my calculations, Santana is worth 7.8 points to the average team in a 5×5 10 team league, 10.5 points to the average team in a 5×5 12 team league. The projections used were 16 / 3.00 / 1.06 / 235 and one could argue there is upside in all these categories given the trade to the Mets. Peavy is at 6.5 point shares. Webb is at 4.2 point shares.
As for the consensus top 10 draft picks, the Point Share rankings have A-Rod and Holliday at #2 and #3. Wright and Hanley at #6 and #7, Utley #9, Reyes #16 (which shouldn't be that surprising since he finished outside the top 20 on Player Raters last year even after stealing 70+ SBs)
So here is my advice….
Aim to get one of the Santana/Peavy/Webb trio in your drafts. Santana and Peavy are the most reliable, high-performing pitching duo since Pedro and Randy Johnson in 1999-2002.
I've already taken Santana #1 in my Fantasy Baseball Writers Draft (5th pick). My only doubt – would Peavy be available in #2 if I decided to take a bat? I feared he wouldn't – but he was. Given current ADPs, I'd advise taking Santana in round #1 if available and Peavy or Webb in Round #2. Of these choices, I think Peavy at #2 is the best value.
As for other starters, while I think the value is there to support taking others in the 3rd round (Beckett, CC, Bedard, Hamels, Kazmir), the current ADPs for pitchers let you wait until the 4th or 5th rounds. But if somehow a couple people in your league all read this column, you may need to adjust upward…