It was almost 15 years ago (somehow) when Outkast introduced us to the truth that sometimes "roses really smell like poo-poo-oo." Ha, that silly Caroline thought she was special. Back in January, not gonna lie, I had a two weeks spurt of praying and hoping that I could break the mold, that I was special, and that I could get away with not smelling while disregarding one important component of every adult's life.
After a wedding in Charleston for New Years Eve I came home with zero deodorant. Who in the balls steals deodorant, I don't quite understand. But that triggered a little experiment for two weeks of wearing none. (Gasp) The horror!
Well, I actually got away with it. For a while. Then came one day at work when I had to walk about 10,000 steps…you can see where this is going. Let's just put it this way, I didn't raise either of my arms anywhere north of about 5 degrees from my sides. While it wasn't doo-doo that I smelled like (because that would be quite possibly the. worst.), Ol' Three Stacks was right in that you just can't avoid the necessary elements and think you're 100. For Caroline, that betch needed a little humility. For me, it was as simple as stop being a cheap bastard because the experiment failed miserably. But, oh, for Rougned Odor? The approach would catch up with him eventually. Here comes the massive drop.
Rougned Odor, 2B, TEX (96.2% owned) – I can feel the scorn of all the Grey acolytes reading this. I'm lucky enough to somehow be a part of the FantasyPros Expert Consensus rankings, and while doing a little studying back in March one person stood far above the others in his love for the smelly Texas man with a nasty right haymaker: our Grey. Now, I trust Grey's ratings above almost everyone else's, but with Odor we weren't in lockstep. And then his first week happened and I felt a little silly, because our mustached macho man was looking quite nice for his top 15 ranking of Rougned (3 HR in first 4 games). But then reality set in: this dude's streakier than Frank the Tank running around the quad (somehow also almost 15 years ago). With a BABIP south of .300 last year he hit .271 and posted 33HR with 14 SB. Incredi-belmo! When the ol' BABIP drops under .200, though, you get a player slashing .194/9/4/13/1. His game doesn't allow him to weather the bad storms because he never walks (4.0% this year), whereas players that walk to a double-digit rate can still provide value while getting on base when the bat goes cold. He's a special talent with a massive ceiling, but until he turns it around there are plenty of other options I'd rather own. At only 23 years old he's prime to turn it around and still finish with a .250/80/25/80/12 line, but if April's a precursor for the rest of 2017 we need to pump the brakes on what we dreamed he may be. .270/90/30/90/20 just ain't happening. This is bad Odor. You'll have to live with it. It's definitely not roses.
Now, I'm sure I'll look like an idiot for this in a few days when he goes all Anthony Rendon, but then I'll just say this was all a ploy to make my big boss man look better (insert Grey cackle here)! Still worth the 96.2% own rate? Yep. Still worth a top 25 ranking where even I had him preseason? Nope. And much of the below rankings are my subjective thoughts, so don't agree? THAT'S WHAT THE COMMENTS ARE FOR!
Note: These rankings are considered ROS Trade Value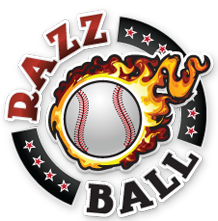 [email protected]'s Top

 Hitters
(Rankings based on 12-team Roto. GREEN = player rising. RED = player dropping. BLUE = new to the 100.)
The Honorable Mentions (Next Five In…)
Dropped from the Rankings: Adam Eaton (45), Eduardo Nunez (94)
A few notes on the 100:
Best 1B in the game? Freddie Freeman. And no, that's not just the Braves fan coming out in me. I'm not the biggest Mark Bowman fan, but here you go:
Notably not on there? Paul Goldschmidt.
That 24-26 trio would be fun to watch mash in the Home Run Derby. Which player ends the year with more home runs? And notice, Ryan Zimmerman isn't in that group.
Speaking of…Zimmerman leaps into the 100, but not too far up. He's hitting a monstrous .410/19/11/27/1 to finish April. That's stupid, and nowhere close to maintainable. Sure, he's only 32 (feels like he's 52) and can still mash a little, but injury concerns and regression outweigh his crazy begin to 2017 for my ROS thoughts. Tread lightly and don't overpay.
Overall, not a ton of changes in the 100 this week at the top. Go look at your most owned players and they're essentially all pulverizing the ball over the past two weeks with OPS's north of 1.000 everywhere. Down at the bottom some fallers are in steep decline. Besides Odor I could have easily focused on another Razz favorite: Nomar Mazara. Muhzuhzuh!!! I feel like you should have to yell that through a conk shell for full effect. Anywho, dude's gotta adjust. Need to see some improvements.
And lastly, let's pour one out for Adam Eaton. That. Freaking. Sucks.
As always…don't agree with something?
DROP THOSE COMMENTS!
Follow [email protected] on Twitter at @matthayes for far more than just fantasy advice.