The Fantasy Baseball Hall of Fame in conjunction with Razzball.com, are electing the All-Star teams of the Fantasy Era. For every season from 1980 to today full 23 man rosters will be created and analyzed. In the second installment the 1983 through 1985 seasons are identified.
Year: 1983
First Time All Stars: 11 – John Denny, Carlton Fisk, Pedro Guerrero, La Marr Hoyt, Jack Morris, Jesse Orosco, Jim Rice, Dave Stieb, Lou Whitaker
3 Time All Stars: 5 – Cecil Cooper, Andre Dawson, Rickey Henderson, Eddie Murray, Robin Yount
5 Time All Stars: N/A
10 Time All Stars: N/A
Future FBHOF'ers: 8 – Steve Carlton, Dawson, Henderson, Dale Murphy, Murray, Tim Raines, Cal Ripken, Yount.
Snubs: Ron Guidry (8.5), Lloyd Moseby (10.9), Mike Schmidt (11.1), Willie Upshaw (11.2)
16 Pt Season: 1 – Murphy (16.6)
By 1983 several players had emerged as recurring fantasy greats. Steve Carlton, Cecil Cooper, Rickey Henderson, Eddie Murray, and Robin Yount each were elected to their 4th consecutive All-Star team, and all but Cooper would eventually be inducted into Fantasy Baseball Hall of Fame. Cooper falls just short of FBHOF requirements only since his 5th best season came one year before the 1980 cutoff.
On offense, Dale Murphy was king, enjoying his best season as a professional – .302, 131 R, 36 HR, 121 RBI, and 30 SB for the #1 batter ranking that year. His 16.6 FBHOF points rank 16th in the fantasy era. The rest of his outfield peers were solid themselves, finishing 9th in the positional rankings from 1980-2007. Two other stars of the 1970's – Jim Rice and Dave Winfield – joined FBHOF'ers Tim Raines and Andre Dawson to give the outfielders an average of 13.5 points between them.
The 1983 bullpen ranks #1 all time. The names do not conjure up memories of the best seasons ever, but from a fantasy standpoint Dan Quisenberry, Jesse Orosco, and Al Holland delivered over 340 innings of 0.99 WHIP, 1.88 ERA baseball, along with 26 wins and 87 saves.
Starting pitching was relatively weak as Mario Soto, the #1 starter, had just 13.5 FBHOF points, the 5th worst mark for the #1 pitcher in a given year. He's joined by first time All Stars Jack Morris, La Marr Hoyt, John Denny, and Dave Stieb. FBHOF'er Steve Carlton is the 6th starter, though this was his last great year.
Joe Altobelli's Baltimore Orioles would win the World Series in 1983, topping the Philadelphia Phillies in just 5 games. Murray and Ripken are their representatives.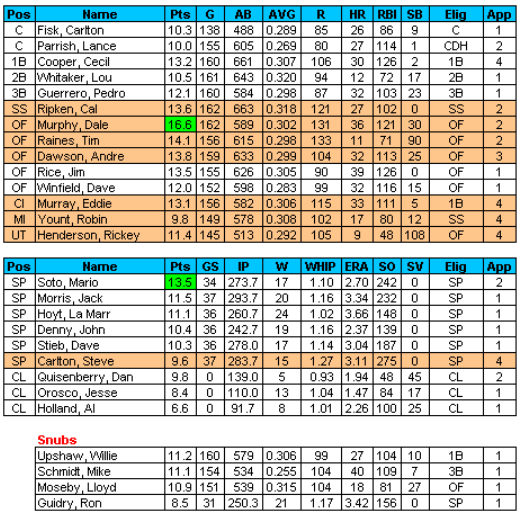 Positional Ranking Among the 28 Teams
C: 7th
IF: 21st
OF: 9th
SP: 21st
RP: 1st
Overall: 9th
Year: 1984
First Time All Stars: 8 – Tony Armas, Bert Blyleven, Mike Boddicker, Dwight Gooden, Willie Hernandez, Don Mattingly, Tony Pena, Juan Samuel
3 Time All Stars: 5 – Dale Murphy, Cal Ripken, Mike Schmidt, Mario Soto, Tim Raines
5 Time All Stars: 2 – Eddie Murray, Rickey Henderson
10 Time All Stars: N/A
Future FBHOF'ers: 9 –Gooden, Henderson, Mattingly, Murphy, Murray, Raines, Ripken, Ryne Sandberg, Schmidt
Snubs: Bud Black, Jim Rice
16 Pt Season: None
1984 wasn't a prime year for great baseball lines and it shows when constructing the fantasy All Star squad. Instead of an all time great Mike Schmidt leading the league in home runs like he did in 1983, it was Tony Armas. Instead of Jim Rice and the RBI crown, it was Armas again. Dale Murphy was a stud in 1983, amassing 16.6 FBHOF points after batting .302 with 131 R, 36 HR, 121 RBI, and 30 SB. One year later the best line in fantasy was just 13.6 FBHOF points when Ryne Sandberg batted .314 with 114 R, 19 HR, 84 RBI, and 32 SB.
Two young players from New York did have a major impact on the game however, and would eventually become greats, if just for a short period of time. In the National League, Dwight Gooden threw his first major league pitch in April, becoming one of the finest pitchers in baseball over the next 3 or 4 years. The same is true for the Yankees first basemen, Don Mattingly, who won a batting title and drove in 100 runners in his first full time season.
Overall though, the Infielders, Outfielders, and Staring Pitching all rank in the lower half of FBHOF scoring, with the latter two positions coming in with some of the worst scores on record.
A positive about 1983, and of the period between 1982 and 1985, was the quality of the catching crew. The only better 4 year period of the fantasy era was 1997 to 2000 thanks to the likes of Mike Piazza and Ivan Rodriguez. In the early 80's it was six time All Star Gary Carter (and he's not in the Fantasy Baseball Hall of Fame?) along with Lance Parrish and Carlton Fisk, both three time all stars.
In the World Series the Detroit Tigers cemented their place in history as one of the great single season teams, winning 104 games and easily dispatching the San Diego Padres 4 games to 1. Not one regular Tiger is on this team, though closer Willie Hernandez was spectacular, reaching 10.5 FBHOF points thanks to a line of 140 IP, 9 W, 0.94 WHIP, 1.92 ERA, and 32 saves. Those were the days for relief pitching.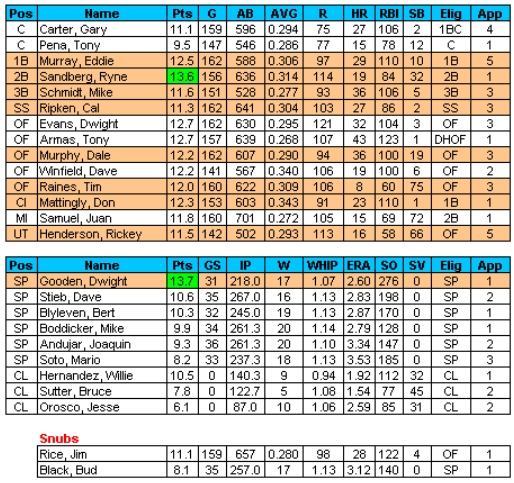 Positional Ranking Among the 28 Teams
C: 5th
IF: 15th
OF: 26th
SP: 27th
RP: 2nd
Overall: 22nd
Year: 1985
First Time All Stars: 9 – Kirk Gibson, Tommy Herr, Orel Hershiser, Bob James, Willie McGee, Donnie Moore, Dave Parker, Bret Saberhagen, John Tudor
3 Time All Stars: 3 – Dale Murphy, Cal Ripken, Fernando Valenzuela
5 Time All Stars: 3 – Gary Carter, Rickey Henderson, Eddie Murray
10 Time All Stars: N/A
Future FBHOF'ers: Dwight Gooden, Henderson, Don Mattingly, Murphy, Murray, Cal Ripken, Saberhagen, Ryne Sandberg, Valenzuela
Snubs: Tim Raines (11.5)
16 Pt Season: Henderson (16.6), Gooden (18.3)
This was a fun team to explore, one riddled with great seasons. Only 1997 saw more 15-point campaigns, and 1985 is also ranked 4th in 10-point seasons. Rickey Henderson, Dwight Gooden and Don Mattingly were each at the height of their successes while Orel Hershiser, Eddie Murray, and Dale Murphy were in the midst of their second best seasons of the Fantasy Era. Additionally, Gary Carter joins Henderson and Murray to create our first team with three 5-time all stars.
The standouts of 1985 were the infielders who combined to average 13.6 FBHOF points. In the 18 year period between 1877 and 1996, Don Mattingly was the only major leaguer to drive in 145 runners; Sandberg stole 54 while contributing 26 HR and 113; George Brett went .335 / 108 / 30 / 112; Ripken hit 26 HR and had 100+ R & RBI; and finally, Murray drove in 124 and hit 31 HR. Only middle infielder Tommy Herr had less than 12 FBHOF points and he was very good regardless – .302 AVG, 97 R, 110 RBI, 31 SB. Only one infield of the fantasy era ranked better, the 2005 squad of Albert Pujols, Alfonso Soriano, Alex Rodriguez, Michael Young, Derek Lee, and Chone Figgins.
The outfield was great too, ranking 6th overall. Again, only one player scored less than 12 FBHOF points and their collective average stats were 110 R, 28 HR, 100 RBI, and 32 SB.
While not exactly week, starting pitching was an area where the 1985 team did not rank well above average. Gooden was amazing – 277 IP, 24 W, 0.97 WHIP, 1.53 ERA, 268 K and John Tudor and Hershiser made a formidable 1-2-3, but at the tail end Bret Saberhagen and Bert Blyleven couldn't match Gooden's FBHOF score between them. And for the first time not a single closer reached 6.5 points, ranking 23rd of 28 teams.
The Kansas City Royals, thanks in large part to All Stars Brett and Saberhagen, bested the St. Louis Cardinals in a hard fought 7 game series. Cardinal All-Star and starting pitcher Tudor, was shelled after two great performances in games 1 & 4.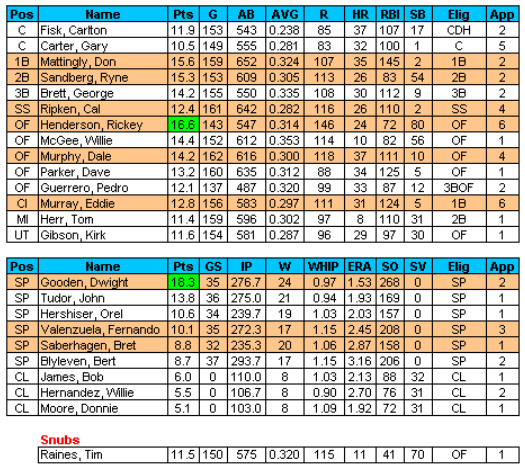 Positional Ranking Among the 28 Teams
C: 3rd
IF: 2nd
OF: 6th
SP: 13th
RP: 23rd
Overall: 4th