The Fantasy Baseball Hall of Fame in conjunction with Razzball.com, are electing the All-Star teams of the Fantasy Era. For every season from 1980 to today full 23 man rosters will be created and analyzed. In the second installment the 2001 through 2003 seasons are identified.
Year: 2001
First Time All Stars: 8 – Bret Boone, Keith Foulke, Freddy Garcia, Luis Gonzalez, Paul Lo Duca, Albert Pujols, Ichiro Suzuki, Javier Vazquez
3 Time All Stars: 3 – Robb Nen, Curt Schilling, Larry Walker
5 Time All Stars: 6 – Roberto Alomar, Randy Johnson, Chipper Jones, Mike Piazza, Alex Rodriguez, Sammy Sosa
10 Time All Stars: 2 – Barry Bonds, Greg Maddux
Future FBHOF'ers: 14 – Alomar, Bonds, Todd Helton, Johnson, Jones, Maddux, Piazza, Pujols, Rodriguez, Schilling, Sosa, Walker
Snubs: 2 – Vladimir Guerrero (11.6), Bobby Abreu (11.0)
16 Pt Season: 1 – Johnson (17.9)
2001 was the last hurrah for the fantasy all-stars. During the 1980's no team reached the level of 10 Fantasy Baseball Hall of Famers on its roster. In the early 1990's, the number FBHOF'ers per team rose steadily until maxing out at 14 in 1997 and 1998, and maintained this approximate level for the next three years. Now, in 2001, we find it's the last team to take the field with double digit home FBHOF'ers.
Several all time greats made their last All-Star appearance: Roberto Alomar, Kevin Brown, Chipper Jones, Greg Maddux, and Larry Walker had their last great season and only the addition of Albert Pujols helped off-set their losses.
This isn't to say 2001 wasn't a good team as both the infield and outfield were Top-10 material. Going around the diamond Todd Helton, Bret Boone, Alomar, Alex Rodriguez, Jones and Pujols averaged an astounding .330 with 120 R, 39 HR, and 126 RBI. The outfield was even better: .330 AVG, 126 R, 48 HR, 126 RBI, and 17 SB. The best of the lot was Sammy Sosa who batted .328, hit 64 HR, and drove in 160 RBI.
Randy Johnson, with 17.9 FBHOF points, made up for what was otherwise a mediocre starting rotation. He won 21 games and struck out 372 batters, the third highest mark since the beginning of the 20th century.
In a famous 7 game set, the Arizona Diamondbacks defeated the New York Yankees in the 2001 World Series. Gonzalez, Johnson, and Schilling represented the victors. Mike Mussina and Mariano Rivera the losers.
Positional Ranking Among the 28 Teams
C: 21st
IF: 6th
OF: 7th
SP: 16th
RP: 25th
Overall: 16th
Year: 2002
First Time All Stars: 14 – Carlos Beltran, Lance Berkman, Eric Gagne, Jason Giambi, Byung-Hyun Kim, Billy Koch, Derek Lowe, Magglio Ordonez, Roy Oswalt, Jorge Posada, Alfonso Soriano, Miguel Tejada, Jim Thome, and Barry Zito
3 Time All Stars: 1 – Vladimir Guerrero
5 Time All Stars: 4 – Pedro Martinez, Alex Rodriguez, Curt Schilling, Sammy Sosa
10 Time All Stars: 1 – Barry Bonds
Future FBHOF'ers: 9 – Bonds, Guerrero, Johnson, Martinez, Piazza, Albert Pujols, Rodriguez, Schilling, Sosa
Snubs: 2 – Jeff Kent (11.0), Shawn Green (10.7)
16 Pt Season: 1 – Johnson (18.1)
No stars, no problem.
14 first time All-Stars make up a large portion of the 2002 squad, yet this team was among the best of the fantasy era, ranking 6th overall. The key for was their formidable starting rotation, led by another great season from Randy Johnson. He owns the best consecutive two year score all time, compiling 36 FBHOF points in 2001 ad 2002. Fellow starters Curt Schilling and Pedro Martinez were excellent as well, combining for 43 W, 555 K, 0.96 WHIP, and a 2.81 ERA.
For the second year in row, the infield was superb. Jason Giambi was near his peak, hitting 41 HR and driving in 122; Albert Pujols batted .314 and drove in 122; Rodriguez enjoyed his 57 HR, 142 RBI year; Miguel Tejada had 131 RBI and 34 HR; and Jim Thome hit 52 out of the park.
Saying goodbye were Mike Piazza and Sammy Sosa. In 2002 the Anaheim Angels edged out the San Francisco Giants 4 games to 3 in the World Series. Barry Bonds was the lone representative for the fantasy all-stars.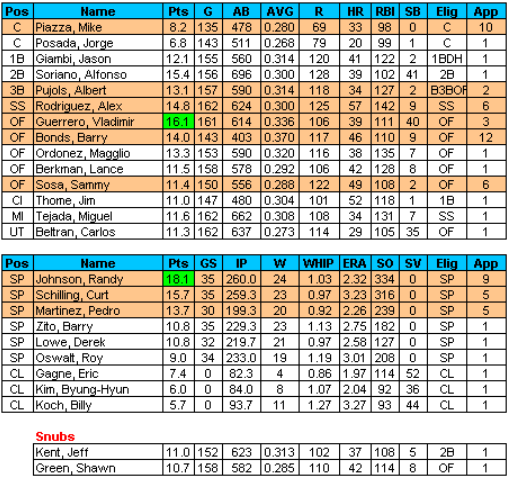 Positional Ranking Among the 28 Teams
C: 26th
IF: 5th
OF: 17th
SP: 3rd
RP: 16th
Overall: 6th
Year: 2003
First Time All Stars: 9 – Carlos Delgado, Roy Halladay, Tim Hudson, Esteban Loaiza, Javy Lopez, Mark Prior, Scott Rolen, Jason Schmidt, Vernon Wells
3 Time All Stars: 2 – Todd Helton, Albert Pujols
5 Time All Stars: 2 – Pedro Martinez, Alex Rodriguez
10 Time All Stars: 1 – Barry Bonds
Future FBHOF'ers: 13 – Bonds, Helton, Martinez, Pujols, Manny Ramirez, Rodriguez, Gary Sheffield
Snubs: 2 – Nomar Garciaparra (11.5), Edgar Renteria (11.4)
16 Pt Season: 1 – Pujols (17.2)
This was a solid year, with all positions with the exception of starting pitcher, solidly above average. The most impressive aspect of the 2003 team was the relief corps, which ranked 5th. This is the best ranking given to closers since the days of 120 inning seasons from the early 1980's.
Eric Gagne led all relievers with 9.1 FBHOF points, the highest mark of what we'll call the modern closing era. He was unhittable posting a 0.69 WHIP and 1.20 ERA in 82 innings. He also struck out 137 and saved 55 games. Joining him in the pen is Keith Foulke (0.89 WHIP, 2.09 ERA, 43 Sv) and Billy Wagner (0.87 WHIP, 1.78 ERA, 44 K). Foulke dazzled fantasy owners with 9 wins as well.
Albert Pujols was rated best on the team. It was his finest fantasy season as he raised his batting average to .359 while maintaining his usual run production numbers, in this case 137 R, 43 HR, and 124 RBI. Gary Sheffield gets little credit when compared to his contemporaries, but he could mash. His .330 AVG with 126 R, 39 HR, 132 RBI, and 18 SB added up to 15.9 FBHOF points, second most on the team.
Also of note was Javy Lopez and his 43 HR and 109 RBI out of the catcher position. It was the 6th best single season for a catcher. Mark Prior teased us all with his only great season – 18 W, 1.10 WHIP, 2.43 ERA, and 245 K.
The Florida Marlins defeated the New York Yankees in six games. Florida had no fantasy All Stars; the Yanks had one, Alfonso Soriano.
Positional Ranking Among the 28 Teams
C: 10th
IF: 13th
OF: 10th
SP: 19th
RP: 5th
Overall: 8th