The Fantasy Baseball Hall of Fame in conjunction with Razzball.com, are electing the All-Star teams of the Fantasy Era. For every season from 1980 to today full 23 man rosters will be created and analyzed. In the second installment the 1986 through1988seasons are identified.
Year: 1986
First Time All Stars: 15(!) – Jesse Barfield, George Bell, Joe Carter, Roger Clemens, Eric Davis, Jody Davis, Gary Gaetti, Mike Krukow, Roger McDowell, Kirby Puckett
, Dave Righetti, Steve Sax, Mike Scott, Mike Witt, Todd Worrell
3 Time All Stars: 3 – Don Mattingly, Mike Schmidt, Fernando Valenzuela
5 Time All Stars: 3 – Gary Carter, Rickey Henderson, Cal Ripken
10 Time All Stars: N/A
Future FBHOF'ers: 7 – Clemens, Henderson, Mattingly, Puckett, Ripken, Schmidt, Fernando Valenzuela
Snubs: Tim Raines (11.4), Von Hayes (11.3), Jim Rice (11.0), Tony Gwynn (10.9)
16 Pt Season: Mike Scott (17.3)
An incredible 15 first time all stars made the 1986 team. The vacuum was in part created by several greats that made their last All Star appearance on the 1985 team. While still productive, both Tim Raines and Dwight Gooden were never considered elite again. Eddie Murray, who would improbably make the 1990 All Stars, started a 4-year period of less than spectacular play and new blood in the likes of Don Mattingly emerged as the best first basemen.
1986 was also the final year of Gary Carter's seven year reign as the best fantasy catcher in game. Between 1987 and 1992 following Carter's departure, nine different catchers would make All-Star appearances.
This churn resulted in a less than spectacular team, one that finished just 19th of the 28 teams we are to investigate. But it was the first year future Fantasy Baseball Hall of Famer's Kirby Puckett and Roger Clemens made the all-stars. Fan admired Eric Davis would also make this team, stealing 80 bases and hitting 27 home runs. Clemens was the key All Star rookie however, as he would go on to become an inner circle FBHOF'er and record more FBHOF points than any other pitcher in fantasy history. While not considered a true rookie, 1986 was the first year Clemens made 30 or more starts. He won 24 games with a 0.97 WHIP, 2.48 ERA, and 238 K's for a sweet 15.5 FBHOF points.
He wasn't the best player of the year however, that distinction goes to Mike Scott who recorded 17.3 FBHOF points, 9th highest of the fantasy era, and the best mark for a non-hall of famer. The rest of the starting rotation was made up of one time all stars Mike Witt and Mike Krukow, three time all star Jack Morris, and one of the last good seasons of FBHOF'er Fernando Valenzuela. Starters were the lone bright spot, finishing 7th in the rankings.
The principal concern with the 1986 All Stars is a poor showing from the catchers and middle infielders. Jody Davis, back up catcher to Carter, is elected with the 2nd worst All Star score for catchers ever. The middle infielders had a different problem – Cal Ripken, Steve Sax, and Alan Trammell each had good years, averaging 10.2 FBHOF points, but 1986 marked the first time no middle infielder reached the 12 point plateau, the cut-off used for "great" seasons. This results in a raking of just 27th.
Outfielders performed close to the average with Kirby Puckett (.328, 119 R, 31 HR, 96 RBI, 20 SB) and Rickey Henderson (130 R, 28 HR, 87 SB) leading the charge. Closers were now fully into the period of less innings pitched, which reduced their fantasy value considerably:
Clemens' Red Sox lost to Carter's Mets in one of the more memorable World Series.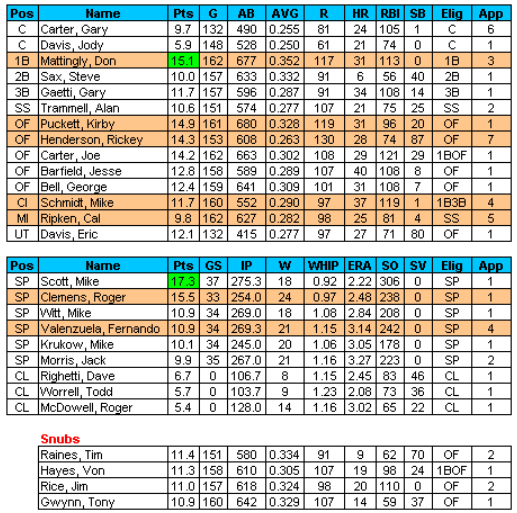 Positional Ranking Among the 28 Teams
C: 24th
IF: 27th
OF: 12th
SP: 7th
RP: 21st
Overall: 19th
Year: 1987
First Time All Stars: 11 – Tim Burke, Tony Gwynn, Tom Henke, Howard Johnson, Jimmy Key, Mark McGwire, Matt Nokes, Benito Santiago, Darryl Strawberry, Frank Viola, Bob Welch
3 Time All Stars: 4 – Andre Dawson, Dwight Evans, Jack Morris, Alan Trammell
5 Time All Stars: 1 – Dale Murphy
10 Time All Stars: N/A
Future FBHOF'ers: 4 – Clemens, Dawson, Paul Molitor, Murphy
Snubs: Tim Raines (11.9), Vince Coleman (11.2), Kirby Puckett (11.1)
16 Pt Season: None
The late 1980's into the early 1990's was a period of few standouts. The number of 12 Point, 16 Point, and 18 Point seasons was all down from levels established in the early and mid 1980's, and well off the pace of the late 90's into early 2000's. Only until recently as parity gripped teams and players alike, have the numbers returned to a level near the late 1980's.
The chart below depicts the number of each season type (12, 16, or 18 points) by year. The Y-Axis is represents the number of season types per team, on average. For instance, in 1998 every other team, 50%, would expect to have a 12 point player. This is twice as much as the all time low of 1994, when 1 in 4 teams would have a 12 point player.
With no 16 point seasons, or 15 point seasons for that matter, there are few standouts in 1987 – every non catcher recorded somewhere between 10.8 and 14.3 points.  The best of the bunch was George Bell and his 47 home runs.  Mark McGwire belted 49 homers, but scored lower than Bell in every other category, especially RBI where he fell short 134 to 118.    Darryl Strawberry (39 HR, 36 SSB), Eric Davis (37 HR, 50 SB), Andre Dawson (49 HR, 137 RBI), and Dale Murphy (44 HR, 115 R) all had memorable seasons but none scored particularly highly.
1987 is famous for its offensive explosion.  In the 5 year period after the 1981strike, baseball averaged less than 13 players with 30 or more home runs.  In 1987 the figure spiked to 28.  Baseball also averaged less than 1 player per season hitting 40 home runs prior to 1987.  Then the number more than quadrupled to four (Bell, Dawson, McGwire, Murphy).  Even the number players who hit 10 and 20 or more home runs increased considerably, 20% and 55% respectively.  Because of this, it was difficult to stand out, which reduces a players FBHOF score.  Simple supply and demand – if more players are hitting 30+ homers, the less an owner has to fight for there services, reducing each players overall value.
The pitchers were no better off than the batters.  Starters rank 20th overall and relievers 13th, though the impact of closers is already small as we have seen.   Roger Clemens (20 W, 1.18 WHIP, 2.97 ERA, 256 K) was pitcher of the year, though his stats add up to just 13.7 points.  He's followed in the rotation by Jimmy Key (just 161 K), Mike Scott (16 W, 3.23 ERA), Frank Viola, Jack Morris, and Bob Welch.  This was also the first time no All Star relievers reached 100 innings pitched.
The 1987 World Series featured FBHOF'ers Kirby Puckett and Frank Viola.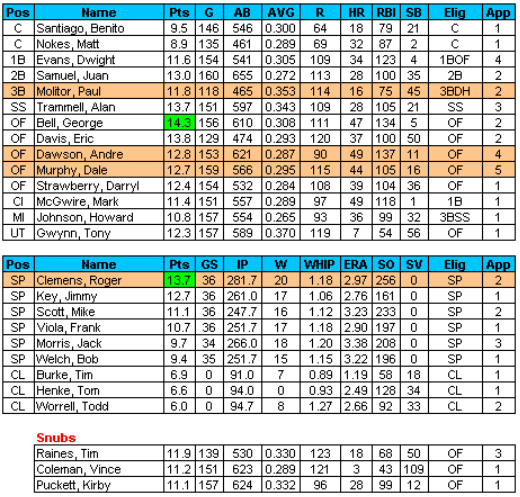 Positional Ranking Among the 28 Teams
C: 5th
IF: 15th
OF: 26th
SP: 27th
RP: 2nd
Overall: 22nd
Year: 1988
First Time All Stars: 11 – Jose Canseco, David Cone, Mark Davis, Dennis Eckersley, John Franco, Julio Franco, Andres Galarraga¸ Mike Greenwell, Teddy Higuera, Danny Jackson, Barry Larkin, Ernie Whitt
3 Time All Stars: 4 – Roger Clemens, George Brett, Rickey Henderson, Paul Molitor, Ryne Sandberg, Dave Winfield
5 Time All Stars: 1 – Henderson
10 Time All Stars: N/A
Future FBHOF'ers: 7 – Canseco, Clemens, Cone, Henderson, Molitor, Kirby Puckett, Sandberg
Snubs: Andy Van Slyke (12.0), Will Clark (11.4), Kirk Gibson (11.0), Kevin McReynolds (10.4), Joe Carter (10.2)
16 Pt Season: Canseco (18.3)
The 1988 All-Stars are our worst ranked team in fantasy history. The Catchers and infielders are ranked last, the relievers 3rd to last, and the starting pitchers were barely average. If it weren't for featuring the 3rd best offensive season of the Fantasy Era, this team would have been dreadful.
Starting with the positives – future Fantasy Baseball Hall of Famer Jose Canseco was awesome. He hit 42 home runs and stole 40 bases to be baseball first "40/40' man. He hit over .300 and accumulated 120+ Runs and RBI. His 18.3 FBHOF points is just 1 of 4 such seasons in fantasy history. Fellow outfielder Kirby Puckett was also enjoying the best fantasy season of his career, adding 15.8 FBHOF points after batting .356 with 109 R, 24 HR, 121 RBI and 6 stolen bases. This gave the outfielders a 3rd place ranking.
Starting pitcher Orel Hershiser narrowly missed enshrinement into the FBHOF, falling short by just one-tenth of a point. His 1988 FBHOF score of 13.4 was the best of his career too, winning 23 games with a 1.05 WHIP and 2.26 ERA. This was also the season of his famous 59 consecutive scoreless innings streak. Joining Hershiser were FBHOF'ers Roger Clemens and David Cone, both of who were very good but not great. The 1988 starting pitching ranks 14th, exactly average.
The main problem with this squad is the entire infield; because of their deficiencies a record 54.9 FBHOF points were left off the team as Andy Van Slyke, Will Clark, Kirk Gibson, Kevin McReynolds, and Joe Carter were omitted. Van Slyke's 12.0 FBHOF points is the second worst snub of all time. He had 101 R, 100 RBI, 25 HR, and 30 SB and was ranked as the 7th best batter and finished 4th in the NL-MVP voting.
Instead of the likes of Van Slyke and Clark, the 1988 team was saddled with catchers Ernie Whitt and Tony Pena. Whitt at least had 16 HR and 70 RBI, respectable for a catcher, but Pena was bad for an All Star by any standard – .263 AVG, 55 R, 10 HR, 51 RBI. Much of the rest of the infield was of poor quality too. Julio Franco, Barr Larkin, and Ryne Sandberg all failed to reach 10 FBHOF points and only one of the six infielders, George Brett, reached the 100 RBI plateau.
Along with past great Dave Winfield, 1988 would be Brett's last All Star appearance. However, the career's of David Cone (5 All Star appearances), Andres Galarraga (3), Julio Franco (3), Dennis Eckersley (3), and Canseco were just emerging.
The 1988 World Series featured the famous Kirk Gibson home run off of Dennis Eckersley, catapulting the Dodgers to a relatively easy 5 game victory. The Dodgers featured FBHOF'er Fernando Valenzuela, while the Athletics countered with Canseco.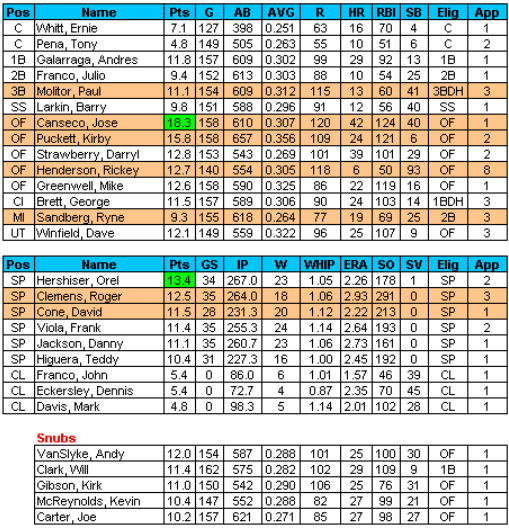 Positional Ranking Among the 28 Teams
C: 28th
IF: 28th
OF: 3rd
SP: 14th
RP: 26th
Overall: 28th