The Fantasy Baseball Hall of Fame in conjunction with Razzball.com, are electing the All-Star teams of the Fantasy Era. For every season from 1980 to today full 23 man rosters will be created and analyzed. In the second installment the 1989 through 1991 seasons are identified.
Year: 1989
First Time All Stars: 11 – Craig Biggio, Bobby Bonilla, Will Clark, Jose DeLeon, Bo Jackson, Fred McGriff, Kevin Mitchell, Mike Moore, Ruben Sierra, Mickey Tettleton
3 Time All Stars: 4 – Eric Davis, Orel Hershiser, Mike Scott, Ryne Sandberg
5 Time All Stars: 2 – Rickey Henderson, Robin Yount
10 Time All Stars: N/A
Future FBHOF'ers: 5 – Biggio, Henderson, Bret Saberhagen, Sandberg, Young
Snubs: 3 – Lonnie Smith (10.6), Julio Franco (10.5), Don Mattingly (10.3)
16 Pt Season: 1 – Saberhagen (16.5)
All Star teams suffered through their worst stretch of the fantasy era between the 1986 and 1992 seasons. No team ranked higher than 19th and four of the six lowest ranked teams came from this period. There were few endearing qualities with the 1989 team since catchers, outfielders, and starting pitchers each ranked in the in the lower quartile when compared with their peers from other years. Even middle infielders were below average, ranking 17th, while relievers at least held their own at 10th.
1989 was the first year several future recurring all stars made their first. Fantasy Baseball Hall of Famer Craig Biggio had his first great year, as a catcher, and Bobby Bonilla, Fred McGriff, Ruben Sierra, and Mickey Tettleton also made their first appearances. Alternatively, the fantasy Baseball All Star squads said goodbye FBHOF'er Robin Yount and other greats such as Orel Hershiser, Mike Scott, and Eric Davis who would make their final All Star appearances this season.
Several popular players of the day enjoyed their best seasons. Will Clark batted .333 and drove in 111 runners; Bo Jackson hit 32 HR, stole 26 bases, and had 105 RBI; and Kevin Mitchell went off with 47 bombs and 127 RBI.
Nobody was better than Howard Johnson though. Johnson is a borderline Fantasy Baseball Hall of Famer who enjoyed the best year of his career this year. He missed the 40/40 club by 4 home runs, had over 100 runs and RBI, and recorded enough hits to bat .287. His 15.9 FBHOF points was the best among batters.
Bret Saberhagen was the leading fantasy pitcher, besting all starters in Wins, WHIP, and ERA.
The Oakland Athletics, led by All Stars Rickey Henderson and Mike Moore, swept the San Francisco Giants in the earthquake interrupted "Bay Bridge" World Series.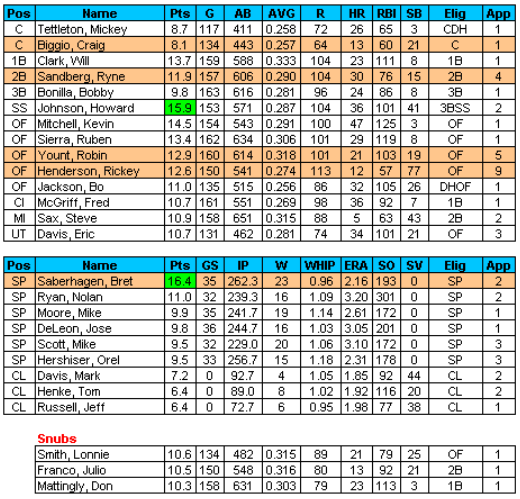 Positional Ranking Among the 28 Teams
C: 22nd
IF: 17th
OF: 21st
SP: 22nd
RP: 10th
Overall: 24th
Year: 1990
First Time All Stars: 10 – Barry Bonds, Rob Dibble, Doug Drabek, Cecil Fielder, Ron Gant, Kelly Gruber, Ramon Martinez, Dave Stewart, Bobby Thigpen, Matt Williams
3 Time All Stars: 6 – Roger Clemens, Carlton Fisk, Howard Johnson, Lance Parrish, Darryl Strawberry, Frank Viola
5 Time All Stars: 2 – Eddie Murray, Ryne Sandberg,
10 Time All Stars: 1 – Rickey Henderson
Future FBHOF'ers: 5 – Bonds, Clemens, Henderson, Murray, Sandberg,
Snubs: 4 – Jose Canseco (10.7), Lenny Dykstra (10.3), Andre Dawson (10.3), Fred McGriff (10.2)
16 Pt Season: Sandberg (16.4)
In 1990 improvements to the outfield and relief corps were offset by declining scores to catchers, middle infielders, and starting pitchers. In all, the 1990 squad was ranked a lowly 23rd. On a positive note, the 1990 All-Stars introduced the fantasy world to Barry Bonds. He batted .301 with 104 R, 33 HR, 114 RBI, and 52 stolen bases in the first of his fourteen All Star appearances. Additionally, the All Star careers of several other fantasy greats were launched – Doug Drabek, Cecil Fielder, Ron Gant, Matt Williams. Of the four, Gant had the best career (56.8 FBHOF points) and Fielder had the best year – 51 HR and 132 RBI.
This season also marked the end to several great All Star careers. Two excellent catchers, Lance Parrish and Carlton Fisk, had their last all-star quality seasons and ended their careers with 6 All Star appearances between them. This was also the last appearances for three timers Darryl Strawberry and Frank Viola.
The biggest losses however, were Rickey Henderson and Eddie Murray, both of whom are members of the Fantasy Baseball Hall of Fame. Murray was good enough for long enough to make 7 All Star appearances and Henderson was a step above him still, with 1990 being the last of an incredible 10 appearances. Henderson in particular ended on high note batting .325 with 119 R, 28 HR, 61 RBI, and 65 SB.
Roger Clemens was the pitcher of the year winning 21 games and striking out 209 batters in 228 innings. His ERA was under 2.00. 1990 was also the year of Dennis Eckersley (0.61 ERA, 0.61 WHIP) and Bobby Thigpen's 57 saves. Rob Dibble was the third closer selected (98 IP, 136 K, 1.74 WHIP) making the closers the lone standout on the team.
After sweeping the year before, the A's were themselves swept at the hands of the Cincinnati Reds in one of the biggest upsets in memory. Dibble represented the Reds while the A's countered with 3 – Dave Stewart, Bob Welch, and Eckersley.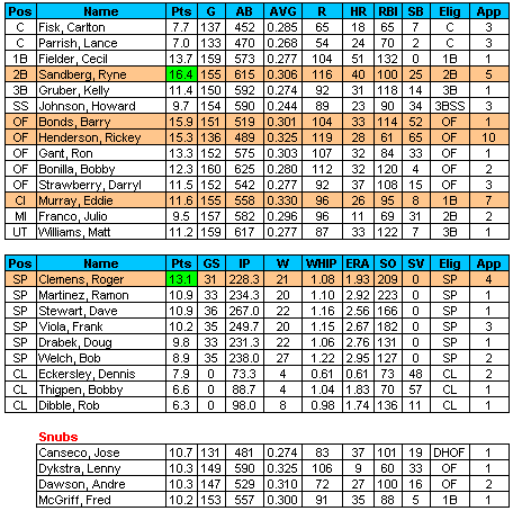 Positional Ranking Among the 28 Teams
C: 27th
IF: 23rd
OF: 8th
SP: 23rd
RP: 8th
Overall: 23rd
Year: 1991
First Time All Stars: 7 – Tom Glavine, Bryan Harvey, Mark Langston, Jose Rijo, Frank Thomas, Duane Ward, Mitch Williams
3 Time All Stars: 2 – Julio Franco, Paul Molitor
5 Time All Stars: 3 – Roger Clemens, Cal Ripken, Ryne Sandberg
10 Time All Stars: None
Future FBHOF'ers: Barry Bonds, Clemens, David Cone, Greg Maddux, Molitor, Ripken, Sandberg, Thomas,
Snubs: Rafael Palmeiro (11.5), Chris Sabo (11.1)
16 Pt Season: None
The key aspect of the 1991 Fantasy All Star team is the middle infielders. Julio Franco, Cal Ripken, and Ryne Sandberg were the best grouping since 1985 and averaged 13.6 FBHOF points, almost as many points as the outfielders. Together they hit 75 HR, scored 311 times, drove in 292 runners, stole 64 bases, and had a combined batting average of .315. The middle infielders wouldn't be this good again until Alex Rodriguez burst onto the scene five years later.
The catchers, Mickey Tettleton and Benito Santiago, were both multiple time All-Stars who delivered about average productions for All Stars. They had power hitting 48 home runs and producing 176 RBI. Their weak batting averages (.263 and .267) prevented higher scoring.
Jose Canseco led the offense with 14.8 FBHOF points – he hit 44 HR, with 115 R, 122 RBI, and 26 SB. Fellow outfielders Ruben Sierra, Ron Gant, and Joe Carter were all multi year all stars and Barry Bonds had not yet reached superstar status. Together, they were roughly average when compared to other All Star outfields.
Pitching is a glaring weakness on the 1991 team. Roger Clemens was having another fine year (18 W, 1.05 WHIP, 2.62 ERA, 241 K) and Tom Glavine was very good (12.5 FBHOF Points) but no other starter cracked 10 points. That leaves 4 starters with an average score of just 8.9. David Cone was the worst of the lot thanks to a mediocre 14 Wins and a 3.29 ERA.
The 1991 World Series was one of the best ever, a 7 game duel decided by a 10th inning single by pinch hitter Gene Larkin in a scoreless game. The Twins won despite no fantasy All Stars on their roster.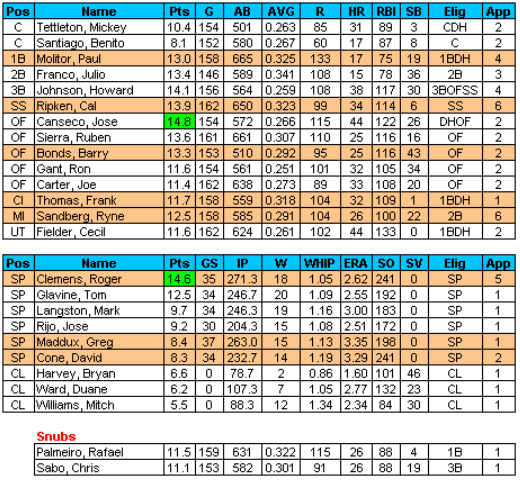 Positional Ranking Among the 28 Teams
C: 17th
IF: 8th
OF: 16th
SP: 25th
RP: 19th
Overall: 28th