The Fantasy Baseball Hall of Fame in conjunction with Razzball.com, are electing the All-Star teams of the Fantasy Era. For every season from 1980 to today full 23 man rosters will be created and analyzed. In the second installment the 1998 through 2000 seasons are identified.
Year: 1998
First Time All Stars: 4 – Vinny Castilla, Derek Jeter, Tom Gordon, Jason Kendall
3 Time All Stars: 4 – Trevor Hoffman, Chipper Jones, Alex Rodriguez, Curt Schilling
5 Time All Stars: 8 – Albert Belle, Barry Bonds, Craig Biggio, Roger Clemens, Ken Griffey Jr, Randy Johnson, Greg Maddux, Mike Piazza
10 Time All Stars: None
Future FBHOF'ers: 14 –Belle, Biggio, Bonds, Kevin Brown, Clemens, Griffey, Johnson, Jones, Maddux, Pedro Martinez, Piazza, Rodriguez, Schilling, Sammy Sosa
Snubs: 2 – Jeff Bagwell (11.1), Vladimir Guerrero (11.0)
16 Pt Season: 1 – Sosa (16.7)
Last week we saw how the 1997 squad ranked best overall among the 28 all star teams. While this is true in a statistical sense, many fans will likely look towards the 1998 team as the one to beat. Their team average FBHOF score is different only by the smallest percentage points – 12.08 vs. 12.07 – and frankly, this means there is no difference as I do not pretend that the math behind the FBHOF scoring system is reliable up to the hundredth decimal point.
Further, and more telling, the starting rotation is entirely made up of Fantasy Baseball Hall of Famers, 5 of 6 of which are likely headed to Cooperstown as well. Roger Clemens, Randy Johnson, Greg Maddux, Pedro Martinez, and Curt Schilling are joined by Kevin Brown, an excellent pitcher in his own right.
On offense, many names remain the same: Craig Biggio, Barry Bonds, Nomar Garciaparra, Ken Griffey Jr, Chipper Jones, Mike Piazza, and Alex Rodriguez make back to back All Star appearances. But there were a couple of upgrades, in name at least, too. Mark McGwire replaces Andres Galarraga, Albert Belle ditched Tony Gwynn, Juan Gonzalez instead of Raul Mondesi plus Sammy Sosa had his career year in 1998. For the first time ever all batters and staring pitchers reached 10 or more FBHOF points. This team had no weaknesses.
The 'for fun' fact that brings it all home? FBHOF'er Jeff Bagwell and Vlad Guerrero weren't good enough to make this team; in 1997 the snubs were Tino Martinez and Vinny Castilla. There is no comparison.
The World Series featured the 114 Win New York Yankees, represented only by Derek Jeter. They defeated the San Diego Padres 4 games to none. Kevin Brown, the fantasy pitcher of the year, was their #1 starter.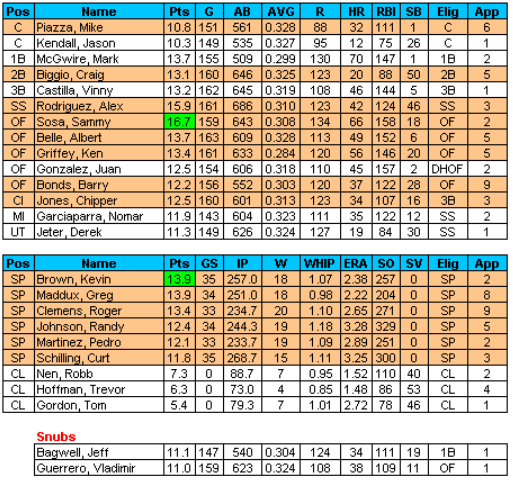 Positional Ranking Among the 28 Teams
C: 4th
IF: 3rd
OF: 14th
SP: 5th
RP: 15th
Overall: 2nd
Year: 1999
First Time All Stars: 9 – Shawn Green, Vladimir Guerrero, Mike Hampton, Jose Lima, Kevin Milwood, Manny Ramirez, Mariano Rivera, Billy Wagner, Scott Williamson
3 Time All Stars: 9 – Roberto Alomar, Jeff Bagwell, Kevin Brown, Nomar Garciaparra, Chipper Jones, Pedro Martinez, Mark McGwire, Ivan Rodriguez, Sammy Sosa
5 Time All Stars: 3 – Ken Griffey Jr, Randy Johnson, Mike Piazza
10 Time All Stars: None
Future FBHOF'ers: 9 –Alomar, Bagwell, Brown, Griffey, Guerrero, Johnson, Jones, Martinez, Piazza, Ramirez
Snubs: 2 – Rafael Palmeiro (11.3), Juan Gonzalez (11.0)
16 Pt Season: 2 – Martinez (18.1), Johnson (17.8)
This year's version of Pedro Martinez and Randy Johnson make up fantasy baseball's historical best 1-2 punch. Martinez was technically awesome. Only five pitchers in the fantasy era have maintained a WHIP of 0.92 over the course of 200 or more innings, and despite starting just 29 games, he laid claim to 23 wins. On the other hand, Johnson was a workhorse. His WHIP was a full .10 higher and his ERA 0.40 higher, but Johnson was only 3-tenths of a FBHOF point behind Martinez for the #1 ranking of the year. Why? Innings pitched.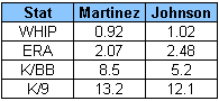 Above you can see that Martinez outperformed his NL counterpart in these critical rate statistics, especially in strikeout to walk ratio.  Johnson's numbers were great in their own right, but no one could conclude that he was the 'better' of the two.  However, Johnson made 6 more starts than Martinez and lasted a shade deeper into each.  The question becomes would a fantasy owner rather, for instance, a 2.07 ERA in 213 IP or a 2.48 ERA in 271 innings?
Simple math.  Assume a standard fantasy rotation of 6 starters and 3 relievers, and pretend they each maintained an exact league average ERA of 4.37.  Replace a starter with Martinez and compute the new team ERA.  Then swap out Martinez for Johnson and compute his impact to the team.  Answer – the impacts are exactly the same:
4.022488 – Team ERA w/Martinez
4.022957 – Team ERA w/Johnson
Moral of the story?  Innings pitched matters.  A great deal.
Kevin Millwood and Kevin Brown were very good 3rd and 4th starters but Mike Hampton and Jose Lima (! – 21 W, 1.22 WHIP, 3.58 ERA) were worse than average for All Stars.
On offense, Mike Piazza and Ivan Rodriguez combined to make the best All Star catching tandem in history:  .320 AVG, 216 R, 75 HR, 237 RBI, and 27 SB between them.
Elsewhere, Barry Bonds played in just 102 games (batting .262 in the process) and misses an All-Star nod for the first time since 1989. He would go on to be elected each year from 2000 to 2004, giving him 14 appearances in a 15 year stretch.  Recurring All-Stars Albert Belle, Craig Biggio, Nomar Garciaparra, Ken Griffey Jr, and Mark McGwire made their last team in 1999; Roberto Alomar, Shawn Green, Vlad Guerrero, Manny Ramirez, and Billy Wagner made their first.
In the World Series the New York Yankees won their 3rd title in 4 years, pounding the Atlanta Braves 4-0.  Derek Jeter and Mariano Rivera represented the AL Champions while Chipper Jones and Millwood stood for the NL victors.
Positional Ranking Among the 28 Teams
C: 1st
IF: 9th
OF: 20th
SP: 2nd
RP: 14th
Overall: 3rd
Year: 2000
First Time All Stars: 6 – Armando Benitez, Johnny Damon, Darin Erstad, Todd Helton, Richard Hidalgo, Jeff Kent.
3 Time All Stars: 7 –Roberto Alomar, Jeff Bagwell, Kevin Brown, Pedro Martinez, Robb Nen, Alex Rodriguez, Sammy Sosa
5 Time All Stars: 5 – Trevor Hoffman, Randy Johnson, Chipper Jones, Greg Maddux, Mike Piazza
10 Time All Stars: 1 – Barry Bonds
Future FBHOF'ers: 13 – Alomar, Bagwell, Bonds, Brown, Vladimir Guerrero, Helton, Johnson, Jones, Maddux, Martinez, Piazza, Rodriguez, Sosa
Snubs: Troy Glaus (11.6), Andruw Jones (11.1), Frank Thomas (11.1)
16 Pt Season: 1 – Pedro Martinez (18.2)
The freak rosters made up of abnormal amounts of All Time fantasy greats continued in 2000, though the quality of seasons diminished. Dropping 14 slots, the first team of the new century is ranked just 15th, mostly due to an outfield crew that was in the bottom third in All Star history. Darin Erstad, Johnny Damon, and Richard Hidalgo had very good seasons but not even they would argue they were equal to those they replaced: Manny Ramirez, Ken Griffey Jr, and Larry Walker.
Starting pitching continued to be great and 2000 was the 4th consecutive season where the position was in the Top 6. Pedro Martinez became the first player in fantasy history to have back to back 18+ FBHOF point seasons. Take you pick as to which is better:
1999 – 213 IP, 23 W, 0.92 WHIP, 2.07 ERA, 313 K
2000 – 217 IP, 18 W, 0.74 WHIP, 1.74 ERA, 284 K
The first subway series in 44 years transpired in October, with the Yankees winning 4 games to 1. Flushing featured Mike Piazza and Armando Benitez as All Stars while the Bronx Bombers countered with, well no one, not even a snub.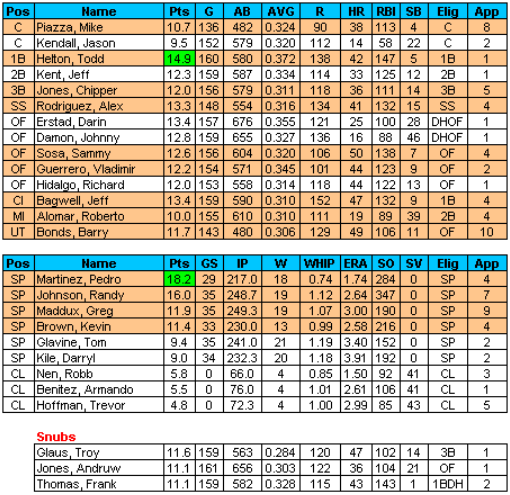 Positional Ranking Among the 28 Teams
C: 9th
IF: 11th
OF: 22nd
SP: 6th
RP: 24th
Overall: 15th