Recently, I rather foolishly rekindled my interest in baseball cards. It was a cheap ploy under the Christmas Tree to spark my sons' interest in not only a boyhood hobby of mine, but also to maybe teach them something about the game I love. To my oldest, age 7, I gifted a 1976 O-Pee-Chee Mike Schmidt, one of my all-time favorite players, and the fake autograph in my very first baseball mitt, courtesy of the good folks at Franklin. To my youngest son, age 2, it was an obvious choice. His first name is Nolan, and despite the hall of fame trajectory of one Mr. Arenado, for now at least, there is only one true King of House Nolan. That is Nolan Ryan, father of flames, bringer of whiffs, first of both his first names. All this to say, I bought him a 1979 Nolan Ryan. Which features my favorite Nolan Ryan, Angels Nolan Ryan. When you write your own fantasy articles you can have your favorite Nolan Ryan. You could go baby Nolan Ryan, Mets Nolan Ryan, Astros Nolan Ryan, Rangers Ryan, Cowboy Ryan, Executive Ryan, the possibilities are endless! Hell, you can picture Nolan Ryan singing lead for Skynyrd in front of an Angels band! Can you tell I dabbled in more of Aunt Sierra's medicated brownies? They were leftover from Christmas, and technically I hadn't eaten any this year. Anyway, where I'm all going with this is, my fascination with Nolan Ryan stems from two places. First, RBI baseball circa O.G. Nintendo 1988. Second, my best friend's dad had a 1968 Topps Nolan Ryan rookie card, and it was one of the coolest rookie cards I had ever seen. It was particularly unusual to a child of the late 80's – early 90's card era, because it was a dual player card. He shared the card with Jerry Koosman, a lefty that won over 200 games with a 3.36 ERA over a 19 year MLB career. Drawing inspiration from this co-inhabited card, I decided to to do a dual 2018 Dynasty Sleeper post with a couple of Phillies pups I'm currently crushing on. A pair of teenage phenoms, outfielder Jhailyn Ortiz, and righthanded pitching prospect Francisco Morales. Check the artwork below, major props to Kenneth Cashman! Rotowear.com!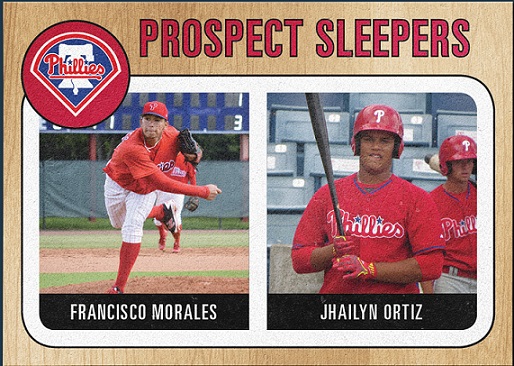 Jhailyn Ortiz, Outfielder | Age: 19 | Level: A- | Height/Weight: 6-3/250 | 2017 Stats: .302/.401/.560, 27 R, 8 HR, 30 RBI, 5 SB  | Advanced: wRC+ 185, wOBA .445, 25.1% K%, 9.6% Bb%, 18% SwStr%
I was a little on the fence about listing Jhailyn Ortiz as a sleeper. After all I did feature him in my latest iteration of my Top 100, ranking 65th. Signed for $4 Million out of the Dominican Republic in 2015, had Ortiz been an American player he would have been eligible for this year's draft. In fact the Phillies director of player development, Joe Jordan was quoted as saying he was a "first round talent". He also went as far as to say that Ortiz has the highest ceiling of any player presently in the organization. With legit 70 grade power, Ortiz is the type of middle of the order bat all teams covet, and the type that can turn a good lineup into a great one. This is obviously operating under the assumption the bat maxes out, and when we talk about a maxed out Ortiz we're talking a JD Martinez/Giancarlo Stanton type. What he's done over his first two and a half years as a professional shows he's trending in the right direction. The pitch recognition skills have dramatically improved from what scouts saw from Ortiz as an amateur. While he'll always strikeout, he showed the ability to wait for his pitch, and pounce on fastballs when given the opportunity. He may never be an Adonis (Garcia or otherwise) body wise, but he flashes better than expected athleticism, base-running ability, and a rocket of an arm. Hinting that the early "three outcome hitter" and "future first-base only" tags were very wrong. Now you'll likely read all about his improved pitch recognition and work ethic elsewhere, what you won't read much about is Ortiz's much improved all fields approach. The biggest difference outside of batting average (and some luck) between Ortiz's 2016 GCL campaign, and his 2017 NYPL run was his ability to go the other way. After being predominately a pull hitter (55% Pull%) in the GCL as an 17 year old, Ortiz started going the other way more in 2017, increasing his Oppo% by 13%. As you can see from the below spray chart (courtesy of MLBFarm) he actually hit two of his eight homers to the opposite field, as well as a fair amount of doubles.

Okay, for those of you that just read the first chapter and last chapter let's review. We have a highly sought after talent signed for a hefty cost, a kid with universal 70 grade raw power, one who has improved each year of his career, and one that's flashing approach, all fields game power, and all around baseball skills. Oh BTW, he's also a coach's dream, first guy on the field/last guy off type… and he turned 19 in November. Where do I sign up, right?
Ortiz should be owned in all formats where 70-80+ prospects are owned.
Francisco Morales, RHP | Age: 18 | Level: Rookie | Height/Weight: 6-4/185 | 2017 Stats: 3-2, 10 Games Started, 41.1 IP, 3.05 ERA, 1.31 WHIP, 44 Ks, 20 Bb | Advanced: FIP 3.64, xFIP 4.00, 24.4% K%, 11.1% Bb%, 41.3% GB%, 45.2% FB%, 23.4% IFFB, 32.1% SwStr%
Yes that swinging strike number is in fact real life. Granted it was the Gulf Coast League, the most rookie of the rookie ball leagues, but he was 17, and still one of the younger pitchers in the league. Yup, looks like the Phillies have found themselves another dude. As if Sixto Sanchez, Adonis Medina, Franklyn Kilome, Jojo Romero, Seranthony Dominguez, and Ranger Suarez weren't enough. Signed for $900K out of Venezuela in 2016, Morales is the classic international pitching prospect. Prototypical pitcher's build, long, lean, and high backsided, velocity comes easily to the teenager. He sits 92-96 on the fastball with good sink and movement. While the heater was plus even as an amateur the pitchability and improving feel for his secondaries are the most encouraging takeaways from his first year of proball. A bit of a project, Morales struggles to always repeat his delivery, leading to some of the command issues that plague him. That's not all that uncommon of 17 year olds in their first professional season though. Lofty expectations might be around the corner however. Morales lucked into being the first promising pitching prospect to follow in Sixto Sanchez's foot steps, and the comparisons unfortunately are inevitable. Expectations and comparisons aside, Morales rode his elite fastball, improving slider, and occasional changeup to one of the top 5 swinging strike rates in the Gulf Coast League. Showing an ability to miss bats at the type of elite rate that could possibly make him very valuable in fantasy leagues one day. That said, there is a ton of risk factors in his profile, with the lack of a developed changeup, command/control issues, plus the tiny track record and long waiting period associated with any 18 year old pitching prospect.
He's not for every dynasty setup, but if you're in a league where 150-175+ minor leaguers are owned, and you can sit on a high upside gamble pitching prospect for 3-4 years, then Morales is your guy.
Find all of the 30 Minor League Previews, and Offseason Rankings on the Minor League Index
On Twitter as @ProspectJesus