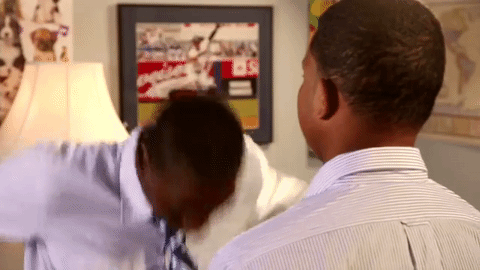 The best leaders walk in a room and everyone knows their presence. Without even being aware of why sometimes, the attention magnetically focuses towards them. It's like gravity. Leadership gravity. And in order to have it there is normally a glimmer of gregariousness written into the fabric of the leader; everyone's thankful that they are exactly where they are. In baseball it's seen in the locker room: they walk in, everyone feels it; they say a word, everyone listens; they're at their plate, everybody watches.
The Creeper of the Week for Week 17…he doesn't have that. Haha, a little bait and switch there for ya. Nope, I don't peg him as the leadership gravity type, but he followed perhaps one of the greatest leaders with it in baseball history: Derek Jeter. For all his overhyped meh of fantasy baseball, you can't argue The Captain's leadership presence on the Yankees, and the lack of it now that he's gone. I'd venture to say one element the Yanks have felt since Jetah hung em up is the black hole manning the field at shortstop; however, in his stead we find a player becoming so gregarious due to his rise as a hitter that he even decided to make his last name a play on that word…
Didi Gregorius, SS (36% owned) – Alright, so I'm cheating on the 20% threshold a little this week, but I want to take the time to highlight someone who snuck into the Second Half Top 100 last week. Quick, name for me the shortstops with the most total bases over the past 30 days. Any guesses from the top down? You won't get too far before seeing Gregorius on this list, because only Ian Desmond had more than him in that span (56 to 53). At a position that's really top heavy, Didi is relatively unowned because of his track record and his perceived lack of pop. However, a deeper dive into his stats shows that he's driving the ball well this season. Really well. Especially lately. In July he has a .317/.359/.583 slash line. Even more recent? He laced extra base hits in four of his previous ten games. While none of them have gone for HR, he could still easily top 15 HR on the year. Let's give him a healthy projection to finish the season with a line of: ..290/75/15/70/10. That's more than ownable, and firmly plants Gregorius (quit auto-correcting me!) as a bona fide replacement to the one and only DJ2. And at 26 years old there's still room for his gregariousness to rise further.
Now, enough creepin'…Here are the Top 100 Hitters for Week 17!
Note: These rankings are considered ROS trade value.
RED = Falling
GREEN = Rising
BLUE = New to the 100
Dropped from Rankings: Michael Brantley (88), Shin-Soo Choo (90)
No big risers this week, as we're only 7 days removed from the first run of the Second Half refresh rankings. However, the cooling off of Freeman, Sano and Ozuna bring them down, because the trend's been south since before the break. I was probably a little drunk from the Corey Seager kool-aid coming into the break to rank him so high. This is most likely a more accurate value gauge. I would drop Espinosa for Bregman, so he drops. And Puig hangs on by a thread.
Newcomers to the list are Tyler Naquin, one of the most added players of the past week and receiver of Grey's preseason honorable mention late round flier that he owns nowhere (haha!), and Jurickson Profar, who was gifted his own glorious intro to one of these entries. Paquin's power surge is mirroring what we see from Jake Lamb this year, so get on board now to see if it sticks like Lamb's chops are. As for Profar, with the injuries to the Rangers lineup he's guaranteed the one thing he never had earlier in the year: at bats. With positional eligibility out his ass and plate appearances coming at least six times a week, he holds a lot of value moving forward.
If I'm targeting one hitter that's more on the unbecoming (that would be non-gregarious…) side, I may target Naquin's teammate, Rajai Davis. He'll platoon some in Cleveland which is so…Cleveland, a.k.a. sucky, but at this point in the season he brings unique value. With only 6 weeks until H2H playoffs and less than 10 left for Roto leagues the standings are really taking shape. If you're scrambling for late points ad see potential points to grab in SB, Davis is one of three players that harnesses the ability to make up a lot of ground fast. It's not outside the realm of possibility that within a week he steals 7 bases, and before the year's done he's topped 45. Add that top his sneaky power numbers (something the other two speedster options: Dee Gordon and Billy Hamilton don't possess) and Davis emerges as a great under-the-radar addition, especially with Brantley looking like he may still miss significant time.
DROP THOSE COMMENTS! I want to know do you agree? Disagree? Who did I miss?
Good luck in Week 17, and check back at the start of next week for ol' Peyton Manning!