Now, before you grammar police start kicking down my door, just slow down. This English Major knows what he's doing. That little title up there is what we call intentional, or better yet, a play on words.
Creeper of the Week? How about 'Ashamed of the Past Three Years and Source of Rage for Fantasy Owners and Atlanta Fans Alike?' Too long? Too accurate? No, that's a pretty accurate banner. As a Braves fan I really do feel like I'm channeling my inner-J-FOH. And if you're still struggling to identify the culprit of said rage, the following interaction with a friend of mine reveals the answer in the most eloquent way possible: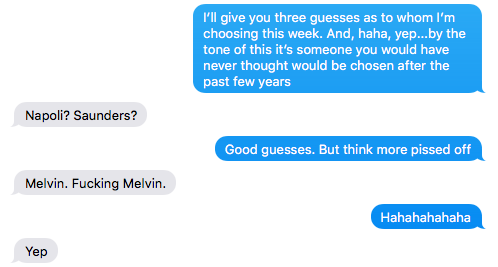 Melvin. Melvin, not good enough for a B.J., Upton. Oh, wait…Jr. There we go. Melvin Upton Jr.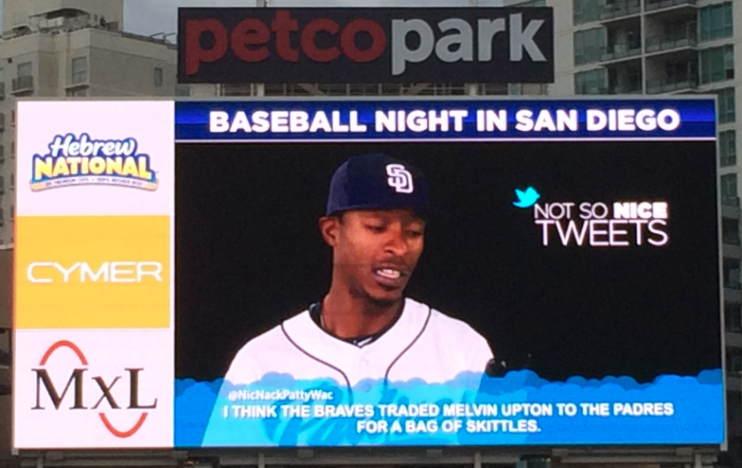 Pause. Inhale. Pause. Exhale. Repeat. (Yeah, you, like me, may need a few of these for this one)
But now we change the tone, because, if you look close enough, the [email protected] that was Melvin Upton's Atlanta tenure seems to be unclustering itself.
Melvin Upton, Jr., OF (2.8%) – Don't all rush at once to the waiver wire (or just close the tab quite yet). He's clearly available in basically every league, but maybe this paragraph will nudge you to examine your current OF status and see if a flier is in store. Upton's slash so far this year is .293/.341/.463. So, no way in hell he keeps the AVG up, but the other two aren't that far fetched. Last season in San Diego he slashed .259/.327/.429 through 228 at bats. Small sample, but a drastic improvement over his porous time in Atlanta. Now let me pose two further questions to you: 1) Could we be seeing a changed Melvin Upton? and 2) Do you think he just all of a sudden, at 28, forget how to play baseball? Let me give you the answer key: 1) Yes. 2) No.

A career 18% Line Drive hitter, Upton moved that up to 24.3% in 2015, while maintaining a similar Hard Hit % but pulling the ball more. BB% the same, K% steady and sucky, wOBA right on par with his Rays years (.326). That's a lot of saberhagenmetrics, so let me simplify it…
He never forgot how to run. In Atlanta, he just forgot how to get on base so that he could run. He produced 32 SB in those dismal ATL years, and averaged nearly 40 the five years prior in Tampa. He sports a .171 ISO thus far, the same number as 2015, and just a shade under his best years as a Ray.
The former 2nd overall pick will not live up to the mammoth contract he's about to finish out, but he's proving he's still worthy of a spot in the MLB, and, arguably, a spot on your fantasy squad. I believe he accumulates 500 ABs this season, too. Jabari Blash can maysh (add a little redneck swag to that word) with the best of 'em and should vie for time in the Padres outfield, but Matt Kemp's no ironman, and Jon Jay isn't close to as talented as B.J. Melvin. His brother leaving town does nothing but relieve his pressure, freeing him up to play the game he was so damn good at for so many years. Get him now before that owned % keeps creeping higher.
Now onto the real hitters…
The Top 100 Hitters
It's obviously early in the year. STILL. I wouldn't go making drastic moves quite yet, but a few new additions to the Top 100 are worth looking at in place of a struggling player that you drafted. As expected, the MI pool thins out from last week as the new power hitters creep in. Not a lot of changes at the top, or even the middle, but look for guys like Jeremy Hazelbaker (most added hitter in ESPN leagues), Nomar Mazara and the aforementioned elder Upton to bring some immediate value to your lineup, if needed.
We'll soon bring guys like Michael Brantley and Jung-ho Kang back into the fold, which will only make it tougher on underachieving fringe players like Mike Moustakas, Brandon Phillips, Kolten Wong and Mike Napoli.
Angel Pagan fully deserves to be in here, but I'm so scared to pick him up for the fear I'll have to drop him later in the week. There a few things he does so well: get hits, score runs, land on the DL. For as red hot as he's been, he's gonna have to force me to pick him up and place him in the top 100. Which he probably will in Week 4.
Drop those comments!