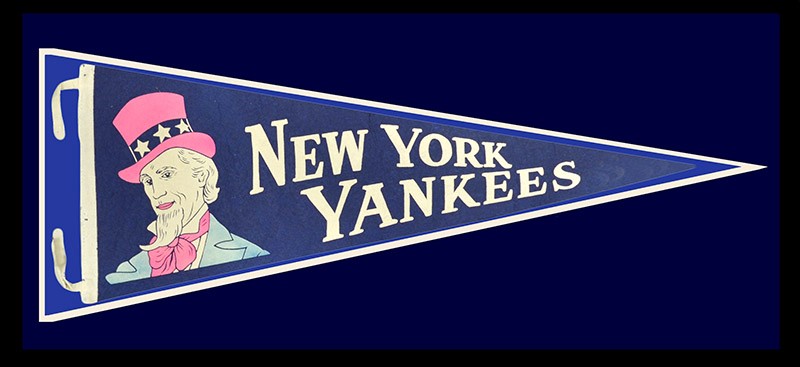 Welcome to Razzball's 2018 team previews. Over the next couple of months, we'll be previewing all of the teams and talking to writers who represent those teams around the web. We want to provide the best and most in-depth fantasy projections to go along with the asking the most useful questions to those who know their teams best. We want to talk about the players in the first half of your draft and also the deep sleepers that make you log into google and start watching Midwest Single-A ball for hours. Just kidding, don't do that, hopefully we don't go that far…
The Yankees got an early jump on their expected window of contention (if such a thing ever ceases to exist with the Yankees), racking up 91 wins in 2017 and taking a Wild Card berth all the way to an ALCS Game 7. Aaron Judge exploded into a legitimate second coming of the Tall Man superstar, leading the league with 8.2 fWAR. Gary Sanchez confirmed his status as the top fantasy catcher, Luis Severino turned into an ace, and they traded for solidifying pieces Sonny Gray, David Robertson, and Tommy Kahnle. As if that wasn't enough to make them the favorites to win the AL East, they took advantage of potential Yankees spy Derek Jeter's Miami fire sale. They landed Giancarlo Stanton (and his $300 million contract) for next to nothing, giving them the most feared tandem in baseball with Judge/Stanton. They also added veteran Neil Walker on a cheap deal and traded for Brandon Drury, giving them easily one of the most complete rosters in baseball. I spoke to Fansided's Yanks Go Yard editor Mike Calendrillo about the fantasy value of some of these studs…
Dokken: 2017 was essentially a lost season for Greg Bird. Do you think he can become another big part of this fearsome Yankees lineup? What sort of line do you expect from him?
Mike: I really want to see Greg Bird succeed. I mean he's 25, has a sweet left-handed stroke and is only making a little over half a million dollars per season. That's exactly what the Yankees need to balance their lineup and payroll. However, I feel like every Spring Training we're told, THIS is going to be Bird's breakout season. And then he either gets hurt or struggles. So besides from solid hitting mechanics, what has Bird done to warrant such high praise? Regardless, he's going to get every opportunity to play himself into first-year manager Aaron Boone's doghouse. If Bird can avoid the disabled list, which is pretty much a crapshoot at this point, there's no reason why playing 81 games inside Yankee Stadium with its short right field porch can't produce a .265/.325/.590 slash line with 29 home runs and 85 RBI. Again, he's been handed the keys to the castle, but anything under 20 homers and 65 RBI in 2018 should result in other options being vetted for future first baseman of the Yankees.
Dokken: Gleyber Torres is one of the premiere prospects in baseball. When do you think we see him and what kind of fantasy production should we expect?
Mike: Gleyber's run of bad luck has yet to end. From 2017's season-ending injury to the Yanks' acquisition of Brandon Drury – Miguel Andujar's early spring breakout which pushed Drury closer to begin the season at second base and Tyler Wade's maturation as a big leaguer at a number of different positions including second, Gleyber has pressed during Grapefruit League play to the point of imminent reassignment to the minors. Even still, when Torres begins to find his way down on the farm (and why shouldn't he be rust after only playing 55 games last season), and those on the 25-man roster enter an extended slump, Torres will get the call-up. I hope the Yanks don't rush him, I mean Torres is still only 21, but I wouldn't be surprised to see him as early as June if the club is sputtering. The Thing with a top prospect such as Torres is that once he reaches the majors there's no turning back. So the team would need to have exhausted all their other options or risk stunting Torres' growth by treating him like a yo-yo between Scranton and the Bronx. Because of all this, I don't see drafting Torres in fantasy unless you're in a keeper league. Otherwise, keep Torres bookmarked until the news breaks that his promotion is near because then it'll be a mad dash to grab him off the waiver wire. But no, I can't see using a draft pick on a minor leaguer at this time.
Dokken: Aaron Hicks could have been another breakout last season (to a lesser degree than Judge or Severino) if not for injury. Does he get the playing time this year to put it all together?
Mike: Hicks is very much in the same boat as Greg Bird. Center field is Hicks' do lose. He has so many plus tools that th eYanks need on the field on a daily basis; stellar defensive ability, a cannon for an arm, switch-hitting ability, and very good baserunning skills. However, unlike Bird at first base, the Yankees have a plethora of other intriguing options in the outfield. The club needs to see what Clint Frazier can produce with consistent playing time. Because of that Hicks needs to avoid the DL and lengthy cold spells. When Hicks is going bad you'll notice him rolling over on the ball, hitting lazy grounders to second base. Still, only 28, unable to enter free agency until 2020, if Hicks hits the way he did before going down with the first of two oblique injuries in 2017, the Yankees will once again entertain the idea of trading Frazier for a piece they may need come July. Estevan Florial is another story. But the kid is only 20 and at least two years away from the show, so he's less of an issue to Hicks' measurable performance for now.
Dokken: Miguel Andujar is yet another Yanks prospect that is looking like an offensive force. Is there anywhere for him to play, or is he trade bait?
Mike: The only way the Yanks should even consider trading Miguel Andujar right now is if he were to be sent to the Orioles for a package centered around Manny Machado, who in turn signs a long-term contract extension with the Yankees before completion of such a deal. As far-fetched as this idea sounds, no one thought Giancarlo Stanton would ever wear pinstripes. How'd that work out? Anyway, plenty of teams are going to inquire about Andujar should he begin the season in the minors, and for some reason, if he isn't a starter come the July 31 trade deadline, and the Yanks need a game-changing starting pitcher, that's the only way I could see them trading Andy. With Machado and Josh Donaldson becoming free agents next winter, possibilities remain – however, Andujar at 23, on his current salary with all of his potential is too good to let go unless the trade is too good to turn down.
Dokken: The 1-4 spots in the rotation are pretty well chiseled in stone (unlike CC Sabathia's body type). The fifth spot seems to belong to Jordan Montgomery to open the season. He debuted pretty well in '17, but is he worthy of a late round draft pick?
Mike: Absolutely. When it comes to drafting or picking up younger pitchers, I look for guys that pitch for good offensive teams – that are capable of going six innings, picking up a quality start while putting themselves in position for the win. I mean, that's 10 points right there and we haven't even gotten to strikeouts yet. After winning nine games and striking out 144 batters in his rookie season, I can see the lanky lefty winning 15 games this time around, potentially racking up 175+ strikeouts. A pitcher with that kind of stuff should go anywhere from rounds 8-13, in my opinion. If Monty is still hanging around in round 14 jump on him!
Dokken: Aroldis Chapman had a disappointing 2017 given expectations. Does he bounce back this year? Who takes over the closer job if he struggles or is injured?
Mike: I foresee Chapman pitching the way he did for the Yanks when they first traded him from the Reds – lights out. Last season came with a ton of pressure, mostly living up to that giant contract of his. Coming off the Cubs World Series victory in which he was used and abused by manager Joe Maddon, Chapman was worn down, and you could tell for the entire first half of 2017. However, after a short stint on the DL in addition to losing his job to Dellin Betances, Chappy righted the ship down the stretch to the point of once again being a top-five closer in the game. After Kenley Jansen and Craig Kimbrel, I'd feel comfortable drafting Chapman ahead of the field. Closing games for the Yankees will give him ample opportunities to rack up big points. Not many guys will potentially strike out the side on their way to 40-plus saves. Depending on how high you value saves, I'd say he's worth a fifth-round pick. Hypothetically, if Chapman were to struggle, I'd grab David Robertson. He was one of the main reasons the club reached the ALCS last season. Having been the closer in the Bronx before, and the continued struggles of Dellin Betances, Robertson could easily pick up 20-30 saves depending on when he takes over the job. Tommy Kahnle and Chad Green have closer-like stuff too, but Robertson should get first dibs in the event something befalls Chapman.
Projected Starting Lineup
Projected Rotation
Projected Bullpen
| | | | | | | | | | |
| --- | --- | --- | --- | --- | --- | --- | --- | --- | --- |
| Order | Player | Position | IP | W | SV | K/9 | BB/9 | ERA | WHIP |
| Closer | Aroldis Chapman | RP | 65 | 4 | 29 | 13.18 | 3.76 | 2.87 | 1.11 |
| Setup | David Robertson | RP | 65 | 4 | 4 | 10.89 | 3.48 | 3.67 | 1.23 |
*All projections are courtesy of Steamer.
You can find Dokken on Twitter @NathanDokken.