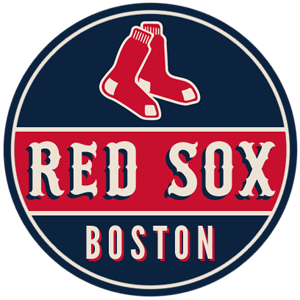 Welcome to Razzball's 2018 team previews. As we've been doing the last few months, we'll be previewing all of the teams and talking to writers who represent those teams around the web. We want to provide the best and most in-depth fantasy projections to go along with the asking the most useful questions to those who know their teams best. We want to talk about the players in the first half of your draft and also the deep sleepers that make you log into google and start watching Midwest Single-A ball for hours. Just kidding, don't do that, hopefully we don't go that far…
It turns out trading for Chris Sale was a good idea. Who knew. The 2017 Red Sox won 93 games and the AL East crown came along with it, although they would be swept by the Astros in the ALDS. This offseason they brought back the likes of Mitch Moreland and Eduardo Nunez to help keep their MLB core strong, but that's not all they did. They ponied up for the biggest bat on the market, signing JD Martinez to a surprisingly reasonable 5-year, $110 million contract. He'll provide some much needed thump to a lineup that was lacking power following the retirement of David Ortiz. With a young core of hitters, a good bullpen, and a top-heavy rotation, Boston will look to repeat as champs of the AL East in 2018. I spoke with Sean Penney of Fansided's BoSox Injection to parse out some of the most relevant fantasy questions surrounding the Red Sox this year…
Dokken: Rafael Devers had a solid debut. Is he going to be a great fantasy third basemen as soon as 2018, or are we still going to think of Teenage Mutant Ninja Turtles when we hear the name Rafael?
Sean: Devers absolutely has to be on the radar for fantasy baseball owners. His power is legitimate, giving him 30-homer upside, while he'll receive plenty of run and RBI opportunities in a loaded Red Sox lineup. He proved last year that his bat is major league ready. It's his glove that remains questionable, although that's not a concern in most fantasy leagues unless his poor defense lands him on the bench. One note of caution is that Devers is only 21 years old. He has a high ceiling but there will be bumps in the road in his first full season. 
Dokken: 
David Price
has been pretty much a train wreck since signing with Boston. Can he regain his ace form this year and turn a profit for those who invest in him?
Sean: Price's struggles have been a bit overblown. He got off to a rough start in 2016 as he adjusted to his new environment but from mid-May through the rest of the regular season he was among the top pitchers in the AL. He went 8-3 with a 3.58 ERA in the second half of that season. Price wasn't healthy last year and his off-field drama further soured his season. He's put those concerns behind him and his brilliance out of the bullpen last postseason showed he's still capable of dominating hitters. I wouldn't expect a return to his peak form but numbers similar to what he produced in the second half of 2016 are within reach. 
Dokken: Hanley Ramirez: bounce back or bust? Will Mitch Moreland eat into his playing time?
Sean: Hanley's shoulder injury hindered his swing more than he let on last season. He's healthy now and should benefit from a stronger lineup around him. The concern with him is playing time. With J.D. Martinez in town, Ramirez is stuck in a platoon at first base with Mitch Moreland. Boston also wants to keep Ramirez under the 497 plate appearances required for his 2019 option to vest. He's unlikely to return to the 30+ homer, 100+ RBI hitter he was in 2016 but he should come close to that type of production on a per game basis. If you expect 20 homers and 75 RBI in 120 games then you won't be disappointed. 
Dokken: 
Eduardo Nunez
is back, but do you think he'll get enough playing time to be fantasy relevant once
Dustin Pedroia
returns? When do you expect Pedroia back?
Sean: If you ask a gamer like Pedroia, he'll claim he's ready to go right now. Expect the Red Sox to be more cautious with their 34-year old second baseman. A late-April or early-May debut seems to be a best-case scenario, giving Nunez at least a few weeks with the second base job to himself. That makes him worth drafting in the later rounds given how productive he can be when in the lineup. Once Pedroia returns, Nunez will shift into a utility role. His playing time will be more sporadic but if he hits the way he did after he came to Boston last year then they will find sufficient at-bats for him. He can hit for average, steal bases and saw a boost in power moving from AT&T Park to Fenway last year. He'll also give fantasy owners the luxury of position flexibility. 
Dokken: Xander Bogaerts was terrible after suffering a wrist injury in 2017. Do you see him returning to 2016 form if healthy, or are you worried that he played over his head that year?
Sean: Bogaerts has shown an ability to hit for average and for power. We're just waiting for him to put it all together in the same season. Injuries limited him at the plate and by his own admission, he would have benefited from a trip to the disabled list. His swing looks great so far this spring so I expect him to return to producing a high batting average. Combine that with 15+ homers and steals and plenty of runs scored from the shortstop position and you have a player who will return to fantasy relevance this season. 
Projected Starting Lineup
Projected Rotation
Projected Bullpen
| | | | | | | | | | |
| --- | --- | --- | --- | --- | --- | --- | --- | --- | --- |
| Order | Player | Position | IP | W | SV | K/9 | BB/9 | ERA | WHIP |
| Closer | Craig Kimbrel | RP | 65 | 4 | 33 | 13.88 | 3.3 | 2.58 | 1.02 |
| Setup | Carson Smith | RP | 65 | 4 | 4 | 8.67 | 3.68 | 3.78 | 1.35 |
All projections are courtesy of Steamer.
You can find Dokken on Twitter @NathanDokken.