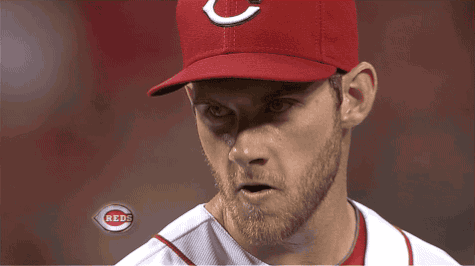 Welcome to the 2017 Razzball Team Previews! You'll find everything you need to know about each team to get yourself ready for the upcoming fantasy baseball season. And I do mean everything, everybody. We've got line-ups, charts, numbers, projections, questionable questions, smarter answer, potent potables and well, that's a lie. No potables here, but plenty of potent fantasy names brimming with potential. Now's the time to be an eternal optimist for the next two months. I'll be joined by Razzball newbie Zack Burgess in completing these this year (Welcome aboard, Zack!). So, we've got a team to preview and questions to ask. Let's get after it!
We have a very special guest for this post, Nick Doran, to provide his take on what the team has in store this season. Now enough rambling, let's see what 2017 holds for the Cincinnati Reds!
2017 Cincinnati Reds Depth Chart & Projections
Starting Lineup
Bench
Starting Rotation
Bullpen
Note: Projections provided by Steamer.
And now we specifically want to get to the specifics. So, let's bring in Nick Doran from Red Leg Nation to give us the low down on the Reds in 2017.
Note: Some answers may be somewhat dated, so for any analysis or commentary that has changed, we've chosen to still include so as to add context to the overall post and also make sure the interviewee's thoughtful responses aren't wasted.
[email protected]: Last season I couldn't have been more pleased with the late round selection and cheap buy of Adam Duvall. I mean, .241/85/33/103/6 is basically Chris Davis 15 rounds later. However, the sweetness of those stats was soured a bit when his power cooled to 10 HR in the second half after 23 before the All-Star Break. There is a lot under the surface that is keeping me optimistic about Duvall for 2017 (he hit better on the road in '16, had 5 triples and doubled his walk rate in second half). What are the chances we get 40 HR from Duvall this season, with an average of .260?
Nick Doran: Duvall's power is totally legit. He mashes the baseball when he makes contact. 30-40 homers is a reasonable expectation for Duvall. The batting average is another story. He strikes out a LOT. He had a .241 batting average last year but I would expect that to drop this  year — likely into the .225 range. He doesn't walk enough to help in on-base percentage leagues either. He is basically another Chris Carter type of player. Not exactly the type of guy that wins fantasy championships unless you get him really cheap, like you did last year when he snuck up on everybody. The cat is out of the bag now, so if you want him you are going to have to pay full price on draft day. He is 28 years old so I would not expect much in the way of production growth. He is a solid enough player to draft in the later rounds to fill out your roster, but not a guy I would be targeting as a key contributor to a good fantasy squad.
[email protected]: The pitching staff is a wreck. Haha, I want to ask a question about them, but there's just not much that' fantasy relevant. Feel free to interject with a knowledge bomb that will blow us away, but if it's alright, I want to shift to a name that I believe many should be targeting as a bench OF option during draft season: Jesse Winker. FanGraphs lists him as the #3 prospect in the system, but I'd argue he's the top option to make a fantasy impact this season. He's a toolsy player with an incredible hit tool, but that power sap last year is a big concern. I mean, it's not often you see a top prospect post an OPS of .082 in 106 AAA games. So, what's the story on Winker? Am I right in my belief in him as a fantasy asset? Is he more Nick Markakis, Chriatian Yelich or Gregor Blanco without the speed (yikes)?
Nick Doran: I agree that Winker has a chance to make an impact this year. He is ready for the major leagues and has the talent to have a long productive career. The Reds may not be in any rush to bring him to the majors and start his service time clock however. I would expect him to start the season in the minors for at least a few weeks. He will most likely be called up in early June, but it could be earlier if Scott Schebler struggles or if there is an injury to one of the starting outfielders.

I believe Winker is a much better prospect in real baseball than in fantasy. Some of the power drain can be blamed on wrist injuries Winker suffered the last couple of years. The .082 Isolated Power last year was a fluke. He hits the ball with authority but doesn't have an uppercut swing. He is a line drive hitter but not a slap hitter. He has enough power to be a run producer. He walks as often as he strikes out. Projecting his stats in the majors, I would predict something like a .270 batting average with 15 home runs his first couple of seasons. As he approaches his prime I can see a .290 batting average with about 25 home runs at his peak. On-base percentage will be his best attribute, starting at about .360 and working up to .390 or even .400 occasionally. He will not help your team in the stolen base category.

Of the players you compared him to, I think Nick Markakis comes the closest — although I think Winker can be a little better. A normal season for Markakis has been a .290 batting average with 15 home runs, 80 runs scored and 70 RBI. The batting average and home runs are about right for Winker, but I think Jesse has a bit more upside in RBI. Markakis early in his career was a pretty good fantasy player to own but definitely not a star. In more recent seasons he has been barely rosterable for a good fantasy team — more like an injury replacement than a guy to count on as a starter at the beginning of a season. Winker is likely to be a fringe fantasy guy as well. He gains a lot of value in leagues that use on-base percentage instead of batting average. Sometimes power comes late to young hitters. If Winker develops more home run power he could be a star, but right now I wouldn't bet a lot on that.
[email protected]: Everyone loves getting an edge. As an expert on this team, give us some insider trading. Who is someone flying under the radar that will surprise us in 2017, making them an underrated option from Cincinnati?
Nick Doran: Scott Schebler tops the depth chart in right field. He has a .263 batting average with 12 home runs and 44 RBI in 257 at-bats over the last two seasons. He was the primary left fielder to start last season but got sent to the minors on May 8th after struggling to a .590 OPS. He crushed the ball for two months at Triple-A, batting .311/.370/.564 with 13 home runs. He was called back up to the majors in early August and put up an .818 OPS in 55 games. The 26-year-old is a sneaky play in the outfield for fantasy owners.

Devin Mesoraco is another guy flying under the radar. He missed the last two seasons with severe hip and shoulder injuries but is expected to be ready for Opening Day this year — at least that is what the Reds' front office is saying.  His last health season was 2014, and he was a fantasy baseball beast that year — batting .273/.359/.534 with 25 home runs and 80 RBI in only 114 games. When healthy Mesoraco can be expected to pound the ball. If he returns to form he could be one of the top five catchers in fantasy baseball once again.
[email protected]: Now on the flip side, who is someone on this roster that everyone may be targetting but is an overrated option just waiting to disappoint us?
Nick Doran: (Note: Nick answered this right before the Phillips' trade) Jose Peraza is a player I would avoid on draft day. He hit .324/.352/.411 with 3 homers and 21 stolen bases in 72 games last year. The stolen bases are real and represent his best fantasy attribute. The batting average was inflated by a .361 BABIP and is going to drop quite a bit. He rarely walks and won't help you in an OBP league. He has very little to no power. He has multi-position eligibility, qualifying at second base, shortstop and outfield. So that is a good thing. He will score some runs but is going to be a detriment in RBI. If he were to play a full season next year I would predict a .280 batting average with five home runs, 80 runs scored, 35 RBI and 35 stolen bases. Right now he does not project to be a starter in the early part of the season. He is currently blocked at all three of his positions. He is blocked by Brandon Phillips at second base, Zack Cozart at shortstop and Billy Hamilton in center field. Phillips and Cozart are on the trade block. Hamilton isn't going anywhere but is prone to injury. The point being it is dangerous to spend an early fantasy draft pick on a player that may not even have a starting role. There is a chance Peraza could play some right field if Scott Schebler doesn't work out, but he isn't the type of slugger commonly deployed in that position.
[email protected]: Let's time travel. At the end of 2017 what will this team's final record be, and how will we remember their year?
Nick Doran: The Reds went 68-94 last year and finished in last place in the NL Central. They won only 64 games in 2015. Prognosticators are not predicting much better for the team this year. I am a little more optimistic and will predict a 77-85 record and wouldn't be surprised if they flirt with a .500 season. The young pitchers have another year of experience. Homer Bailey and Devin Mesoraco are back, although Bailey will miss the first 4-6 weeks due to minor elbow surgery. There are promising young hitters sprinkled all over the diamond. The bullpen couldn't possibly be as awful as it was last year. I think we will remember this season as the one in which the Reds' youth movement began to pay dividends.
NOW DROP THOSE COMMENTS! Thanks, Nick, for the incredible conversation about the Reds in 2017! Make sure to catch more of his writings at Red Leg Nation, and keep checking back. More 2017 Team Previews to come!