We've posted the first version of 2010 Razzball Point Shares (also available via the 2010 Fantasy Baseball Rankings header).  For end of year 2009 Point Shares, please click here.
This first version is based solely on CHONE projections except for Saves which we added (CHONE doesn't estimate saves).
In late February/early March, we'll add ZiPS projections and reweight the projections based on the latest playing time expectations.  If a certain player looks high/low, you should consider the plate appearances.  For example, you'd be hard-pressed to find anyone ranking Orlando Cabrera ahead of Jason Bartlett.  But Cabrera is projected at 87 more plate appearances (631 vs. 544) which helps pad his R/HR/RBI/SB totals.  The impact that playing time can have is even more dramatic when looking at starting pitcher value.
For those unfamiliar, Point Shares are our home-grown methodology (inspired by Bill James' Win Shares) for rating fantasy players.  Besides providing a basis for rating players, Point Shares provide quick estimates as to a player's impact to your overall team points and compare across categories – e.g., Ichiro's contributes 1.3 points in SB vs. the average OF and -1.3 points in HRs vs. the average OF.
Here are the basics:
Point shares represent a player's estimated impact on an average team's points versus the average drafted player at his position.  So in a 12 team league, the 'average drafted SS' would be between the 9th and 10th valued SS (12 starting SS, 6 slotted for 2B/SS) and the average team would get 65 points (6.5 per category if 12 is top and 1 is bottom).    For example, Hanley Ramirez's 9.69 Point Shares mean he was worth 9.69 points more to the average team than the average stats for SS in a 12-team MLB league and move the team up to 74.69 points.
Point Shares are estimated for each statistical category.  Hanley Ramirez's 9.69 Point Shares break out as: 2.4 Runs, 1.7 HRs, 1.0 RBI, 2.5 SB, and 2.1 AVG.
The assumed roster makeup is C/1B/2B/SS/3B/CI/MI/5 OF/Util/9P.  The assumed number of SPs and RPs per team are 5.5 to 3.5.  The UTIL slot is manned by DH and some OF, 1B, and 3B.
Players are ranked based on the position in which they are judged most valuable and are 20 games eligible. The order of most valuable to least valuable for positions is: C, SS, 2B, 3B, OF, 1B, DH.
Player value is primarily driven by positional comparisons (75% for hitters, 85% for pitchers) with the remained based on the average hitter/pitcher.  Batting Average, ERA, and WHIP are adjusted based on a player's ABs/IPs (e.g., the more ABs/IPs, the greater a positive/negative impact it has for a fantasy team).
Here are some answers to some common questions:
1) Why do SPs rank higher in Point Shares than they are typically drafted? (e.g., 10 of top 20 in final 2009 PS, 2 of top 3 for 2010)

The best pitchers generally dominate 4 categories (W, K, ERA, WHIP).  While they don't contribute in Saves, there is little opportunity cost to this since saves are concentrated in 30-40 players and there are 90+ pitching roster spots (108 for 12 team).  For hitters, it's rare for a player to be excellent across more than 3 categories and there's a larger opportunity cost for the categories they are not great (i.e., OFs like Ichiro and Taveras hurt HR/RBI).  Note that only 8 players in 2010 are projected to be average or better for their position in all 5 stats (Hanley, Pujols, Braun, Wright, Holliday, A-Rod, Kemp, Beltran).
Here's another way of looking at it.  If you converted Zack Greinke's 2009 season to an OF (W=R, HR=SO, RBI=WHIP, SB=SV, AVG=ERA), his line would have been 103 /40/108/11 /.367.   Lincecum and Felix Hernandez weren't too far off this.  The reason why it's usually not advisable to draft a pitcher in the 1st round is the unpredictability of who'll be the top pitchers vs. their true value.  Here's a more thorough explanation of a pitcher's fantasy value.
2) Why are Point Shares based off value over an average player versus a replacement player?

There are several 'real' baseball metrics that value a player against 'replacement players' including Baseball Prospectus' VORP and Sean Smith's WAR.  These take position into account as the offensive value of a replacement-level 2B is going to be less than than an OF.
Point Shares uses 'average player' for two reasons:
a) 'Replacement Player' in fantasy baseball doesn't properly estimate positional value
Fantasy baseball has two key differences that converge the replacement level for all positions to a similar offensive value:  1) The number of players selected per position varies in fantasy baseball (e.g., 1 C / 5 OF) vs. real baseball (1 C / 3 OF) and 2) The Utility position which disproportionately grabs 1B/OF given their greater hitter depth.
| | | | | |
| --- | --- | --- | --- | --- |
| Pos | MLB | 12-Team | Utility | % Used |
| C | 30 | 12 | 0 | 40% |
| 1B | 30 | 18 | 2 | 67% |
| 2B | 30 | 18 | 0 | 60% |
| SS | 30 | 18 | 0 | 60% |
| 3B | 30 | 18 | 1 | 63% |
| OF | 90 | 60 | 6 | 73% |
| DH | 5 | 0 | 3 | 60% |
Note:  UTIL distribution is estimated
The below chart shows how the value of hitters converges across all positions by the time you reach  'Replacement Value' or, in other words, the Free Agency wire.  If there are any inequities where a certain position has greater depth, the UTIL slot will exploit it (and that doesn't even account for Bench).  So if one used a true 'replacement value' estimate by position, there would be little to no positional adjustment despite the fact that, all statistical equal, a player with C, 2B, or SS eligibility is more valuable than someone with 1B or OF eligibility.   By using 'average' player value, the differences in offensive value among the top-end players can be taken into account providing a better reflection of a player's value vs. the players owned on your competitors' teams.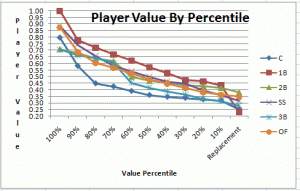 Note:  Based on 2009 data with value estimated by using Tom Tango's formula of HR + SB + (H – .27*AB) + R/3 + RBI/3
b) Point Shares estimates a player's impact on the average team vs. their impact on a replacement-level team.

Let's say it's draft day in a 12 team MLB league and your team looks like a keg-league softball team.  All power, no SBs.  There is no doubt that, should you keep that roster, you will finish first in HRs and last in SBs.  If you trade Ryan Howard for Jacoby Ellsbury, you may see no impact in HR/RBI and gain 6 points in SB.  If the other team was built like a Herzog-era Cardinals team, they might see a lift in HR/RBI with little to no impact on SBs.
These are extreme cases of course.  It's rare that a random team is destined to be in last place for a statistic (random meaning that we're not talking about a specific team that was on auto-pilot for draft day or is managed by that doofus in your office) .  So let's say the odds are 11-1 a team in a 12-team league would finish last in a statistic.  It wouldn't make sense to value Ellsbury's SBs the way that the most SB-desperate team would value them, right?
Well, that would be precisely the way a 'replacement-level' methodology would look at it.
If we look at things from an average perspective, you would give equal probability that a team would finish in 1st place through 12th place for each stat.  If the best team is at 120 points and the worst at 10 points, the average team is at 65 points ((120+10)/2)  or 6.5 points per category.  For a team to have 6.5 points per category, we need to assume they are average at every position vs. has a replacement-level player.
3) What is the highest/lowest score possible?
Theoretically, the best/worst possible Point Shares score for a category would be +/- 5.5 pts in each category (moving someone from 6.5 to 12 or 1).  Any other league size, just divide the team total by 2 and subtract 0.5 (10 team = 4.5).  A simpler way of looking at it would be to consider how one would calculate the average value per team of a player with 50 SBs.  For the team that's 1st in SBs, his value is 0.  For the 2nd team, it could be worth +1.  Take this to its logical conclusion and you get (0+1+2+3+4+5+6+7+8+9+10+11)/12.  That's 66/12 = 5.5.
Note:  The highest points within a single category in 2010 Point Shares v1 is Jacoby Ellsbury's 3.6 points in SB.
——-
Follow me on twitter:  rudygamble
Follow me on FB:  Rudy Gamble