We now have some more 2009 fantasy baseball projections for you. These are CHONE-based projected Point Shares for 10 and 12 team leagues available in the 2009 Fantasy Baseball Rankings menu at the top of the page.
Razzball Fantasy Baseball Projected Point Shares – MLB 10 Team
Razzball Fantasy Baseball Projected Point Shares – MLB 12 Team
If you want to download the 2009 projections, click here.  CHONE takes more factors into account than Marcel including home ballpark and league (Free agents are based on neutral park and 50/50 AL/NL split).  While we did not alter any CHONE projections, we did remove any player deemed unlikely to get to 300+ ABs (CHONE is admittedly over-optimistic on plate appearances which would distort counting stats).  CHONE does not project saves but we added them in based on expected closing opportunity.
We plan to create the 'official' Point Shares spreadsheet in the late February time frame which will account for additional factors like expected playing time.
While Marcel and CHONE are fairly correlated (87%) in projected player fantasy value, there are several players with wildly different values between the two systems.
Hitters:
Why the big differences on some of these players?  I'd say Soriano, Ortiz, Crawford, V-Mart, and Furcal are lower in Marcel because its Plate Appearance projections are more affected by last year's injury-effected totals.  CHONE factors in minor-league stats which explains Bruce and Cruz's higher numbers (Cruz had a monster year in AAA last year but CHONE still seems overly optimistic).
I've got less of an explanation for the cases where Marcel > CHONE.  Holliday's lesser value makes sense since CHONE factors in league and park (bye-bye Coors).  Thome and Chipper Jones are old – perhaps Marcel is more optimistic on older players?  The rest of these hitters (Hamilton, Ludwick, McLouth, Pedroia) had career years in 2008 – maybe Marcel relies on last year's stats more?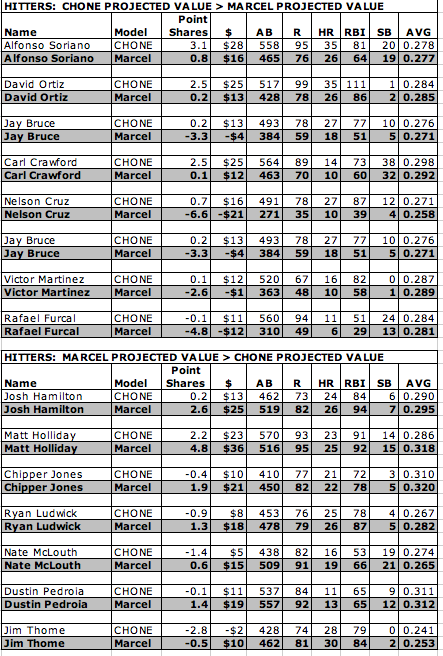 Pitchers:
I'm not sure why there are big differences on Brandon Webb.  Sheets might be lower in CHONE partly because he's a free agent and the projections factor that he might end up in the AL.
Vazquez.  Holy fuckin' shit!  Vazquez is ranked #4 in 10-team and #2 in 12-team Point Shares when using CHONE.  I can see Vazquez getting a boost from leaving the AL and a hitter's park (US Cellular) to the NL and Turner Field.  But to become a $41 fantasy pitcher.  I don't think so and here are few others that concur (Roto Savants, Hardball Times).
The three pitchers that Marcel estimates higher (Myers, Harang, Lester) follow the pattern we saw with guys like Hamilton and Ludwick.  Lester had a career year last year which Marcel credits more for 2009.  Myers and Harang had down years and Marcel punishes them more.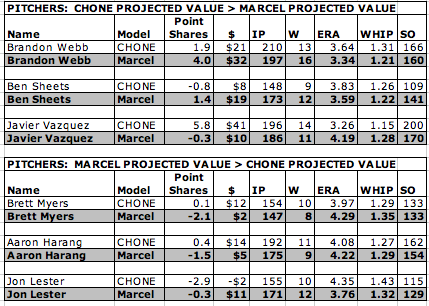 So what does everyone else think?