I wish I knew more about Street Fighter so I could come up with better Ryu puns or references. My knowledge of SF (do people abbreviate it like that?) ends at knowing it was fighting video game I had growing up that wasn't as good as Mortal Kombat (hot take alert). And for the record, yes, I know Hyun-Jin Ryu pronounces his name differently. Give me a break, and go with it.
Anyway, two names that stuck out to me near the top of the Razzball Streamonator rankings for Week 13 Two-Start Starters were Hyun-Jin Ryu and Rich Hill, both left-handers for the Dodgers. Streamonator has Ryu at 5th and Hill at 7th among two-start starters. And, as of this writing, Ryu is owned in less than 5% of leagues while Hill is owned in less than 70%. So, if you are desperate for a two-start starter this week, stop reading this right now, pick up one or both of them, and then come back and finish the rest.
Now, if you skipped ahead to my chart below, you'll notice that I am not as high on the two Dodgers lefties as Streamonator is. This is partly because I do not weight the opponent as heavily, and Streamonator clearly likes their matchups against the Angels and Padres this week. And, well, those are two pretty good matchups, so I get it.
Of the two, I like Rich Hill more, especially if you need to pick up someone for more than just next week. Ryu might not even be in the starting rotation anymore at that point. Obviously, Ryu is available in more leagues. Hill might not be an option for many of you at this point. But worry about the future after you get through this week with Ryu.
As for value, Streamonator has Ryu at $26.70 and Hill at $22.20. The only other two-start starter with a value of more than $10 and an ownership of less than 75% this week is Michael Wacha. If you haven't been paying attention, Wacha hasn't been able to get out of the fifth inning in five of his last six times out. I also don't trust his matchup against the Red and Nationals this week, so I am staying away.
Pitchers are listed in order by rank. Colors represent 8 toughest or 8 easiest opponents according to team wOBA for last 14 days.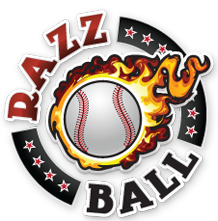 THE BEST
THE REPLICAS
THE STANDARDS
Player
Opponents
ERA/FIP
K9/BB9
Rich Hill LAD

LAA

, @SD
4.73/5.19
9.68/5.85
Hyun-Jin Ryu LAD

LAA

, @SD
4.30/5.15
8.19/2.82
Trevor Bauer CLE
TEX,

@DET

5.54/4.09
10.73/3.62
Jeff Hoffman COL

@SF

,

@ARI

4.29/2.86
9.59/2.02
Drew Pomeranz BOS
MIN, @TOR
4.07/3.88
10.11/3.08
Taijuan Walker ARI

PHI

, COL
3.43/3.46
8.57/3.29
Junior Guerra MIL

@CIN

, MIA
3.11/6.03
6.45/5.26
Sean Newcomb ATL
@SD, @OAK
1.96/3.58
6.38/3.44
Mike Fiers HOU
OAK,

NYY

3.81/5.65
7.73/3.23
Justin Verlander DET
KC,

CLE

4.52/4.20
8.83/4.41
Jordan Montgomery NYY

@CHW

,

@HOU

3.74/3.89
8.56/3.13
THE KNOCKOFFS
Player
Opponents
ERA/FIP
K9/BB9
Michael Wacha STL

CIN

, WAS
4.76/4.05
8.34/3.57
Alex Cobb TB
@PIT, @BAL
4.05/4.15
6.36/2.60
Daniel Norris DET
KC,

CLE

4.66/4.01
8.61/3.96
Jose Quintana CHW

NYY

, TEX
4.69/4.07
8.97/3.26
Joe Biagini TOR
BAL, BOS
4.45/3.25
7.61/2.01
Mike Clevinger CLE
TEX, @DET
3.86/4.52
9.86/4.71
Nick Pivetta PHI

@ARI

,

@NYM

4.46/4.53
9.78/4.04
Matt Strahm KC

@DET

, MIN
4.80/4.77
9.90/6.00
Tyson Ross TEX

@CLE

,

@CHW

9.35/4.41
7.27/4.15
David Holmberg CHW

NYY

, TEX
2.93/4.28
5.87/3.23
THE 
Player
Opponents
ERA/FIP
K9/BB9
Eddie Butler CHC
@WAS,

@CIN

4.19/4.48
5.82/4.89
Jesse Chavez LAA

@LAD

, SEA
5.15/5.51
6.72/2.73
Ricky Nolasco LAA

@LAD

, SEA
5.23/5.96
7.58/2.67
Jhoulys Chacin SD

ATL

,

LAD

4.95/4.62
7.75/3.12
Kevin Gausman BAL
@TOR,

TB

6.47/5.36
7.03/4.35
Adalberto Mejia MIN
@BOS, @KC
5.53/6.02
7.97/4.87
Tim Adleman CIN

MIL

, CHC
4.30/5.17
7.96/3.65
Robert Gsellman NYM
@MIA,

PHI

6.04/5.28
6.53/3.21
Martin Perez TEX

@CLE

,

@CHW

4.70/4.28
6.67/3.50
Amir Garrett CIN

@STL

, CHC
7.41/7.29
7.56/4.47
Trevor Williams PIT

TB

,

SF

5.09/4.37
6.33/2.62
Nik Turley MIN
@BOS, @KC
16.39/7.42
6.75/3.86
All pitchers are projected for two starts as of Friday night. 
If you would prefer to see the above tables as a color-coded graphic, we've got that too!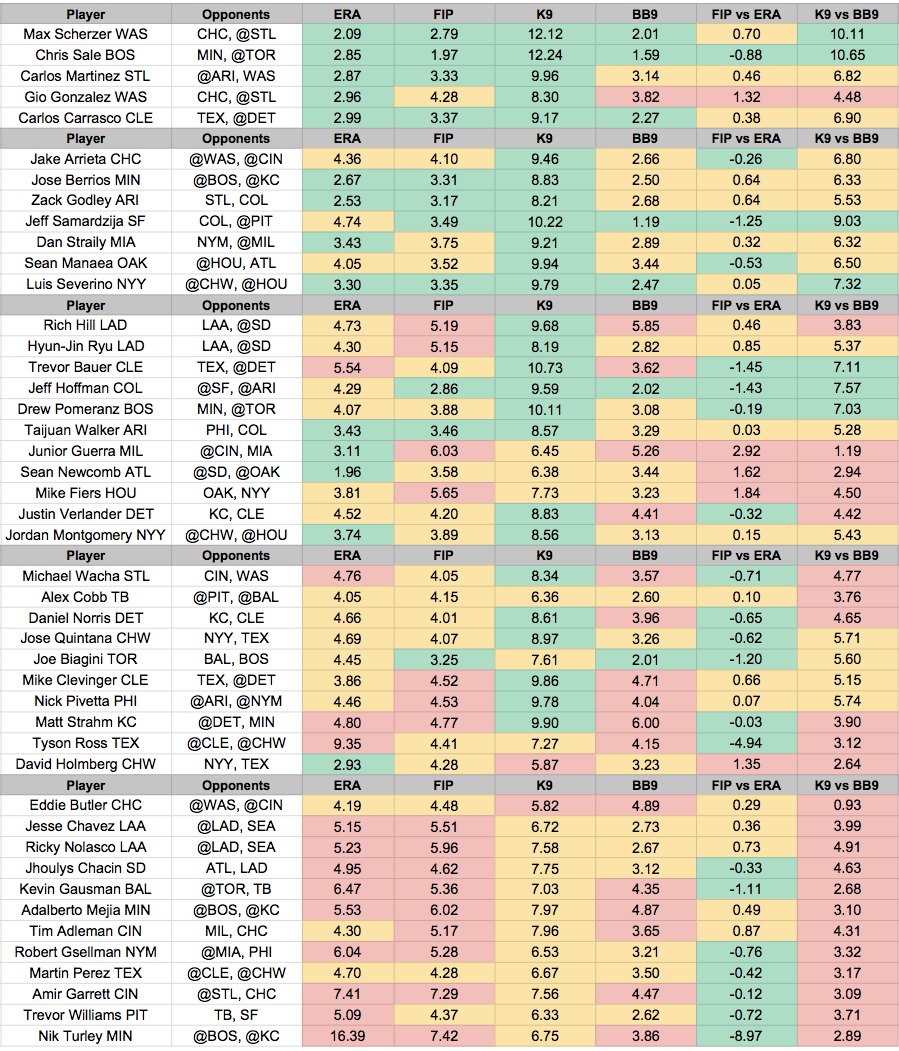 As always, disagree with anything here? Have any questions or comments? Want to tell Mike how great he is or how much you agree with him? Want relationship or investment advice?
DROP THOSE COMMENTS!
If you want to talk fantasy baseball or football or have players you want Mike to feature, hit him up on Twitter at @mikeMaher or post a comment below!