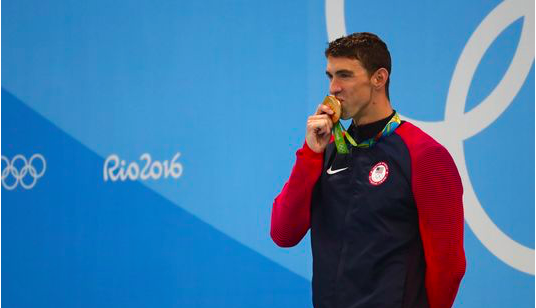 I mean, is there any other photo that more represents the name Phelps this summer? Wait. (Checks the photo again). Hang on.
There we go! Haha, sorry about that. Who's that other dude? HE'S NO DAVID PHELPS! I tell ya that much…
Now, in all seriousness, David is no Michael, but in Week 20 he has the potential of bringing your fantasy baseball some significant value. And we're not talking GOLD-TONED value, for all you Razzball Podcasters (thanks for that one, @Grey). While only starting two games this year, Phelps is producing a career year. By far. With a K/9 over 11 the Marlins have used him in multiple situations leaving to his 5 W and 3 SV. He's been valuable in his role, but moving into the rotation for this week could bring great things. The Marlins are in the playoff hunt and need some fresh breath to get some elusive wins of late. Enter Phelps. And enter the Reds and Pirates lineups.
Phelps LOB% (Left on-base %) is a large reason his stats look so great (88.5%), but all the peripherals match up to his impressive surface stats of ERA (2.40) and strikeouts (11.03 K/9). It will be interesting to see how he translates his success through a lineup a second and then, hopefully, a third time, and he'll need to do better than his history as a starter, but I have every reason to believe he can. The Reds are a porous team with a few traditional bright spots in the lineup, and the Pirates offense has tried its best to suck enough to rival the Braves in season-long numbers. Phelps is on the road for both, but has a good defense behind him and features a great shot at scoring some W.
Lastly, unlike many of the pitchers highlighted in this series, David Phelps is ACTUALLY AVAILABLE FOR PICKUP! He's only owned in 10.2% of leagues. He won't go past 6 or 7 innings, but it'll be enough to bring great value.
Here's how the rest of Week 20 stacks up!
—
Pitchers are listed in order by rank. Colors represent worst 8 or best 8 opponents according to team wOBA for last 14 days.
THE BEST – Don't worry about Jose's last start, he could strike out 14 Pirates. And that's conservative. Seriously, how does a SP have a full K per inning higher than Scherzer? Man crush activated. Well, not on Jose, I guess. It's still on Verlander for the proximity rule of the lady he goes home to each night.
THE REPLICAS – Quintana's been an ace for the White Sox, but he needs more K's to truly gain that recognition in fantasy. And c'mon Keuchel! You're better than this!
THE STANDARDS – Love me some Duffy, but I want to see him sprint through the tape rather than tarry off. Not tarrying off? Bartolo Colon. We need a Lifetime Achievement Award for him. And yes, Felix is that low, just like my view of his value.
THE KNOCKOFFS – Ride them over the names below them, but each of these six could/should be performing at a better rate.
THE 

 – Call a plumber…we have ourselves a whole lotta poop this week. And now I'll apologize for my horrendous attempt at a joke and go watch 'Roast Battle.'
Player
 Team
Opponents
ERA/FIP
K9/BB9
Gio Gonzalez
WAS
@COL, @ATL
4.24/3.90
8.55/3.16
Ian Kennedy
KC
@DET, MIN
3.91/4.99
9.02/3.03
Ryan Vogelsong
PIT
@SF, MIA
2.67/3.85
7.22/3.21
Jeff Samardzija
SF
PIT, NYM
4.23/4.35
6.57/2.39
Josh Tomlin
CLE

BOS

,

TOR

4.18/4.87
6.47/1.18
Braden Shipley
ARI

NYM

,

@SD

2.96/5.35
6.29/4.44
Ricky Nolasco
LAA
SEA, NYY
5.14/4.35
6.78/1.98
Edwin Jackson
SD

@TB

, ARI
4.19/4.41
5.65/3.98
Christian Friedrich
SD

@TB

, ARI
4.84/4.29
6.70/3.71
Martin Perez
TEX

OAK

,

@TB

4.22/4.62
4.34/3.72
Brandon Finnegan
CIN
MIA,

LAD

4.45/5.68
6.61/4.52
Jhoulys Chacin
LAA
SEA, NYY
5.84/4.50
7.11/3.84
Yovani Gallardo
BAL

BOS

,

HOU

5.17/4.95
6.55/4.71
Wade LeBlanc
SEA
@LAA,

MIL

4.71/5.64
6.19/1.98
Joel De La Cruz
ATL

MIN

, WAS
4.09/5.31
4.36/3.27
Chase Anderson
MIL
@CHC, @SEA
4.93/5.20
7.19/3.31
Ross Detwiler
OAK

@TEX

, @CHW
2.13/4.32
3.55/2.84
Jorge de la Rosa
COL
WAS, CHC
5.25/4.99
6.75/4.22
All pitchers are projected for two-starts as of Friday night.
DROP A COMMENT, good luck in Week 22, and GO USA!!! And David Phelps, too! Only some quarter-century more medals to accumulate.