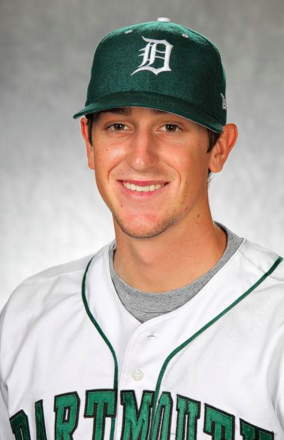 Just look at him. Smiling. Slender. Smart. Coming in at a 190LBs while standing a svelte 6'3″ if you gave this man some wispy eyebrows, a cardigan and a pipe you'd have yourself a run-of-the-mill ivy league professor. In the greens of Dartmouth's baseball team, though, you get Kyle Hendricks, the unbecoming, unannounced, unheralded almost ace of the MLB-best Chicago Cubs. Could it really be this dude that plays a massive role in reversing the Cubbies curse? In a word:
YES.
Seriously, Hendricks may be nicknamed 'The Professor' because he went to Dartmouth (not because he could pass for one), but what he's done on the mound lately mirrors more Greg Maddux than Albus Dumbledore. Not only do Maddux and Hendricks share a nickname, but they also put together spurts for the Cubs that were Cy Young worthy (to be clear, Hendricks ain't winning the Cy Young, and he's no Greg Maddux). Let's compare the two of the top Cubs pitchers this year:
Pitcher A: .210 AVG/.273 OBP/.587 OPS against, 3.2:1 K:BB, 1.36 ERA and 7-1 at home.
Pitcher B: .197 AVG/.273 OBP/.561 OPS against, 2.9:1 K:BB, 1.61 ERA and 4-2 at home.
And just whom might whom be? Player A: Kyle Hendricks. Player B: Jake Arrieta. They're both below. They both deserve to be there. Just under the Norse god himself. One's the reigning Cy Young candidate. The other is a Dartmouth grad. Don't worry about the name value on Hendricks, he's been a sneaky top 20 pitcher all year. Those damn Dartmouthians(?).
—
Pitchers are listed in order by rank. Colors represent worst 8 or best 8 opponents according to team wOBA for last 14 days.
THE BEST –  Yep, just three at the top, and don't worry, it doesn't get bloated in the middle. Nope, this week's full of poor options, but these three would be at the top in any week. And yes, that includes you aforementioned Kyle Hendricks. He's been nothing short of remarkable.
THE REPLICAS – I'm not afraid of Pomeranz at all, even after Bill Simmons and the rest of the Masshole world lost their minds when he failed to go 4 IP in his first start as a member of the Red Sox. And for the record, I'm a yuge Bill Simmons fan, so don't think otherwise. Also not thinking otherwise? That Pomeranz will all of a sudden suck. He's been great, and will continue to do so, even if he doesn't escape the 7th inning often. I also love what Pineda has done recently, along with Verlander. Keuchel's creepin back into my good graces. Bout effing time.
THE STANDARDS – Not loving any of these this week, but they're still worthy of putting in the lineup over any mediocre one start option.
THE KNOCKOFFS – Ervin 'Smell Baseball' Santana has been sneaky good the past 6 weeks. I still wouldn't rely on him, though. This tier is just barely above the poop for the sole reason of matchups, name value and potential. Gold plated turds, they're called.
THE 

 – For this week that emoji is especially prudent. Shields could slide into the tier above, but the Twins have surprisingly hit well the pas month. All the rest…Blegh.
Player
Opponents
ERA/FIP
K9/BB9
James Shields (CWS)

CHC

, @MIN
4.99/5.28
6.32/3.75
Jake Peavy (SF)
CIN,

WSH

5.15/4.11
7.04/2.71
Martin Perez (TEX)

OAK

, KC
4.37/4.87
4.15/3.85
Chase Anderson (MIL)

ARI

,

PIT

5.50/5.52
6.90/3.50
Patrick Corbin (ARI)

@MIL

,

@LAD

5.23/5.19
6.71/3.59
Colin Rea (SD)

@TOR

, CIN
5.01/4.82
6.94/3.86
Daniel Mengden (OAK)
@TEX,

@CLE

5.52/4.17
9.00/4.70
Chad Bettis (COL)

@BAL

,

@NYM

5.31/4.12
6.95/2.42
Hector Santiago (LAA)
@KC,

BOS

4.32/4.92
7.83/3.83
Jorge De La Rosa (COL)

@BAL

,

@NYM

6.07/5.23
7.56/4.21
Tom Koehler (MIA)

PHI

,

STL

4.42/4.41
7.00/4.42
Matt Cain (SF)
CIN,

WSH

5.88/5.20
6.34/2.87
Matt Garza (MIL)

ARI

,

PIT

5.94/4.61
5.45/3.22
Yovani Gallardo (BAL)
COL,

@TOR

5.69/5.14
6.02/5.04
Lucas Harrell (ATL)
@MIN,

PHI

4.24/3.79
6.56/3.47
Kyle Lohse (TEX)

OAK

, KC
12.54/9.69
2.89/4.82
All players listed are projected for two starts, and this list is subject to changes after the article is posted.
Somehow Hendricks still isn't owned universally. If he's, by some chance, available in your league, well…you're not the brightest of the bunch. Freaking get him. For everyone else: here's your sneaky trade deadline target. And now I have no chance of getting him in my RCL's.
Here's to hoping he continues pitching like the O.P. (Original Professor), Greg Maddux, and mirrors Arrieta in Week 17. As for the rest, if they're under tier 2.5, just keep it movin'.