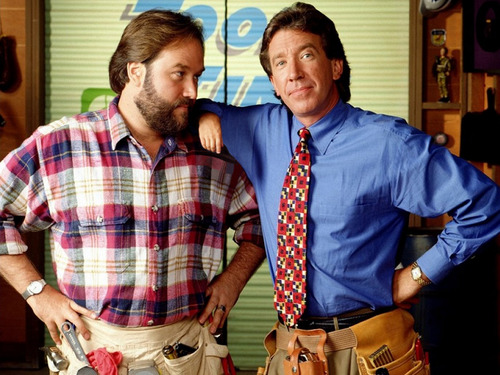 This past fall my wife wanted the cabinets painted. Ugh. This left me with one of two choices: pay some stupid amount of money for someone to trash my kitchen, cover everything in little drops of paint splatter and brighten up the house by turning my brown cabinets white, or do it myself. Tim 'The Toolman' Taylor I am not. In fact, I may have married more of a Tim 'The Toolman' than I am myself. Wait, haha, don't take that wrong. My wife's gorgeous. Maybe I should change the analogy. Ok, what's the girl's name who wears the short shorts and works on the show with Tim and Al Borland on 'Home Improvement'? Heidi? Yeah, that's what I hitched myself to. I win! And now that I've spent 100 words talking about my wife in a fantasy baseball post, let's get back to the story. Which option did I choose?
Well, six months later my kitchen has white cabinets and my checking account has a lot less money. What was the determining factor? Primer. Freaking primer.
Now before all you handymen laugh me out of Razzball and send more judgment my way than my Southern Baptist grandmother did when she saw my high school girlfriend, let me 'splain. Painting's not a fun chore to me, but saving money is. As a result, I thought I'd give it a go with the paint job. Embarking upon the journey of turning my cabinets white, I began one Saturday morning while my aforementioned smokin' hot wife and kids ran some errands. Major points coming my way, right? Then my wife returned, and rather than some smooches I got disappointment and frustration. Nothing but unhappy body language, because I forgot the primer. Why can't you start painting brown cabinets white, the same effing color as the PRIMER!?! So, after some laughs and phone calls in came the painter to fix my mess and paint our cabinets with two coats of white…after a coat of primer.
In order to be prepared for the weekly update of which starters can give you two coats of starts you first need a primer. And for the record, I much prefer writing a primer about fantasy baseball with a keyboard than applying one to my cabinets with a brush. Wouldn't you?!?
You've been peppered all kinds of strategy this draft season, but now let's get you ready to actually win your league during the season. Two-start pitchers refers to starting pitchers that are scheduled to take the bump twice in a weekly period from Monday-Sunday. With a normal 5 day rest between starts, this means you're looking for pitchers that start Monday or Tuesday, and then come back around during the weekend. While there is value to utilizing this strategy in every format it is primarily beneficial to those of you playing in weekly leagues or leagues where pickups are only allowed weekly. Grabbing a two-start pitcher gives you more opportunity for counting stats with the second start, but read carefully what was just written: an opportunity. There's no guarantee that a two-start pitcher will bring more value than someone who throws just once, but this primer will explain why, and the weekly updates will give advice on how to navigate those waters during the year. So, let's start painting!
When examining which two-start pitchers to pick up, you need to look further than just name value or season stats. Many variables go into making the pitcher attractive any given week, such as: Home/Road Splits, Batter vs. Pitcher History, and the 9's. First up, the thing I haven't been able to do since I was 9 years old and took karate: the Splits. #dadbod
Home/Road Splits 
Seeing where the pitcher is taking the mound is a huge element in selecting the right two-start pitchers. Sure, you should avoid bad pitcher's parks like Coors Field or Progressive Field in Cleveland, but the main thing you're looking for is whether it's at home or on the road. For most pitchers home is the better option. In fact, across baseball last year the Home SP ERA was 3.71, while on the road the ERA jumps to 4.17. One SP who fit this mold was Jake Peavy.
| Jake Peavy | ERA | WHIP | K/9 | BB/9 | K/BB | HR/9 | wOBA against | BABIP |
| --- | --- | --- | --- | --- | --- | --- | --- | --- |
| Home | 3.02 | 1.09 | 4.98 | 1.66 | 3.00 | 0.60 | .288 | .263 |
| Away | 4.24 | 1.16 | 7.94 | 2.47 | 3.21 | 1.41 | .305 | .262 |
First, the reason why I'm highlighting Jake Peavy over some much higher name is that Peavy's ADP is currently 359 according to FantasyPros, meaning he's not being drafted. When looking for a two-start pitcher pickup, you're going to be searching through the streaming scrapheap to find the best option. Now, Peavy had a mediocre, yet useful 2015, especially at home. When examining the stats, his ERA was over a full point lower in San Fran than other places, but the peripherals weren't much different. Except that HR/9. His BABIP was the same, his K'd more on the road, had a solid WHIP on both sides, but gave up 235% more HR on the road than at AT&T Park. This spells that Giants pitchers are good options at home, given that AT&T Park was the best rated place for pitchers to pitch in 2015. The lesson: stay away from Peavy on the road, but if he's pitching twice at home, pick him up quick.
There are some pitchers that flip the script, though, and would argue that their friendly confines aren't so friendly after all. While Jake Arrieta was the best road pitcher of 2015, you're not picking him up anywhere. However, you can find his teammate, Jason Hammel, in a lot of free agent bins.
| Jason Hammel | ERA | WHIP | K/9 | BB/9 | K/BB | HR/9 | wOBA against | BABIP |
| --- | --- | --- | --- | --- | --- | --- | --- | --- |
| Home | 3.99 | 1.16 | 7.98 | 1.68 | 4.75 | 1.58 | .322 | .276 |
| Away | 3.49 | 1.16 | 10.16 | 2.54 | 4.00 | 0.85 | .289 | .300 |
Hammel's case for a strong road start is an interesting one, similar to Peavy's. His numbers aren't that different in the split, but the ERA is a half-point lower due to the almost 50% lower HR/9 rate. Again, Wrigley Field may have something to do with this, but if a 3.49/1.16 line is more of the norm, you're throwing Hammel both home and on the road…a great two-start streamer.
Batter vs. Pitcher History (BvP)
I'll bring this nugget over from the DFS game. One of the best indicators for future success is looking into the past. It's the definition of wisdom. Wisdom is looking to the past to know what's going to happen in the future before it happens. So, Batter vs. Pitcher history allows you to find wisdom in your selections. While in the DFS games this can be spread out to every pitcher, you most likely won't have the luxury of streaming the likes of Chris Archer, Corey Kluber or Sonny Gray. Still, you may in an innings or start limit and a poor showing in the history may save you from a rare implosion from even one of the top names. For instance, history may suggest that this Sunday one of those implosions from a top name could be in the works.
This one applies to the first week of the 2016 season. Wainwright faces the Pirates on Sunday night's opener, and then will take the bump again next weekend against the Braves (both road starts). The second matchup against the Braves is as golden as they come, but Sunday night's game will be a tougher test.
Adam Wainwright carries a .644 W% for his career, and has gone 11-6 vs. Pittsburgh, but those numbers don't lie. Andrew Mccutcheon has been especially successful against Wainwright, and when the opposing stud hitter has your numbers, it could spell bad things that night. And no, giving up a .902 OPS is not a good thing…
Now I use Adam Wainwright as the example for a bad BvP history, because you see that even top-tier pitchers are susceptible to bad matchups. However, most of the time you'll be looking to take advantage of splits like this:
While you won't find Wainwright on the FA list, Volquez most likely will be, and his first matchup for Sunday is a great one on paper. In a rematch of the 2015 World Series, the Mets travel to Kansas City where Volquez gets the first start. The numbers above are indicative of a really good track record. He has enough at bats for the numbers to hold up (equivalent of about 4 starts), and while he's walked them often (which Volquez does to anyone), the OPS is extremely low due to the minimal extra-base hits (XBH). Most of his strong work has come vs. David Wright (career .154 avg against) and Neil Walker (career .176 avg against), two hitters in the heart of the Mets lineup.
And since we're talking two-starts, guess who has another incredible BvP in his projected second start of the week? This guy. The Royals host the Twins 6 days after his first start, and they hit him even worse: .216/.255/.551. Sheesh. That's like facing a team full of Brendan Ryan's. Trust me, you want to pitch against that.
There's always some give and take, some risk and reward, but this stat is a great indicator of future success. Ah, that little thing called wisdom. Go get it (Proverbs 4:7).
The 9's
Lastly we have the 9's. The peripheral stats. In my opinion, these are often the best indicator of just how good a pitcher actually is. Well, for fantasy, at least. Sure, Doug Fister and Tim Hudson could keep trotting out 15-18 W seasons a few years back, or Hudson for his entire career, but I'd shy away from guys like that due to their minimal impact on 'the 9's.' And they include: K/9 and BB/9.
These two stats are the yin and yang, the death and life of pitching stats. Walks are deadly to your ratios as they do hurt your WHIP, will hurt your ERA, and can hurt your BB count (if you have that stats). I like things in threes. It's a magic number. But not those three things, that's some black magic of fantasy pitching death. And then we have the counterpart: strikeouts.
How does the parable go? A mouse is trapped in a glass of milk. He can either drown, or tread long enough and fast enough to turn that milk into cream and get out. Well, if pitchers are the mouse, and starting pitchers rankings become the glass of milk, strikeouts are the cream; the ones who rise to the top produce a lot of them, and the ones who don't sink in the rankings. Strikeouts cover a lot of other sins for pitchers, and you want to select guys with a lot of them.
In other words, minimize walks while maximizing strikeouts. That's a wonderful recipe for pitching success, especially for fantasy. Since most of the best examples of this are drafted early, here are some late ADP guys who possessed a low BB/9 with a high K/9 in 2015:
Can't believe I just put Rick Porcello as an example for something good with fantasy baseball…Whew. Ok. Deep breath. moving on. Here are those on the other end, high BB/9, low K/9 in 2015:
The last name on that list above proves why the 9's are typically a great indicator of success. Marco Estrada finished lats year with a 13-8 record and a 3.13 ERA. His FIP, though, was a 4.40, meaning he was incredibly lucky due to the fielding behind him. I'd rather go with a sure thing, like strikeouts and talent, than a wild card, like walks and luck.
So, you're almost 2000 words into the Two-Start Pitcher Primer. Well done! Clearly you love fantasy baseball enough to last through my Tool Time analogies at the top and my placement of Rick Porcello in an article without the title 'Whom to Never Draft. Ever. In the Everest of Evers.' Follow those three elements to the strategy above. You'll be golden.
Good luck! 2000 Words. Boom.