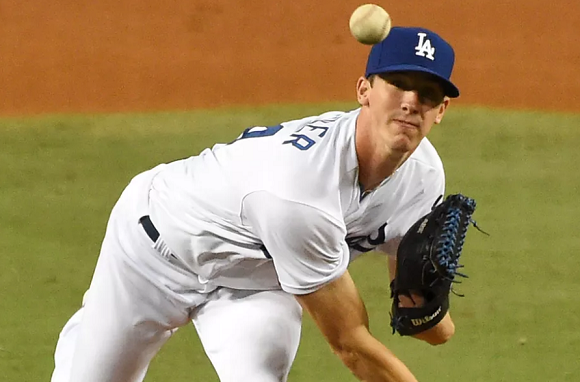 I think Jake Faria read me shorting him at #73 last week, responding with eight shutout innings. It came against an ugly Tigers lineup, but you'll take it anyway. Unfortunately, it was a tough week for injuries. Just last week I was asked why I didn't have Johnny Cueto higher, and I sort of shrugged (not that anyone could see me shrugging) and said that I was waiting for the next injury to strike. Sadly it did, and he could be lost for the season this time. Hyun-jin Ryu tore his groin right off the damn bone, which is a thought that makes me cringe more than watching entrepreneurs getting shot down on Shark Tank. Robbie Ray is gone, Jordan Montgomery is gone, and we get screwed with ole dusty balls Adam Wainwright instead of Jack Flaherty. What a world. We do have some fun debuts to get to though, so there is a silver lining. We'll focus more on them than the risers/fallers this week.
The Debuts
The Risers
Charlie Morton, HOU (SP16) – The Reverend Morton Heat! The nickname works because at the ripe ole baseball age of 34, Morton is throwing more gas than ever. He's averaging 96 MPH on his fastball, which has seen a velocity increase every single year since 2014. It's truly remarkable. And not a "there's celery in my potato salad" type of remark, it's more of a "he can now murder someone with a baseball if he wants to" type of remark. He's swinging strikes at a career-high 13.9% clip, 15th in MLB among qualified starters. Of course, he's only ever eclipsed 150 innings twice in his major league career, so there's always the looming injury concern. While he's healthy though, he'll give you ace-like numbers. That's good enough to warrant a top 20 ranking from me.
Gio Gonzalez, WSH (SP42) – Gio continues to befuddle me. He still walks a ton of batters (3.72 BB/9) and manages to strand them at an obscene clip (81%). Granted the strikeouts are up this year, which helps, but how he has now stranded batters over 80% of the time since the start of 2017 is crazy. Which do you believe more, the 2.33 ERA or the 1.34 WHIP? I'll go with the latter. That said, he's on a great team that puts him in a good spot to rack up wins, and even if the K% comes down, he's still going to help you there. As long as he continues to find success I'll keep raising him up, but I won't be happy about it.
The Fallers
Aaron Sanchez, TOR (SP76) – It pains me to do this, but I'm labeling Sanchez as a JAG. That's "just a guy" to you laymens out there. Just two years ago Sanchez won 15 games with a 3.00 ERA over 192 innings, but after a lost season due to blisters, he has returned looking like a different pitcher. His powerful curveball has been relegated to a third pitched utilized just 7% of the time, perhaps in an effort to keep those blisters at bay. Instead he's primarily fastball/changeup, but on the bright side that changeup is quite good. 33% whiffs on the change this year is keeping his overall swinging strike rate up around league average, but it hasn't translated to reaches (27.1% O-swing%) or K's (5.97 K/9). He has just 25 K's to 18 BB's in 37.2 IP. Yowza. While he's posted a 4.06 ERA, all other ERA estimators have him around 5. It's going to take some work on his part to get him out of JAG territory, which is patrolled routinely by David James Elliott.
And The List:
You can find Dokken on Twitter @NathanDokken