Note: Besides providing advice and news on fantasy baseball, we at Razzball created and sponsor a fantasy baseball variation where the goal is to manage the worst team possible.  These Historical Spotlights honor those players who would've excelled in such a format.   See here for more info.  See here for our 2010 Fantasy Razzball standings where the winner gets a free DreamMaker Spa.
Stars are made in California.  There are thousands of stories….Harrison Ford getting his big break in American Graffiti after George Lucas had initially hired him for a carpentry job…Robert 'Kid Stays in the Picture' Evans was discovered bathing at the Beverly Hills Hotel….Two A's outfielders funding ex-batboy Stanley Burrell to realize his rap dreams under his nom de rhyme MC Hammer…Traci Lords was discovered selling Girl Scout Cookies in San Fernando Valley, etc.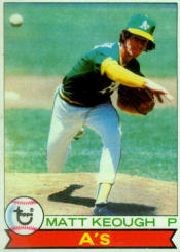 It was this California star-making machine that saw a .210-hitting non-3B prospect in Matt Keough and saw the potential for a star-making role at starting pitcher, a role worthy of a Razzball Spotlight.
1977-1978 – The Prologue

Keough was converted to pitcher in 1977 at the age of 21.  After a satisfactory year at AA (9-12 3.81 ERA /1.31 WHIP) and 6 starts during a September callup, Keough made the 1978 A's major league pitching staff.  This is surprising until you scan the 1978 A's roster which had been completely gutted by Charlie Finley of the talent that led to a 1972-1974 'three-peat' that has only been matched since by the Yankees 1998-2000 run and Tom Emanski's early '90s back-to-back-to-back AAU championships.
Keough's 1978 season was a relative success at initial glance.  He went 8-15 but with a 3.24 ERA/1.33 WHIP and an ERA+ of 110 (meaning his ERA was 10% better than the average pitcher adjusted to the ballpark in which he pitched).  He was even the A's representative for the All-Star game where he managed a scoreless 1/3 of an inning.  But the season was really a tale of two halves as he went 6-4/2.16/1.17 in the 1st half and 2-11/4.44/1.51 in the second half.  The stage was set for a Razztastic 1979…
1979 – The Initial Setback

During the 1979 offseason, there may have been doubts among Oakland coaches whether Keough's first half was a flash in the pan or his second half was just the result of a talented young pitcher having a tired arm.
Keough put those doubts to rest over his first 25 starts where he managed a win total of…..zero.  On the bright side, he managed 11 no-decisions so his record was merely 0-14.  This tied the MLB record of losses to start a season with (Sloppy?) Joe Harris of the 1906 Red Sox whose 9.1% career winning percentage (3-30) is not only the worst post-1900 for 30+ decisions but it's twice as bad as that of runner-up Hal Griggs (18.8%).  This poor start left Keough 2-25 since the 1978 All-Star break and with 18 straight losses – only 5 away from the then record.
Editors of the San Francisco Chronicle and Oakland Tribune readied their newspapers for history with drafted headlines such as "Enough is Keough", "KO for Keough", and "Is The O-Fer Oakland?".  But then Keough found his first wind on September 5th with a complete game victory against the Brewers.  He also threw a shutout against the defending AL West champ Royals intermixed between three more losses.  The final results:
A 2-17 record with a .105 winning percentage that was the worst since 1916 (only to be bested 6 years later by Jose DeLeon's 2-19).
A 5.04 ERA that finished 4th in MLB (with an ERA+ of 81 that was the 6th worst in the league bested, ironically enough, by ex-Athletic ace Vida Blue).
His 1.687 WHIP was worst in the MLB.
1980-1981 – The Redemption
Despite the poor 1979 season, Keough still had a spot on the starting staff of a resurgent 1980 A's team that went from last to 2nd place under Billy Martin.  Youngster Rickey Henderson stole 100 SBs with an insane .420 OBP,  Tony Armas hit 35 HRs, and the A's relief pitchers took the season off as the A's starting staff threw 94 complete games (?!?!) with four of those starts going 14 innings (see here for the box score of Keough's 14 IP triumph over the Blue Jays, outlasting Dave Steib who wussed out after 12 innings).  The next two AL teams in CGs – Milwuakee and Baltimore – managed only 90 between them.   Keough went the distance in 20 of his 32 starts finishing 3rd in CGs to teammates Rick Langford (28) and Cy Young runner-up Mike Norris (24).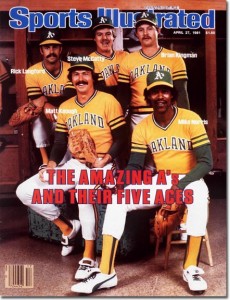 Keough's 1980 and 1981 pitching lines of 16-13/2.92/1.248 in 250 IP and 10-6/3.40/1.211 in 140 IP (in a strike-shortened season) were both strong campaigns – clearly benefiting from experience and the respect given to those who can pull off a Selleckian moustache.  Entering 1982 at the young age of 26, Keough was making his 1978-1979 challenges look like a fluke…
1982 – The Penultimate Setback
Billy Martin's magic fizzled out in 1982 as the team fell back to 68-94.  While Rickey Henderson thrived (setting the record with 130 SBs), the young Oakland pitchers fell back to earth like a chopped oak to land.  The top 3 starters (Langford, Norris, Keough) had all achieved an ERA+ over 116 in 1980.  By 1982, none of the three even reached 100 (league-average).  And none of them fell harder than Keough…
Keough's 11-18 record belied how bad of a season he had.  How bad (all of the below for 162+ IP pitchers)?
The 18 losses tied for the MLB high.
His 5.72 ERA was the worst in baseball and the 10th worst between 1944-1996.
His 68 ERA+ was the worst in baseball and the 10th worst in baseball since 1944.
His K/BB ratio of 0.74 (75 K, 101 BB) is the 5th worst since 1962*
His 38 HRs were worst in the majors and made the top 25 list prior to 1998.
And, last but least, his WAR (Wins Above Replacement) of -2.5 is the worst WAR for a pitcher since 1952.  (His 1979 WAR was amazingly +1.0 so I guess a replacement pitcher would've gone 1-18?)
*Interesting sidenote:  The list of pitchers with more walks than strikeouts in a season since 1970 include Tommy John, Phil Niekro, Mike Torrez (4 times!), Joaquin Andujar (twice) and Fernando Valenzuela.
1983-1986 – The Denouement
Keough managed just 10 more wins over the next 4 injury-plagued seasons before retiring (sadly this is one more than fellow Billy-abused starters Rick Langford and Mike Norris managed COMBINED for the rest of their careers).  Keough couldn't even escape Billy Martin as he was sadistically traded in 1983 to the Martin-led Yankees just in case his arm needed more abuse.
1987 – 2004 – The Triumph

Keough's star turn in California baseball did serve him well in that he was able to snag a Playboy Playmate / one of the three ZZ Top girls (Jeana Tomasino) with which he had three children – including one (Shane Keough) that is was an OF in the A's minor league system (the A's released him in July 2010).  He also has worked for the Angels, Rays, and A's in various roles such as coaching, scouting, and front office.  While not a star, it appeared Keough would at least have one of those desirable supporting roles like being on the second detective team of a procedural (thanks for chasing down that lead, Ice-T and Richard Belzer!)
2005-2010 – The Ultimate Setback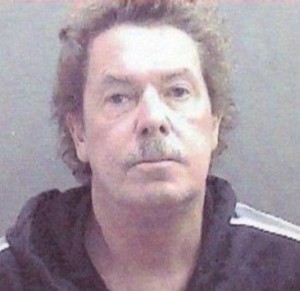 Unfortunately, stars rarely just fade.  Sometimes they implode.  Sometimes they explode.  Or sometimes they get arrested for a DUI after rear-ending a car at a stop sign and wandering from the scene until apprehended (in 2005), get found drinking at a bar which violated his probation and sentenced for 180 days (2007), and get arrested once again for a DUI where he registered 3 times the legal limit after hitting a stop sign (2009).
And, because it's California, this turmoil was featured in the initial series of the nadir of TV franchises – the Real Housewives of the OC – where his now zaftig wife was able to broadcast that the two had separated.  (Hey Scott Podsednik – hope you're taking notes).
Matt Keough – Congratulations on a fabulous journey and your star will always shine in the Razzball galaxy.