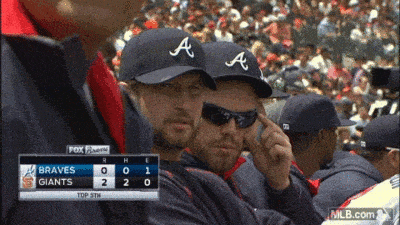 Welcome to the 2017 Razzball Team Previews! You'll find everything you need to know about each team to get yourself ready for the upcoming fantasy baseball season. And I do mean everything, everybody. We've got line-ups, charts, numbers, projections, questionable questions, smarter answer, potent potables and well, that's a lie. No potables here, but plenty of potent fantasy names brimming with potential. Now's the time to be an eternal optimist for the next two months. I'll be joined by Razzball newbie Zack Burgess in completing these this year (Welcome aboard, Zack!). So, we've got a team to preview and questions to ask. Let's get after it!
We have a very special guest for this post, Kris Willis, to provide his take on what the team has in store this season. Now enough rambling, let's see what 2017 holds for the Atlanta Braves!
2017 Atlanta Braves Depth Chart & Projections
Starting Lineup
Bench
| Pos | Player | AB | R | HR | RBI | SB | AVG | OPS |
| --- | --- | --- | --- | --- | --- | --- | --- | --- |
| 2B | Jace Peterson | 276 | 28 | 4 | 28 | 6 | 0.248 | 0.682 |
| MI | Chase d'Arnaud | 180 | 17 | 2 | 17 | 7 | 0.242 | 0.63 |
| 3B | Rio Ruiz | 137 | 13 | 3 | 15 | 1 | 0.233 | 0.66 |
| C | Kurt Suzuki | 119 | 11 | 2 | 12 | 0 | 0.251 | 0.665 |
Starting Rotation
Bullpen
Note: Projections provided by Steamer.
And now we specifically want to get to the specifics. So, let's bring in Kris Willis from Talking Chop to give us the low down on the Braves in 2017.
[email protected]: Here's to an incredible 2017 filled with hope and promise. Oh, and there's that whole new stadium thing. As an Atlanta fan, it truly feels like the beginning of a new era in Atlanta. Obviously, plenty of that depends upon how well the stockpile of young talent coming through the minors develop, headlined by Dansby Swanson. He's already splashed in Atlanta to strong results. As a fantasy option, how much can we expect from Lieutentant Dan? Is his ceiling really a Derek Jeter type SS?
Kris Willis: I think the Braves would be pretty pleased if Swanson went on to put the kind of numbers that Jeter did during his career. It is an interesting comparison for sure. Swanson hit well during his short stint with the Braves last season posting a .302/.361/.442 slash line. Over a full season it may be difficult for him to maintain those kinds of numbers and most projections that I have seen have him coming slightly under. Still there is a lot to like about Swanson and in a lot of ways I think he is the face of Atlanta's rebuild. No doubt he will have to battle his way through some difficult stretches next season but the Braves are much better situation this season with him at shortstop.
[email protected]: It's laughable how many arms are stashed in the lower ranks of the Braves system, but up at the parent club it's been mostly disappointment as the young guns are getting their shot. Last year's lone bright spot was the ressurgence of Julio Teheran, and I expect him to continue improving, but the others need to follow suit. With the gluttony of veteran arms added to the rotation this offseason (inclduing a true glutton in Bartolo Colon?), is there a SP that solidifies himself as the #2 option for 2017, whether young or old?
Kris Willis: I think Mike Foltynewicz might be the pitcher best positioned to make a significant leap for the Braves this season although he might not be able to make it all the way to No. 2 starter status. Folty made some big strides last season posting a 4.31 ERA in 22 starts. He will have to go to spring training and earn a spot in the rotation but it appears that he at least has a leg up on the competition to start. Foltynewicz's stuff is off the charts, it is just a matter of refining his command and it feels like 2017 could be a big season for him.
[email protected]: The theme of the first few questions, and essentially every storyline of the Braves currently, is the top farm system in all of baseball. One of the keys to fantasy baseball is knowing which prospects to target before they get the call to the big show. Of all the top names, which prospect should we keep our eye on to first make an impact in 2017?
Kris Willis: The easy answer is Ozzie Albies. It appeared that he might have been ticketed for a September call up last season before his season ended due to a fractured elbow. Before the injury, the thinking was that Albies would come to spring training this season with an opportunity to compete for the second base job. The injury itself may be enough to put Albies debut off for a little while but he still appears to be poised to crack the Braves' lineup at some point this season. There are plenty of other guys to keep an eye on as well. Position players like Dustin Peterson and Rio Ruiz will all be at spring training with the major league club. Atlanta also has several pitching prospects waiting in the wings. Guys like Sean Newcomb, Lucas Sims and possibly even Max Fried are guys that could end up in Atlanta at some point. Lefty reliever A.J. Minter is another name to keep an eye on during the spring.
[email protected]: Everyone loves getting an edge. As an expert on this team, give us some insider trading. Who is someone flying under the radar that will surprise us in 2017, making them an underrated option from Atlanta?
Kris Willis: From a fantasy perspective it very well could be Matt Kemp who is apparently in much better shape heading into spring training this season. Kemp hit .280/.336/.519 and slugged 12 home runs in 56 games for Atlanta last season. His defense leaves a lot to be desired but he figures to be in the lineup just about everyday when healthy and will be a fixture in the middle of Atlanta's order behind Freddie Freeman. If Kemp really has gotten himself into better shape, then I don't think it is a stretch to expect another good year at the plate.
[email protected]: Now on the flip side, who is someone on this roster that everyone may be targetting but is an overrated option just waiting to disappoint us?
Kris Willis: Adonis Garcia was a big part of Atlanta's second half surge in 2016 but he might be a risky play this season. Garcia put up a .293/.333/.456 slash line during the second half last season but the Braves went out and signed utility man Sean Rodriguez this offseason. Rodriguez figures to see time at second base and third along with an occasional start in the corner outfield slots. Garcia may see a lot of time early with Rodriguez at second base. However, at some point Ozzie Albies will likely be added to the mix and Rodriguez could see more regular playing time at third.
[email protected]: Let's time travel. At the end of 2017 what will this team's final record be, and how will we remember their year?
Kris Willis: I'm going with 78-84 for the Braves this season. I think the .500 mark is a realistic goal that they could reach with some breaks. I think this year in large part will be viewed as a transitional one and one where we see another wave of youngsters get their first taste of playing in the major leagues.
NOW DROP THOSE COMMENTS! Thanks, Kris, for the conversation about the Braves in 2017! Make sure to catch more of Kris' writings at Talking Chop, and keep checking back. More 2017 Team Previews to come!