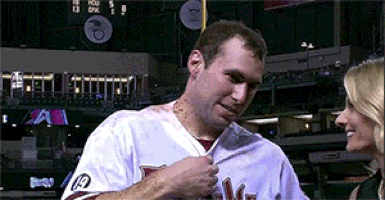 Welcome to the 2017 Razzball Team Previews! You'll find everything you need to know about each team to get yourself ready for the upcoming fantasy baseball season. And I do mean everything, everybody. We've got line-ups, charts, numbers, projections, questionable questions, smarter answer, potent potables and well, that's a lie. No potables here, but plenty of potent fantasy names brimming with potential. Now's the time to be an eternal optimist for the next two months. I'll be joined by Razzball newbie Zack Burgess in completing these this year (Welcome aboard, Zack!). So, we've got a team to preview and questions to ask. Let's get after it!
We have a very special guest for this post, James Attwood, to provide his take on what the team has in store this season. Now enough rambling, let's see what 2017 holds for the Arizona Diamondbacks!
2017 Arizona Diamondbacks Depth Chart & Projections
Starting Lineup
Bench
Starting Rotation
Bullpen
Note: Projections provided by Steamer.
And now we specifically want to get to the specifics. So, let's bring in James Attwood from AZ Snake Pit to give us the low down on the Diamondbacks in 2017.
[email protected]: James! Welcome back for the second straight year. Excited to jump into the Arizona preview with you, part deus. Let's start with my pain file…the timing of the A.J. Pollock injury last year was just the worst. For Arizona it couldn't have come at a worse time right before the season started, but for fantasy it was similarly horrible, happening just after (or even during) drafts for many (not speaking for experience here or anything). The breakout 2015 seems like a long time ago, but if he can translate those numbers (.315/111/20/76/39) forward to this year he's everything the Diamondbacks lineup needs. What's a realistic expectation for Pollock's bounceback in 2017? Can he reach even 80% of those numbers?
James Attwood: It remains to be seen who the real A.J. Pollock is. The one thing we know we can count on is elite level defense in center field, something the 2016 Diamondbacks were sorely missing. Pollock has always been a good hitter. One of the reasons he was drafted in the first round out of Notre Dame was because he was a hitter with an advanced eye and approach. Will he reach his 2015 numbers again? Given how long his layoff was, probably not. Can he reach the 80% mark, I think so. In fact, that's probably a pretty good estimate for his season if we are playing the conservative game. 2017 is going to dictate Pollock's long-term financial future. I expect him to step up and perform.
[email protected]: In the wake of Pollock's injury the Diamondbacks lineup found a new boost from Jake Lamb. His mammoth first half (.291/49/20/61/3) was just as remarkable as his decline in the second half (.197/32/9/30/3). In a deeper examination, though, his falloff was a little perplexing. His BB% was essentially the same, his K% only jump less than 3%, yet his ISO was almost half (.322 to .184). I want to say it's a product of an awful BABIP (.240 in the second half), but help me out here. Will the real Jake Lamb please stand up? Who exactly is that guy, more 1st half or 2nd half?
James Attwood: This is the season for Jake Lamb to establish whether he is an all-star caliber third baseman, or if he is a replacement level one. There really isn't going to be much in-between with him. Lamb's cliff-diving antics of last season may or maynot have been due in small part to nagging injury. Even if there was a bit of something going on though, that doesn't explain away his entire second half. Lamb's history would suggest he is a much better player than he was in the second half last season. Going back to his years in the minors, he was always an above average hitter. Most of his numbers translated more or less as expected to the majors. Expect him to look more like his first half self in 2017.
[email protected]: The largest disappintment of Arizona's 2016 season had to be their pitching. Newly signed Ace Zack Greinke was anything but that, Patrick Corbin carried a 5.15 ERA through the year, and only one pitcher with more than 35 innings posted a sub-3.00 ERA (closer Brad Ziegler). Haha, it's a sob story, and we won't even mention the shell that is Shelby Miller. But as the dust settles there's a glimmering gem hidden amongst the rubble: Robbie Ray. His ERA was as poor as the rest of the staff (4.90), but my goodness. Those K's. 218 of them in 174 IP, tied for 9th in the MLB with Noah Syndergaard. Now, he's no Thor, but is there a path to Ray posting similar K numbers with a viable ERA? Can he progress back to his 2015 number (3.52), making him a top 30 SP?
James Attwood: It's no coincidence that Ray's success in sending opposing hitters back to the bench came when the front office backed off on micro managing the pitching staff and allowed him to pitch up in the zone more often. When throwing 97 mph, owning the top of the zone is a big part of strikeout success. His slider also benefitted from him being able to throw it low while pitching his other hard stuff up high. That said, he really needs to hone his third pitch, whichever one he finally settles on, sinker or change. He also has a curve, but it too was in need of work in terms of being able to throw it for strikes. The long and the short for Robbie Ray is to cut down on the number of pitches he throws per at-bat. Despite all those strikeouts, opposing hitters were able to run Ray's pitch count up even higher than one would normally see out of a pitcher of his ilk. He needs to work on that. Instead of getting careful when he gets to two strikes, he needs to come at hitters and be more of a bulldog.
[email protected]: Everyone loves getting an edge. As an expert on this team, give us some insider trading. Who is someone flying under the radar that will surprise us in 2017, making them an underrated option from Arizona?
James Attwood: The 2017 is going to be returning mostly 2016 talent, along with the returns of injured players. This makes it difficult to find an "under the radar" player. The team is pinning some pretty big hopes on the development of Brandon Drury, but that's a pretty well known story by this point. The two biggest "surprises" could come from the pitching side. The first is Rubby De La Rosa. After electing to get stem cell therapy instead of Tommy John surgery, Rubby De La Rosa is now on an invite deal to see if he can break camp in the bullpen. If he does, and he can stay healthy on the mound, he could be a dominant factor coming in in relief, throwing 97 mph and having a pretty nasty slider to keep hitters guessing. As a reliever, he won't need to rely too much on his change as his third pitch, but having it there in his back pocket can make him devastating in short outings. The other possible "surprise" could be Shelby Miller. After how poorly he pitched in 2016, the hi hopes for Miller have moderated into hopes that he can at least be a league average number five guy in the rotation. However, if Miller does return to his pre-Arizona form, then suddenly the rotation becomes a strength of this team, and not a weakness.
[email protected]: Now on the flip side, who is someone on this roster that everyone may be targetting but is an overrated option just waiting to disappoint us?
James Attwood: This is a tougher question, that I am not sure I can give just one answer to. There are three players that I think could be lumped into this category. The first is Jake Lamb. If for some reason Jake Lamb of the second half of 2016 is the real Jake Lamb, this team will have even more issues to address moving forward, and no resources with which to do it. The second is Brandon Drury. Many people, bith in and out of the game, have some high hopes for Drury. In some cases, these hopes seem rather inflated though. Expecting much more than a league average second baseman is probably setting the sights a bit too high. There are some real reasons for concern about Drury. We all hope he continues to develop well, but there is still some decent bust potential ther as well, especially if his bat slips any as his glove is below average. The third player is David Peralta. Peralta established himself as a potent bat from the left side in 2014-15. However, Peralta's splits have become a bit concerning and, like Pollock, Peralta essentially missed all of 2016 wen it comes to the number of meaningful games he played without injury. With nagging injury concerns, such a long layoff from playing at the top of his game, and his weakness to splits being exposed, there is still the chance that the return of Peralta fails to bring a resurgence to the Arizona offense.
[email protected]: Let's time travel. At the end of 2017 what will this team's final record be, and how will we remember their year?
James Attwood: I anticipate the team winning 76-79 games. I guess I would have to say 76-86, though that could adjust up if the team experiences some decent luck in one or more areas. As for how the year will be remembered, I think it will mostly be remembered for the changes Mike Hazen makes along the way. It is the first season of the new, analytic regime. How analytics and a healthy team coming together play out is going to be the story.
NOW DROP THOSE COMMENTS! Thanks, James, for the conversation about the Diamondbacks in 2017! Make sure to catch more of James's writings at AZ Snake Pit, and keep checking back. More 2017 Team Previews to come!