It only seems fitting that I should take up the mantle of the 2017 Fantasy Baseball War Room. I'll be the first one to admit that the satisfaction of working up a beautiful Excel spreadsheet gives me the same kind of goosebumps as when someone utters to Grey the words…"Giancarlo Stanton". Is it nerdy? You bet. But nerds win leagues, so let me help you win yours. Without further ado, I present the 2017 version of the Razzball War Room "Excel edition" to assist in your league-dominating draft performance. Let's delve into the features:
First and foremost, this workbook is auto-updating. So long as you click 'refresh data connections', you are guaranteed to be seeing Grey's latest and greatest projections which are updated throughout the pre-season.  To do so: click the "Data" tab in your ribbon,  and then "Refresh all"; if you don't know what the ribbon is, then this spreadsheet version is probably not for you, and let's hope for your sake that your league opponents don't read Razzball or are all drafting from Android devices with no Excel in sight. Seriously, though, if you find the Excel version too daunting, be sure to check out the web version of the War Room linked from Grey's how-to post for the online Fantasy Baseball War Room.
Features in the 2017 Excel edition include:
Color-coded Dashboard and Players tabs that "cross off" selected players as you enter a team name next to the player – *new in 2017* coded green if player is on your team, and grey if on opponents' teams, making it easy to see at a glance who you drafted and who is off the board;
Team by Team analysis of players taken, players left;
Real time projected totals, along with real time projected league standings, and Goal Tracking Dashboard;
'Players' page lists players in order of Grey's top 500 for 2017 fantasy baseball, including Grey's projections (stats and auction values);
Goal Tracking has been pre-loaded with tempporary targets for "What it takes to win a 12 team fantasy baseball league.";
The "Dashboard" displays players by position in order of Grey's rankings, colour coded by tier;
*new in 2017* Sortable columns for pitchers' K/9 and 'Ace Index' (K/9 less BB/9), with user-selectable cutoff for each stat. Note that while the standalone K/9 stat is based off Grey's projections, the 'Ace Index' is derived from K/9 and BB/9 from the Steamer/Razzball 'rest of season' projections since Grey does not forecast BB by player.
A few of my personal tips (also listed on the 'Notes' tab):
for auction usage: be sure to click the '+' grouping button on PLAYERS tab, above columns 'J' and 'AM', to expose the salary input column
PRO TIP: Prior to your draft, on PLAYERS tab, press CTRL-F to enter "Find" mode, and select LOOK IN: "VALUES", otherwise you will get a result that says 'no data found' since searching formulas will get you nowhere; once you have this enabled searching VALUES, though, you can quickly find a player in your draft by pressing CTRL-F and searching their name (while on this tab/worksheet);
PRO TIP: Also prior to the draft starting, I like to lock the values on the Player tab.  Sometimes things can get screwy if you start sorting by columns and it is still using formulas to fetch data from another hidden tab, and the last thing you want in your draft is to have Excel going nuts on you. To be safe, I lock in the Player tab's values so that none are formulas anymore.  NEW:  a "lock Projections" button has been added to the "User Input" tab– click it to lock projections (be sure you have macros enabled in Excel, since this feature is a macro to copy-paste all the proper columns and save you the trouble!).

Remember: Once you do this your projections data are locked and cannot be updated live from Grey's projections, so only do this right before your draft.

Use short team names on the User Input page to act fast in your draft (I use the team abbreviations from my ESPN leagues) Worst case scenario: if you fall behind during drafting, which can happen in later rounds once the lazy drafters go to autopick, just keep track of your team and put everyone else's pick as the 'B' team. Sure, you won't have the team by team analysis correct but that isn't as important as knowing who is still available.
If you really want to be a power drafter, do split-screen multi-pane view (or even nerdier, multi-monitor!) and have the dashboard up next to the Player page.
If you are really quick, you can click the top of the position column to filter by ESPN or Yahoo position – which can be helpful if you are missing a player in a certain position. Or, better still, flip over to the Dashboard tab and see which position column needs more 'green' – a quick scan will tell you if your next pick should be SS or SP.
In all honesty, everyone will use this spreadsheet differently. I personally never look at the 'War Room' tab during the draft, only the Dashboard and Players tabs, as it is enough work just trying to keep up with entering my opponents' selections as they draft so that I'm not pining after some player who was selected five rounds earlier. But the functionality is there if you want it. One last fast trick: once you type a team name beside a player in the Players tab, the next time you go to type that team name Excel will try to autocomplete the name, which can really save you time to just type the letter and then hit enter (but this only works best if all teams on the User Input tab all start with different letters!)
Here are some screenshots of the 2017 spreadsheet in action, showing the link between Players and Dashboard tabs: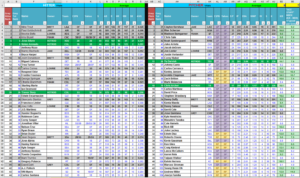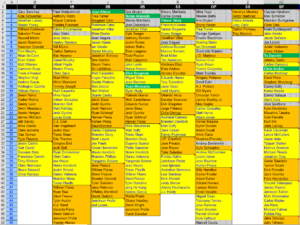 Keep checking back on this page throughout the pre-season, as I hope to update this spreadsheet as additional Razzball rankings come out. Future features that might still be added as additional sortable columns on the 'Players' tab this season, once released this month and next, include:
Closer rankings
Keeper rankings
JB's pitcher rankings
prospect rankings
POINTS rankings per Malamoney's data.  (once implemented, this should adjust to match what you put into the USER INPUT tab as your league's points settings.)
Credit goes to the originator Lou Poulas and a host of other update authors who have contributed over the years. I'm pleased to join their ranks and share this latest version that includes my own tweaks and fancy color formatting added over the last couple years.
The newest version will always be hosted here on this page, click here to download:
(Current version V5 March 13 2017: Points, updated Dashboard tiers, big bug fix in prospect rankings on Players tab.  Remember to enable macros when prompted to be able to use "Lock Projections" button on User Input tab.  *Final version for 2017 unless a major bug comes up*)
Fantasy Baseball War Room – COMPATIBLE ("vanilla")
Any feedback / suggestions / bug fixes?  Please leave a comment below. Good luck with your draft(s)!