We now have a fantasy baseball trade analyzer! And it is free!
It has our Rest of Season $ value and projections for the following league formats: 12 team 5×5, 15 team 5×5, 12-team AL/NL-only, 5×5 OBP (no AVG), 6×6 w/OBP, 6×6 w/OPS, 6×6 w/ QS, 6×6 w/ Holds. You even get an amazingly non-snarky (for now) or mathy Rudy avatar telling you who wins the trade.
Below is a screenshot of our fantasy baseball trade evaluator.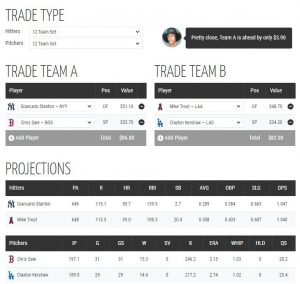 If you like it, share it! Or, better yet, check out our subscriptions page for our even more invaluable daily and weekly hitter, starting pitcher AND relief pitcher projections!