I had a thought, 30 years ago there was one source for all information, the encyclopedia.  If they wanted to make up information, there was no internet to double check anything.  *blows dust off an old book, opens Encyclopedia Britannica, turns to Korean War page*  "In 1950-something, Carlos Correa tried to unite the Correan peninsula under Communist rool."  Now there might be too much information, but 30 years ago, you'd shrug and be like, "I guess you spell rule 'rool,' and rad on Correa.  Hey, look, it says here Columbus invented the mammogram."  Any hoo!  Yesterday, Correa went 4-for-5, 4 RBIs and his 22nd and 23rd homer.  He's going to be a tough guy to peg for 2018 fantasy.  His power this year is actually solid when you consider he missed six weeks.  The lack of steals is disturbing though, if a lack of a fantasy category can be disturbing.  I know he's fast, he knows he's fast, but the Astros just refuse to let him run.  Three attempts all year is pathetic.  If he's a lock for 29 HR, 2 SBs and .290 next year, it's great, but it's not 2nd round great.  Anyway, here's what else I saw yesterday in fantasy baseball:
Justin Verlander – 6 IP, 2 ER, 6 baserunners, 11 Ks, ERA at 3.36.  His 1st half Triple Lindy'd down the ugly tree, but a 1.95 ERA in 101 1/3 IP in the 2nd half is all that and a bag of Doritos.
George Springer – 2-for-4, 2 runs, 4 RBIs and his 34th homer, hitting .287.  They're back now, but the entire Astros offense took the month of August off.  Call them August 'n Burrows?
Mike Napoli – Officially done for the season.  That gives him more time to stop his mom's nips from slipping at inappropriate times.
Rougned Odor – 0-for-2, hitting .203.  Way to round into form as the season progressed!  The other day Prospector Ralph asked me about drafting Odor in 2018, asking where I thought he'd go, and I legit have no idea.  30/15 is as enticing as a camel toe for a llama with a foot fetish, but, man, his average is the ultimate buzzkill.
Willie Calhoun – 2-for-3 and his 1st homer.  The first of many.  *crosses self, kisses hand, points to sky like Big Papi*  I love me some Willie Calhoun.
Drew Robinson – 1-for-3 and his 6th homer, and 2nd homer in as many games.  Hey, you never know who can help you in the final week.  Did I ever tell you about the time Ryan Klesko helped me win a fantasy championship?  *audience makes way to exits*  Hey, c'mon, it's a good story!
Carlos Gomez – Likely done for the the year.  Backdate that to 2014.  Don't worry, someone in 2018's preseason will peg him once again for a bounce back.  Won't be me.
Giancarlo Stanton – The Rockies and Marlins scored a total of 24 runs?  Oh, my goodness, I am standing here beside myself like Fisher Stevens in Short Circuit!  I have Nolan Arenado, Mark Reynolds and Giancarlo!  This is gonna be amazing!  Dot dot dot.  0-for-9!?  Why are you all such ticker teases?!
Trevor Story – 2-for-4, 2 runs, 4 RBIs and a home run the day before.  Ha, watch him have a huge October and push his draft price up again next year.  What a schmohawk.
Ian Desmond – 2-for-4, 2 runs, 4 RBIs, and his 7th homer, and 2nd this week.  Apparently, it took Desmond five months to recover from his injury.
Michael Taylor – 3-for-5 and a slam (18) and legs (17), and 2nd homer in last three games, hitting .274.  Can I write a sleeper post for him already?
Jose Bautista – 1-for-4, 2 RBIs and his 23rd homer.  I laughed out loud at this:  Bautista is hitting .204 and that's better than Odor.
Teoscar Hernandez – 2-for-5, 2 RBIs and his 8th homer.  Forget Teoscar, he's more like T-EGOT!
Hanley Ramirez – 2-for-4 and his 23rd homer.  This might shock people; the Red Sox are 27th in the league for homers, 20+ HRs behind the Padres!
Mitch Moreland – 2-for-4, 2 runs and his 21st homer.  Member in the preseason when I said Moreland was gonna be huge value late in drafts and ranked him way too high?  Hehe, my b.
Xander Bogaerts – 3-for-5, 2 runs, 4 RBIs and his 10th homer.  I did, however, tell everyone to trade Bogaerts at the end of April.  Right before telling people to sell Judge.  Moving on!
Rick Porcello – 5 2/3 IP, 5 ER, ERA at 4.65.  Back in April, I was uninterested in Porcello for this year, but there was debate as to how good Porcello could be.  Well, this is sweet, but funny: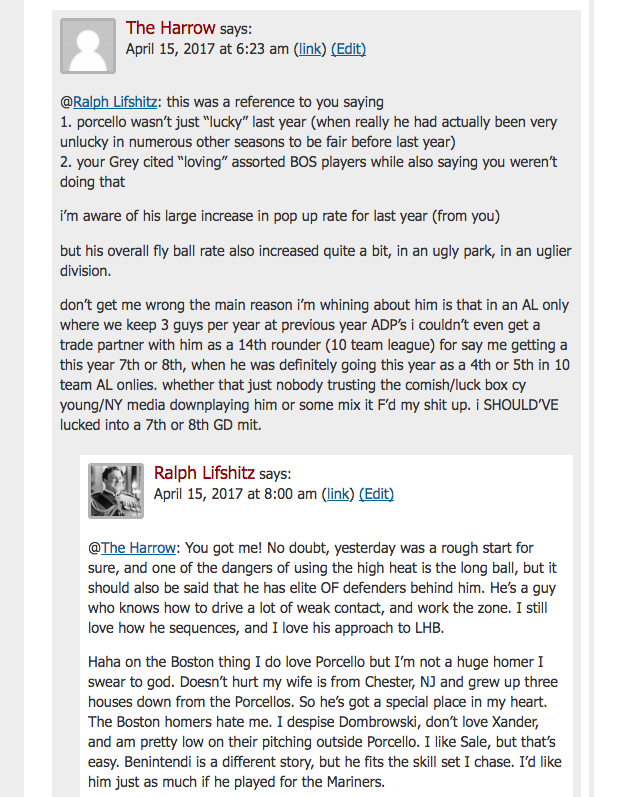 Nelson Cruz – 2-for-4, 2 RBIs and his 38th homer, hitting .289.  I know there's a lot of homers this year, but how quiet has been Cruz's terrific year?  ~40 homers and ~.290?  So sexy he made me bring out two mustache symbols.
Robinson Cano – 2-for-4, 2 runs, 2 RBIs and his 23rd homer, hitting .282.  Betcha five over-the-internet dollars that big box sites phone-in ranking Cano way higher than he should be next year.
John Lackey – 6 IP, 1 ER, 4 baserunners, 3 Ks, ERA at 4.56 vs. Michael Wacha – 6 IP, 5 ER, ERA at 4.13.  I billed this matchup as "I own both and no matter who pitches well I'm blaming John Lackey, that horse-toothed jackass."  Damn you, John Lackey!  Why'd you have to steer Wacha so wrong?
Chad Kuhl – 5 IP, 3 ER, 9 baserunners, 5 Ks, ERA at 4.35.  This was a popular Stream-o-Nator call yesterday, so how was the predicted line vs. reality?  Predicted:  5 2/3 IP, 2 ER, 6 baserunners, 7 Ks.  So, Kuhl was hit a little bit more, but he did walk away with the win.
Josh Bell – 3-for-4, 3 RBIs and his 25th homer.  I've mentioned this before, but, back in the dead ball era, like in 2015, Josh Bell would be an All-Star and in the Rookie of the Year conversation.
Starlin Castro – 1-for-4 and his 16th homer, and two homers in as many games.  According to ownership numbers, Castro isn't available in many leagues, but he does appear hot if he's out there.
Greg Bird – 1-for-4 and his 8th homer, and third homer in the last four games.  Hot schmotato alert!
Aaron Hicks – 2-for-3, 21 runs, 2 RBIs and his 14th homer, though he left the game early, so I'm half-expecting to hear he's injured again.  If not, Hicks is the type that could see at-bats while the Yanks rest regs.  Note to self:  you can abbreviate regular, but abbreviating regulars looks stupid.
Luis Severino – 6 IP, 1 ER, 5 baserunners, 9 Ks, ERA at 2.98.  Not lying when I say he would've went two rounds later if he finished with a 3.01 ERA vs. 2.98.  You're not going to be able to get near Severino next year.
Rich Hill – 7 IP, 0 ER, 4 baserunners, 10 Ks, ERA at 3.32.  Going against the Padres in the final week before the playoffs is like a boxer sparring with a piñata before a big fight.
Corey Seager – 1-for-3, 2 runs and his 22nd homer, and 2nd in as many games.  You go ahead with your bad self, I still likely won't be drafting him next year.
Yasiel Puig – 2-for-3, 2 RBIs and his 27th homer.  Apparently he wasn't late on that fastball.
Danny Salazar – 4 2/3 IP, 0 ER, 2 baserunners, 9 Ks in 64 pitches, ERA at 4.28.  "Hey, Tito Francona, have any ideas how you're gonna use Salazar?"  "Well, by my estimation, he's been one of the most frustrating starters all year for fantasy, so to keep that going, how about we pull him one batter before qualifying for the win?"
Jorge Polanco – 1-for-4, 2 RBIs and his 13th homer.  If you want Jo-Po next year, I bet you'll be able to get him for a song.  Speaking of which, next time you're in an Uber, sing along to the radio, they love that.
Brandon Woodruff – 2 1/3 IP, 6 ER, ERA at 4.81.  *rips up lottery ticket, throws lottery ticket out window, doorbell rings, opens door to cops*   Hello, officer.  You're giving me a $250 littering ticket?  Oh man!
Joey Votto – 2-for-4, 2 runs, 2 RBIs and his 36th homer.  Why do I already have a sinking feeling that I'm going to draft Votto next year and he's going to have one of his 20-homer seasons?
Ian Kinsler – 0-for-4, 1 run, hitting .236.  He triggered his $11 million vesting option for 2018.  He's so triggered that he celebrated in a very subdued manner.
Ozzie Albies – 3-for-4, 1 RBI and two steals (6, 7), hitting .281.  Ugh, shh.  Please.  No reason to inflate your stats now.  C'mon, my dude.
Robert Gsellman – 6 IP, 1 ER, 7 baserunners, 4 Ks, ERA at 5.19.  Good to see him end on a positive note.  Though, there are a few days left for the Mets to inexplicably throw him on short rest or simply rest Mr. Met's head on his elbow and damage the tendon.
Garrett Richards – 3 2/3 IP, 3 ER, ERA at 2.28.  He wasn't pulled because of how hard he was being hit, he was pulled because he hasn't throw 7+ innings in 18 months.  Way to ruin his arm, Angels.
Jake Lamb – 2-for-3 and a slam (29) and legs (6).  Man, when I run a jam, I don't give a damn.  When I'm throwing bass, I say, "Thank you, Lamb."
Jeff Samardzija – 6 IP, 1 ER, 4 baserunners, 4 Ks, ERA at 4.42.  Early yesterday, "Well, it took Samardzija all year to not cause me any stress, but it was worth it!  Plus, I have Sam Dyson, and I'm going to get this save."  Later yesterday, "I need my ulcer medicine — ducking Fyson!"
Matt Cain – Announced his plan to retire.  Here's one of my favorite pictures of him that was obviously shot by David Lynch.
In honor of Matt Cain's plan to retire with @Ken_Rosenthal pic.twitter.com/wnI7tXKpMU

— Razzball (@Razzball) September 27, 2017