Thank Godley I didn't spend any time last night thinking up Zack Godley puns. The Diamondbacks inexplicably sent him to the minors the other day. Inexplicably, I say! Stop trying to justify it to me! Yeah, his 4.78 K/9 vs. BB/9 (there has to be a better way to write that) isn't great, but still! 2.39 ERA! Five straight quality starts! This is an outrage. I want to speak to a manager!
Okay, so he was apparently sent down temporarily as they recover from a 14-inning dance-off with the Pirates. He'll be back. At least, he better be. He does, however, have to stay in the minors for 10 days now. So, no Godley-ness for a couple weeks. The D'backs called up Silvino Bracho to take his roster spot, so at least they gave us a fun name to say. Silvino Bracho. Silvino Bracho. Silllll veeeee noooo braaaa chOOO.
Anyway, as the headline suggests (or tried to suggest), we are here to talk about Dinelson Lamet and not Godley. We have only seen Lamet for two starts in the bigs so far, and this week we are going to get two more. So, do we take the gamble and roll with the young starter from San Diego for two starts this week? Let's take a look…
The Cons
There is a lot of like about Lamet, but let's focus on the do-not-likes first. For starters, he pitches for the Padres. As of this writing, the Padres are 22-33. As far as team wOBA goes, the Padres are second worst in the MLB this season at .286. Lamet is 2-0 in his first two starts, but don't look for him to rack up a ton of wins for you. Then there is the small sample size, as we have only seen him for two starts. In both of those starts, he only went five innings, which is fine but not ideal (again, small sample size).
As far as the metrics go, he doesn't have a ton of negatives. His career BB/9 in the minors of 3.8 isn't great but isn't terrible or even unexpected for a young pitcher. And that is pretty much the only category you can nitpick. Everything else looks solid. We are, however, also looking at a relatively small sample size in the minors of just 60 starts over four seasons. I'd love to nitpick some more, but that is really about it. He's young, pitches for the Padres, and we haven't seen a ton of him yet. That's about as harsh as I can be right now.
The Pros
Through two starts, Dinelson Lamet has 16 strikeouts in 10 innings. I'll say it one more time for emphasis and then promise I will leave it alone: small sample size. Yes, it's only two starts, but he does have some history of doing this in the minors. His average K/9 over four seasons in the minors is 10.1. Before being called up this season, it was 11.54 (eight starts). So, while he likely won't keep cruising at a 14+/9 clip, it's believable that he will keep striking out an above-average number of batters.
His 2.70 BB/9 is solid so far, but like I said above that is likely to rise a bit. As long as he keeps striking people out, though, that shouldn't be too much of a red flag. And with the stuff he has displayed this season, he should be fine. He's got a mid-90s fastball, a plus slider, and what is being called a passable/average changeup. As long as he can wrangle his control, he has the stuff to succeed in the bigs.
Lamet is only owned in 7.4% of ESPN leagues right now, and he should be a solid strikeouts contributor in a two-start week. If you need a guy for the short term, Lamet is someone with high-ceiling potential you should target this week.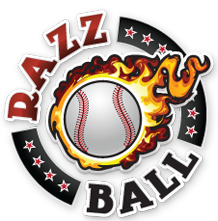 Pitchers are listed in order by rank. Colors represent 8 toughest or 8 easiest opponents according to team wOBA for last 14 days.
THE BEST
THE REPLICAS
THE STANDARDS
THE KNOCKOFFS
THE DUDS
Player
Opponents
ERA/FIP
K9/BB9
Ian Kennedy KC

HOU

,

@SD

5.12/5.43
7.88/4.53
Kevin Gausman BAL
PIT, @NYY
5.92/5.28
6.37/4.10
Matt Cain SF
@MIL,

MIN

4.37/4.30
5.88/3.77
Antonio Senzatela COL

CLE

, @CHC
3.49/4.16
5.91/2.69
Jeff Locke MIA*
@CHC, @PIT
4.39/4.30
6.40/3.45
Mike Fiers HOU
@KC, LAA
4.96/6.93
7.86/3.42
Jharel Cotton OAK

TOR

, @TB
5.56/4.73
8.24/3.92
Joe Musgrove HOU
@KC, LAA
4.89/4.63
7.26/2.87
Ben Lively PHI**
@ATL,

@STL

2.40/2.43
7.19/1.12
Asher Wojciechowski CIN

STL

, @LAD
5.63/7.54
6.75/1.13
Tim Adleman CIN

STL

, @LAD
4.89/4.78
7.63/3.13
* For Locke, I went with his career averages rather than his one start
** These are Lively's AAA numbers
All pitchers are projected for two starts as of Friday night.
If you would prefer to see the above tables as a color-coded graphic, we've got that too!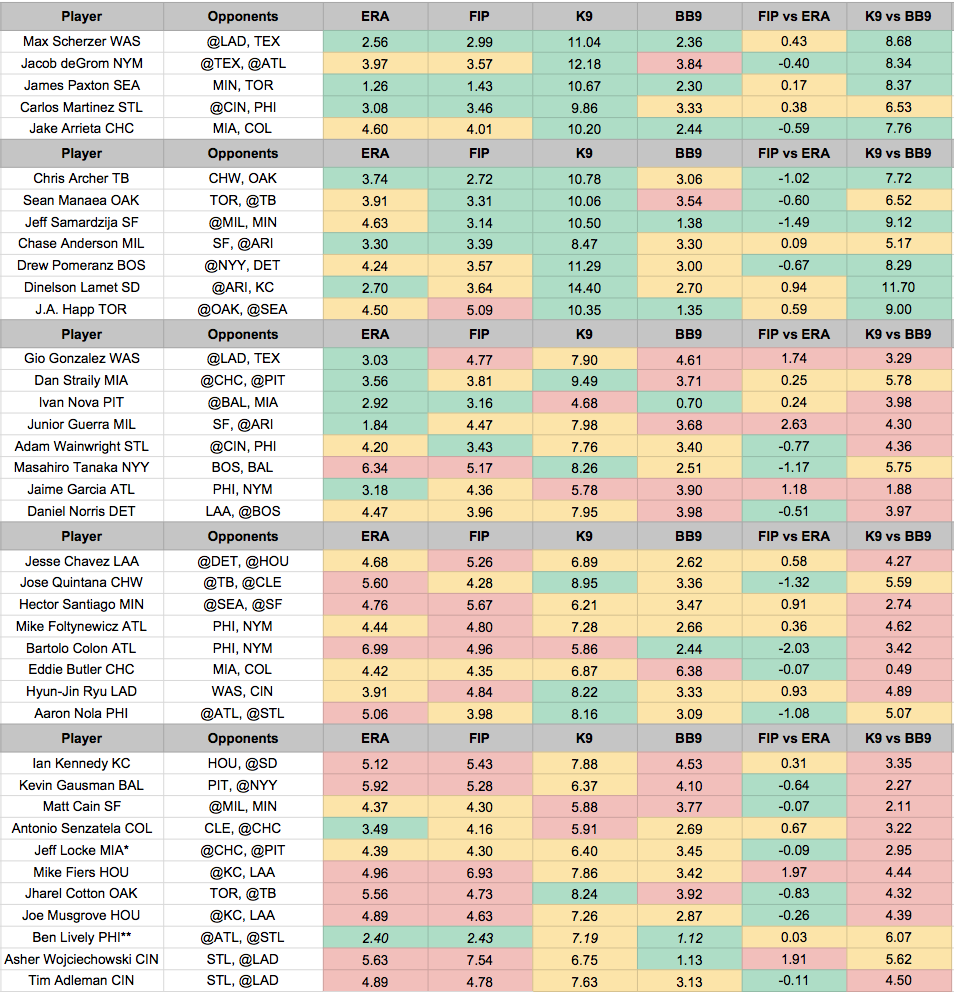 DROP THOSE COMMENTS!
If you want to talk fantasy baseball or football or have players you want Mike to feature, hit him up on Twitter at @mikeMaher or post a comment below!