This league has been going on so long I'm not sure if I'm a friend or family at this point. Think I started as a friend, became a frenemy, briefly became family through a cousin's marriage to Dalton Del Don's uncle, Don Del Don, then, after a messy divorce and some ugly text messages, I was called a friend again, but it was like when you say you are friends with the one person from your high school class who is now a millionaire, but they don't really know you, i.e., we're Facebook friends, but they've muted me and I don't know it. For those unfamiliar, this is a standard 5×5, 16-team league, and, since it's Yahoo, it's 4 outfielders and two UTIL. As always, I used Rudy's War Room, which is available with a subscription to our Razzball Tools. (I'm not peeing in your water and calling it Corona, we're still drafting up in this mug, because the season will happen; it's on my vision board!) Anyway, here's my Yahoo Friends & Family draft recap:
C: Travis d'Arnaud (22, 348)
1B: Cody Bellinger (1, 5)
2B: Danny Santana (10, 156)
SS: Xander Bogaerts (3, 37)
3B: Nick Solak (14, 220)
CI: Pete Alonso (2, 28)
MI: Amed Rosario (9, 133)
OF: Eloy Jimenez (5, 69)
OF: Giancarlo Stanton (6, 92)
OF: Trent Grisham (15, 229)
OF: Avisail Garcia (16, 252)
UTIL: Domingo Santana (19, 293)
UTIL: Jurickson Profar (21, 325)
SP: Lucas Giolito (4, 60)
RP: Julio Urias (8, 124)
P: Dinelson Lamet (7, 102)
P: Archie Bradley (11, 165)
P: Marcus Stroman (12, 188)
P: Mark Melancon (13, 197)
P: Mychal Givens (17, 261)
P: Pablo Lopez (18, 284)
P: Kyle Gibson (20, 316)
Bench: Andres Munoz (23, 357), Trevor Gott (24, 371), Jose Alvarado (25, 380), Ryne Stanek (26, 403)
I'M THE 1ST PERSON TO TELL YOU YOUR TEAM LOOKS LIKE GARBAGE AND YOU SHOULD RETHINK YOUR ENTIRE LIFE, BUT THIS TEAM LOOKS DECENT FOR A 12-TEAMER. HOW IS THIS A TEAM IN A 16-TEAM LEAGUE?
Thank you, Mr. Al Caps, I tend to agree. Let's show you my War Room totals, then hilariously I will follow that with Yahoo's projected standings for my team.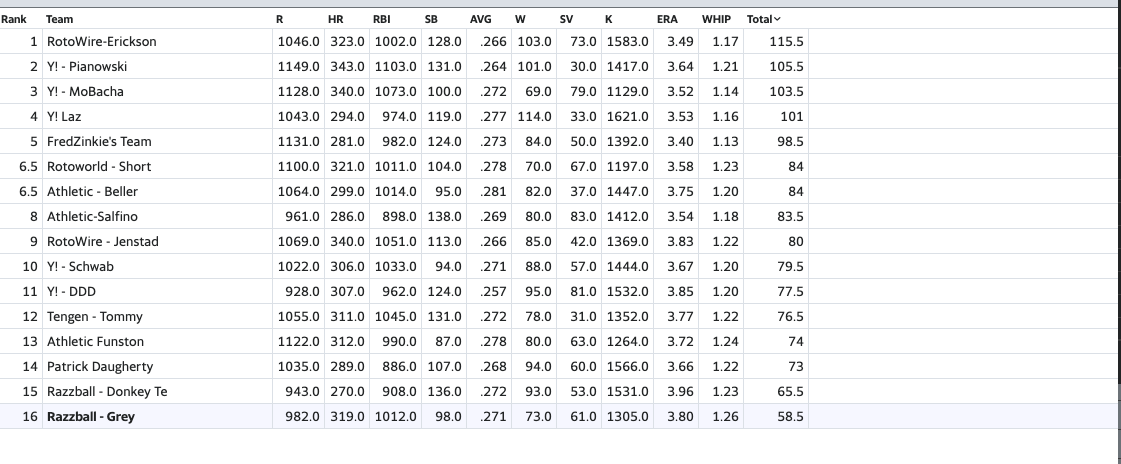 HAHAHAHAHAHA–Breathe, Grey, please, breathe!–HAHAHAHAHAHA….I'm…losing…consciousness…are EMT workers at all busy with more important things right now, because I might need oxygen from looking at Yahoo's projected standings. How, pray tell, is this a last place team in a 16-team league? You know shizz is bizzonkers when you see it projects me for a solid average, but terrible on power. Literally the exact opposite of what our projections say. Our projections which are often cited as some of the best in fantasy baseball.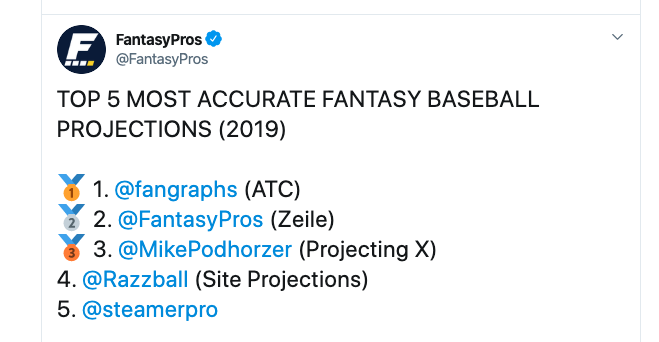 I'm squinting real hard but not seeing Yahoo projections on that list. Do you see them? No? Hmm, weird. Even if you want to believe we don't know what we're doing, and I implore to please underestimate us — lowering expectations is just so much better, in general — look at my team and tell me that team is not stacked. You get two players in and you're like Cody Bellinger? Nice, I guess he didn't take Pete Alonso…Holy crap, he took him too! Well, I guess he wasn't able to get a decent shortstop–Wait a second! Xander Bogaerts at short? Amed Rosario at MI? Well, I guess your outfield is hurting–Whoa, pardner! You have Eloy and…
GIANCARLO. AGAIN. YOU SAID YOU WEREN'T DRAFTING HIM THIS YEAR AND NOW YOU HAVE HIM ON, LIKE, SEVENTEEN TEAMS. WHY DO LIES POUR OUT WHEN YOU OPEN YOUR MOUTH? 
I know, I know, I KNOW! I hear you. It's just at the draft slot of 92nd overall? And with the season being delayed, so there's a chance for him to start benchpressing Tiffany Haddish again and get his obliques in order and herd his calves to a trainer, I couldn't resist. If everyone is going to get 400 ABs this year (it's still too early to say for sure), then Giancarlo's 400 ABs are looking about as good as, say, Manny Machado's 400 ABs, and he went 40 picks prior. There's a case to be that Just Dong Martinez's 400 ABs and Giancarlo's 400 ABs aren't that different and Just Dong went 20th overall.
INTERESTING RAMBLINGS. DID YOU CONSIDER HOW COVID-19 (WHICH WOULD BE A GREAT PERSONALIZED LICENSE PLATE, BY THE WAY) WOULD FACTOR INTO YOUR DRAFTING?
I just said about Giancarlo.
ANYTHING ELSE? JESUS, IT'S LIKE PULLING TEETH!
You know those little red DTDs next to players' names? I simply ignored them. No one is DTD anymore. Mancini is still in a bad place — prayer emojis up! — Chris Sale's elbow still needs a polishing and refurbishing, and I don't like buying injured pitchers, in general, so I'm shit-Canning Griffin, but Oscar Mercado? Doesn't bother me at all. Giancarlo? If you're going to just give him to me at 92nd overall? Fine. Aaron Judge? Well, like Alex Verdugo before him, if you're still injured from last year, I have no hope for you suddenly getting better.
THANK YOU. THAT WAS THE FIRST ACTIONABLE INFO YOU'VE GIVEN ME IN THREE YEARS. SO LET'S TALK GENERAL DRAFT TAKEAWAYS. HAVE ANY?
I was woefully short on speed leaving the top 100. I'll admit it, I panicked a little and shart my shorts a little more. Every hitter I took after the top 100 had some speed to try to make up for my lack of steals — Amed, Solak, Grisham, Dannys Antana, well, you can see the team. It worked out okay, and it turned into a good experiment, that I wouldn't want to repeat. Get some speed early. If I had to do it again, I would've went Mondesi instead of Bogaerts. Why I didn't do it at that time was I thought Bogaerts AVG complemented my team better.
ALL RIGHT, ENOUGH JIBBER-JABBER ON YOUR HITTING. HOW DO YOU THINK THAT PITCHING IS? DOES IT AROUSE YOU?
It does. With everyone becoming viral and not just influencers, I don't know how many innings any pitcher is going to get this year, so I have one theory. K/9 is going to be especially important. People won't be able to stack their teams with guys who are going to get 220 IP. I know this might be blasphemy, but, if Gerrit Cole gets 140 IP and Julio Urias gets 120 IP, are they that different? Once we get into April and I'm really trying to figure out content, I will delve further into all of this.