As we've seen countless times, a logjam in a starting rotation never ends up being a hurtle.  At first, the Astros were seemingly cutting out Lance McCullers with boring vets like Doug Fister and Scott Feldman, the latter who has really not worked out as a starter…  Feldman was throwing some good RP innings though, before they dumped him north of the border…  Anyway, with McCullers' elbow barking, it opened a spot for Joe Musgrove to step right into the rotation.
I've been thinking back; has there been a more exciting SP debut for a guy coming out of the bullpen at first?  4.1 innings coming in for the injured McCullers with 1 hit, 1 walk, and 8 Ks and a Jose Fernandez-esque fiery presence from Musgrove.  Brian McCann will be a big baby whenever the Yankees face him…  8 strikeouts has to be close to a record for an MLB debut out of the bullpen (broadcast tells me it tied the record, nice work Astros broadcast!)…  I guess without the clear opening through the season, it dulled the fantasy love for Musgrove, who had a crazy 10.25:1.03 K:BB in AA and 8.69:1.07 in AAA.  Makes Phil Hughes look wild!  Although, throwing Phil Hughes' name in here isn't exciting anyone…  Hopefully a good outing and sexy GIFs will do that!  Here's how Musgrove looked yesterday afternoon in his first career MLB start:
First Inning: Musgrove's first pitch is a 92 MPH fastball sinking to just out of the zone, 1-0 to Shin-soo Choo.  Another inside fastball is cranked to right foul, change-up at 83 flutters outside, 92 MPH fastball is way inside as he was on top of the baseball a little too much and he dragged his arm over it a bit, but 3-1 is a beautiful fastball on the low outside corner that's grounded weakly to first, one down.  93 just outside to Ian Desmond, 93 on the outside black gets a whiff, fastball again outside just off the plate, then fastball yet again out there is poked to second for another easy groundout.  94 on the gun skips in low to Jurickson Profar, fastball fouled off, fastball again fouled back, then 1-2 fastball at the top of the zone is hit fairly well to right, but it's caught in front of the track for a 1-2-3 inning.
Second Inning: This has the making of a great pitcher's duel with Yu Darvish mowing through the top of the Astros order, and Musgrove drops this curveball in there to Adrian Beltre open the 2nd: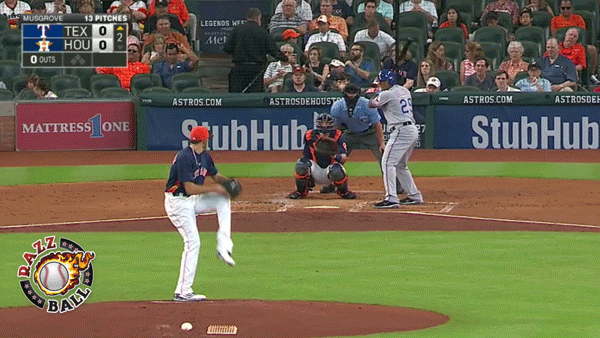 Mannnnn, this control is awesome!  Then fastball is grounded routinely to third, one down.  Fastball a little inside to Rougned Odor, then fastball again in the lower third is hit hard to right center, but Jake Marisnick has it on the run on the track for the second out. Hard contact there, but Marisnick is a speedy CF.  Fastball in there to Jonathan Lucroy (sadface), curveball drops low, (ummmm, sinking fastball?  or splitter maybe?) at 91 drops low, hard sink on that, hanging curveball barely nips the inside corner and gets the call 2-2, curveball almost in the dirt is fought off foul, then 94 on the outer third locks up Lucroy for Musgrove's first K on the day: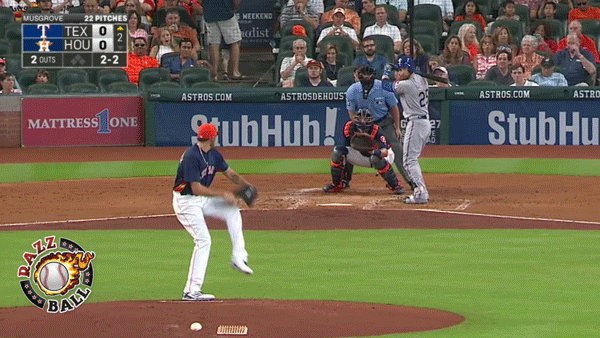 Third Inning: Sinking fastball right at the knees gets Musgrove ahead 0-1 to Mitch Moreland, curve hangs outside, fastball in the dirt, then fastball on the outside edge is popped in the infield for an easy first out.  Curveball hangs wayyyyy outside to Nomar Mazzara, fastball misses, fastball again fouled off 2-1, then sinking fastball on the inside edge is grounded routinely to second, two down. Nice fastball poured in there to Delino DeShields 0-1, sharp curveball breaks outside, fastball slapped foul, whewww pretty curveball at 82 breaks just low but is taken, then 93 at the knees blows away DeShizz swinging, another 1-2-3 inning and Musgrove's 2nd K.
Fourth Inning: Still a 0-0 deadlock and Musgrove is inside to Choo, drops in a high curve 1-1, change-up stays high, fastball with some cut movement on it gets a whiff, then 82 MPH change-up with this nasty sink on it drops in there for Musgrove's 3rd K.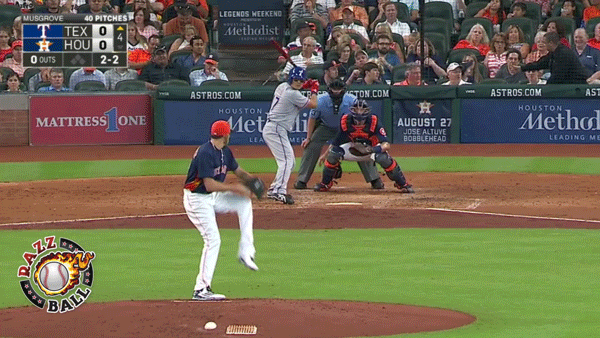 Fastball gets a whiff from Desmond, fastball fouled off, fastball again fouled off, then 0-2 again is a curveball that hung a little around the knees and Desmond muscles it to left for a single.  First man on base…  Then a first pitch fastball is hit pretty weak to second by Profar for an easy second out.  Jose Altuve bobbled it a little, but it was hit too soft for a DP.  And it doesn't matter much either, as Beltre sends the first pitch on a lazy fly to right to end another quick inning.
Fifth Inning: Odor takes a monster cut and whiffs on a fastball 0-1, curveball stays outside, then curveball again is flared to left and Preston Tucker can't quite get it sliding in, resulting in a leadoff bloop single.  Argh.  Tucker flinched going back before breaking in; a better LF nabs that one.  Breaking ball starts off low to Lucroy, two-seam fastball gets the call outside but looked a little off the plate, 1-1 curve drops low, then a 2-1 89 MPH two-seamer right down the middle is roped to left for a double, and with Odor on the run, he scores fairly easily for Musgrove's first ER.  Musgrove misses low to Moreland, 90 MPH fastball low again, not loving this velo drop, but 90 MPH again at the knees gets a lazy fly to right, one down.  Biggggg curveball at 80 gets a whiff from Mazara, another nice sharp hook at 81 drops low but Mazara takes, 90 MPH fastball high and away fouled off, curve barely misses the outside black, 91 outside is slashed foul, 92 is low and away – love seeing that velo creep back up – payoff pitch is a fastball fouled away, 3-2 again is a curve dribbled foul, then payoff again is a two-seamer that again ran back into the middle of the plate for a single to center; fortunately Lucroy didn't read it great and holds at third.  So one out, runners at first and third, and DeShields fouls back a fastball, curveball has DeShields unable to hold his swing 0-2, 92 is off the plate, then curveball is rolled over to third, Alex Bregman ensures Luc doesn't take off, then takes the sure out at first.  Bregman could've tried the DP, but DeShizz is quick.  Thankfully it all works out as a high change-up to Choo is rolled over to first for an easy third out, and Musgrove does a pretty good job getting out of trouble, which could've been avoided with a stronger LF out there.  When you don't walk guys, it's much easier…
Sixth Inning: 90 MPH fastball in there to Desmond, curveball gets an ugly swing 0-2, 93 almost paints the outside corner but is off the plate, then he goes 92 again and paints the outside edge this time for another K, and I love seeing the velo back, you have to wonder if he struggles from the stretch.  Breaking ball in there to Profar, curveball sweeps into the zone and Profar didn't like it but it was in there, curve again drops in low, 93 at the letters nipped foul, curve hangs outside, then curve again out there sweeps into the outside third for another K.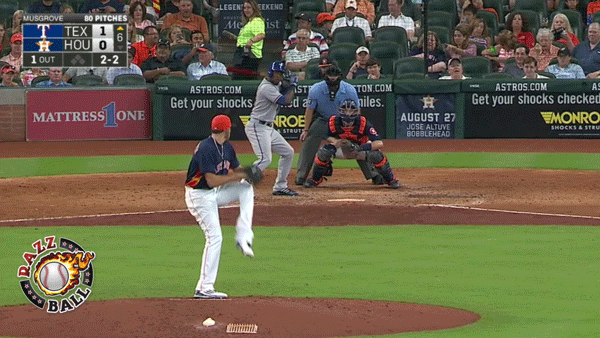 Nasty.  Curve goes low and away to Beltre, two-seamer with nice sink on the hands gets a whiff, curveball gets Beltre to pull it foul, then 91 on the hands ties up Beltre with an ugly swing and Musgrove strikes out the side and does a JoFer "HELL YEA!"  Fiery kid.
Seventh Inning: At 85 pitches, Musgrove is back out there and a first-pitch change-up is blooped barely over second for a leadoff single.  Two absolute bloop singles for Odor…  Big test here for Musgrove, as I want to see him pitch with success from the stretch.  First-pitch two-seamer on the hands is fouled off by Lucroy, curve gets the call on the outside black and Luc isn't happy, then curve again in the lower part of the zone is hit lazily to center for the first out.  Inside fastball taken by Moreland, 90 MPH fastball outside, again 89-91 from the stretch vs. 91-94 wind-up.  Ugh.  Two-seamer with good sink is dribbled foul, fastball low in the dirt, then high fastball on the hands is popped in the infield, another soft out.  Curve hangs outside to Mazara, Musgrove misses his release point again getting too much on top of the ball on an inside fastball that misses bad, but as that happened in the first, he again rebounds with a fastball right in there, albeit at 90 MPH.  Curve in the zone bounced foul, then curve sweeping in the zone is flied lazily to center for an easy 3 outs after the bloop single.  At 99 pitches, that'll wrap it up for Musgrove who didn't pitch too deep in the Minors, so a great step forward in his MLB career.
Final Line:  ND  7.0 IP  99 Pitches (64 Strikes)  1 ER  5 Hits  0 Walks  6 K  Gamescore: 69   Gamescore+: 70.8

Final Analysis: Man, you just don't see control artists like this coming straight out of the Minors, and well, the few times you do, they're guys throwing junky junk.  Musgrove has some pretty solid stuff!  And two of the singles he gave up and more-or-less the one run he gave up were a little lucky, so his Gamescore+ came out a bit higher than his Gamescore.

Featuring both a nice sinking four-seamer and a tailing two-seamer, Musgrove was throwing the fastball anywhere from 89-94.  He lost a few ticks in the stretch, but we'll go more into that in a second.  Playing off the hard stuff is his curveball.   Interestingly, Fangraphs lists a difference between a slider and a curveball, but they all looked like curveball variants to me.  Regardless, he could throw them for strikes, bounce them in the dirt to set up other pitches, and his overall command of that pitch was amazing.  Same with his change-up, which isn't a huge go-to pitch for him yet, but he has a good enough one to use against lefties when he needs it.
I have the perfect comp for what Musgrove is.  What we expected Aaron Nola to be this year.  Not quite the upside of what we saw from Nola the first few months of the season, and certainly not the downside either.  Something like an 8:1.5 K:BB guy with a decent ERA, amazing WHIP, and opportunity for decent wins with that offense behind him.  The biggest issue I had with his stuff is he was nowhere as dominant pitching out of stretch vs. the wind-up.  He lost some velocity on the fastball, but fortunately can maintain the great command.  And thankfully with his microscopic walk rate, he won't be in the stretch too often anyway…
I was texting with Slim during the start yesterday (REL Astros owner) who has followed Musgrove through the Minors, and Slim was surprised they let Musgrove come out for the 7th.  Not only did he come out, but he mowed em down, allowing only a bloop single before three easy outs.  Says to me the Astros aren't going to handle him with baby gloves.  They need him in the rotation for the final stretch.  So does your fantasy squad; he's must-own ROS.
Updated Top 100 SP
(rankings for ROS based on 12-team Roto, green for risers, red for fallers)
| RANK | SP, TEAM |
| --- | --- |
| 1 | Madison Bumgarner, SF |
| 2 | Max Scherzer, WAS |
| 3 | Jake Arrieta, CHC |
| 4 | Jose Fernandez, MIA |
| 5 | Chris Sale, CWS |
| 6 | Stephen Strasburg, WAS |
| 7 | Corey Kluber, CLE |
| 8 | Jacob deGrom, NYM |
| 9 | Johnny Cueto, SF |
| 10 | Noah Syndergaard, NYM |
| 11 | Jon Lester, CHC |
| 12 | Carlos Carrasco, CLE |
| 13 | Cole Hamels, TEX |
| 14 | Justin Verlander, DET |
| 15 | Yu Darvish, TEX |
| 16 | Zack Greinke, ARI |
| 17 | Gerrit Cole, PIT |
| 18 | David Price, BOS |
| 19 | Danny Duffy, KC |
| 20 | Adam Wainwright, STL |
| 21 | Carlos Martinez, STL |
| 22 | Kenta Maeda, LAD |
| 23 | Jose Quintana, CWS |
| 24 | Chris Archer, TB |
| 25 | Masahiro Tanaka, NYY |
| 26 | Drew Pomeranz, BOS |
| 27 | Matt Shoemaker, LAA |
| 28 | Kyle Hendricks, CHC |
| 29 | Tanner Roark, WAS |
| 30 | Jason Hammel, CHC |
| 31 | Blake Snell, TB |
| 32 | Steven Matz, NYM |
| 33 | Michael Fulmer, DET |
| 34 | Anthony DeSclafani, CIN |
| 35 | J.A. Happ, TOR |
| 36 | Dylan Bundy, BAL |
| 37 | John Lackey, CHC |
| 38 | Joe Musgrove, HOU |
| 39 | Zachary Davies, MIL |
| 40 | Danny Salazar, CLE |
| 41 | Dallas Keuchel, HOU |
| 42 | Michael Wacha, STL |
| 43 | Sean Manaea, OAK |
| 44 | Marco Estrada, TOR |
| 45 | Michael Pineda, NYY |
| 46 | Chris Tillman, BAL |
| 47 | Jameson Taillon, PIT |
| 48 | Marcus Stroman, TOR |
| 49 | Jake Odorizzi, TB |
| 50 | Aaron Sanchez, TOR |
| 51 | Taijuan Walker, SEA |
| 52 | Rich Hill, LAD |
| 53 | Tyler Skaggs, LAA |
| 54 | James Paxton, SEA |
| 55 | Junior Guerra, MIL |
| 56 | Felix Hernandez, SEA |
| 57 | Ian Kennedy, KC |
| 58 | Jon Gray, COL |
| 59 | Rick Porcello, BOS |
| 60 | Vincent Velasquez, PHI |
| 61 | Kevin Gausman, BAL |
| 62 | Adam Conley, MIA |
| 63 | Matt Moore, SF |
| 64 | Steven Wright, BOS |
| 65 | Ervin Santana, MIN |
| 66 | Jeff Samardzija, SF |
| 67 | Jose Berrios, MIN |
| 68 | Julio Teheran, ATL |
| 69 | Hisashi Iwakuma, SEA |
| 70 | Trevor Bauer, CLE |
| 71 | Clayton Kershaw, LAD |
| 72 | Jimmy Nelson, MIL |
| 73 | Jeremy Hellickson, PHI |
| 74 | Collin McHugh, HOU |
| 75 | Gio Gonzalez, WAS |
| 76 | Andrew Cashner, MIA |
| 77 | Scott Kazmir, LAD |
| 78 | Drew Smyly, TB |
| 79 | Archie Bradley, ARI |
| 80 | Jerad Eickhoff, PHI |
| 81 | Luis Severino, NYY |
| 82 | Carlos Rodon, CWS |
| 83 | Robbie Ray, ARI |
| 84 | Jaime Garcia, STL |
| 85 | Dan Straily, CIN |
| 86 | Brandon McCarthy, LAD |
| 87 | Francisco Liriano, TOR |
| 88 | Mike Leake, STL |
| 89 | Mike Foltynewicz, ATL |
| 90 | Josh Tomlin, CLE |
| 91 | Bartolo Colon, NYM |
| 92 | CC Sabathia, NYY |
| 93 | Mike Fiers, HOU |
| 94 | Homer Bailey, CIN |
| 95 | Matt Boyd, DET |
| 96 | Jose De Leon, LAD |
| 97 | James Shields, CWS |
| 98 | Matt Andriese, TB |
| 99 | Yordano Ventura, KC |
| 100 | Eduardo Rodriguez, BOS |
Dropped Out: Lance McCullers, HOU (elbow, I'm just assuming he's done), Aaron Nola, PHI (elbow/awful), Sonny Gray, OAK (forearm/awful), Joe Ross, WAS (shoulder/siggggghhhhhh), Jordan Zimmermann, DET (lat/awful),
Thoughts on the must add label for Musgrove?  And what did I get wrong in the ranks this week?  I need your help for things that fall through the cracks!  Let me know in the comments, and happy pitching Razzball Nation!