Mike Trout used to be pretty much the only reason to watch the Angels :::pause here for sobbing break:::. Despite having the best player on the planet and one of the larger budgets in the league, the Angels were still not very good. Now Trout is gone forever (Okay, he will probably be back in a couple months) and we have no reason to watch that team out in Los Angeles of Anaheim of California or whatever they are calling themselves this week. But that wouldn't make any sense. Why would I start off this article with such a non-sequitur? Aha! I wouldn't!
Enter Alex Meyer. Meyer is your new Trout, your new reason to watch the Angels. Okay, okay, okay, that isn't true. But what if I told you Meyer was owned in just 2.7% of ESPN Fantasy Baseball leagues and was striking out 10.44 batters per nine innings pitched this season? Not convinced because it is only seven starts? Okay, what if I told you that over six seasons in the minor leagues he struck out more than 10.5 batters per nine innings? I'm not sure what I'm expecting in response to those "what if" questions, especially since you are reading this at least two days after I wrote it, but those numbers are correct. Meyer is a high upside roll of the dice as a two-start option for Week 11. Not convinced? Here's an elegant scouting report from his last start by a Los Angeles Times beat writer:
Alex Meyer struck out a career-high nine dudes and threw a career-high 101 pitches. 3 hits, 4 walks, and an unearned run in 6 innings.

— Pedro Moura (@pedromoura) June 8, 2017
Nine dudes! It was also the fourth time in his last five starts that Meyer struck out seven or more dudes. Three of those starts were quality starts. Not too shabby, right? Oh, and did I mention he is 6'9″ and throws gas? Well, he does:
Top average fastball velocity among starters:
98.7 Noah Syndergaard
97.2 Luis Severino
96.2 Carlos Martinez
96.2 Alex Meyer
96.1 Gerrit Cole

— Aaron Gleeman (@AaronGleeman) June 2, 2017
Despite it being a day or so after I wrote this and not knowing you on a personal level, I know what you're thinking: why is this hunk only owned in 2.7% of ESPN leagues? If you skipped ahead to the charts below, you might also be wondering why he is in The Knockoffs tier and not somewhere higher. Well, a number of reasons. First and foremost, he is an unproven starter on a bad team. The Angels, like we discussed earlier, weren't all that good with Trout in the lineup, and they sure ain't better without him.
He also has some troubling peripherals. While my man is striking out 10.44 per nine, good for third best behind DeGrom and Bauer among our two-start starters this week, he is also walking 6.11 per nine, which is dead last among our two-starters this week. Throughout his minor league career, he walked 3.8 per nine, which still isn't great but is a heck of a lot better than the 6.11 monstrosity he has right now. A 6.11 BB/9 and the fact that he pitches on the Angels is enough to scare most owners away. After all, he lost his last start despite going six innings, striking out nine batters, and giving up zero earned runs.
While the walks are terrifying and make him a candidate capable of imploding at any moment, there is a lot to like about Meyer. He's a former first-round pick with a ton of upside who, at the very least, is going to strike people out. I have him at the top of The Knockoffs tier below, but based on ownership percentage and ceiling I have him as one of the best bargains and gambles of the week. The pitchers I have ranked ahead of him I have as safer bets, but I don't know if anyone beneath maybe Bauer offers the kind of upside that Meyer does this week.
Pitchers are listed in order by rank. Colors represent 8 toughest or 8 easiest opponents according to team wOBA for last 14 days.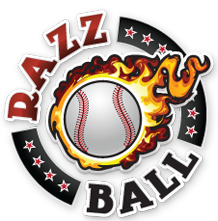 THE BEST
THE REPLICAS
THE STANDARDS
THE KNOCKOFFS
THE 
Player
Opponents
ERA/FIP
K9/BB9
Mike Pelfrey CHW
BAL,

@TOR

3.80/4.58
5.40/3.20
Kyle Gibson MIN

SEA

, CLE
6.52/5.25
6.52/4.84
Chad Kuhl PIT
COL,

CHC

5.63/4.09
7.29/3.98
Jerad Eickhoff PHI

@BOS

,

ARI

5.15/4.12
7.93/3.48
Luis Perdomo SD

CIN

, @MIL
5.47/4.40
7.79/3.15
Yovani Gallardo SEA
@MIN, @TEX
6.26/5.01
6.82/4.18
Jharel Cotton OAK

@MIA

,

NYY

5.20/5.02
7.81/4.39
Alec Asher BAL
@CHW,

STL

4.35/4.62
7.40/2.61
Ty Blach SF
KC, @COL
3.64/3.93
3.64/1.82
Kyle Freeland COL
@PIT, SF
3.34/4.57
5.66/3.60
Ben Lively PHI

@BOS

,

ARI

2.57/3.93
1.93/3.21
Bronson Arroyo CIN
@SD,

LAD

6.25/6.86
5.68/2.70
All pitchers are projected for two starts as of Friday night. 
If you would prefer to see the above tables as a color-coded graphic, we've got that too!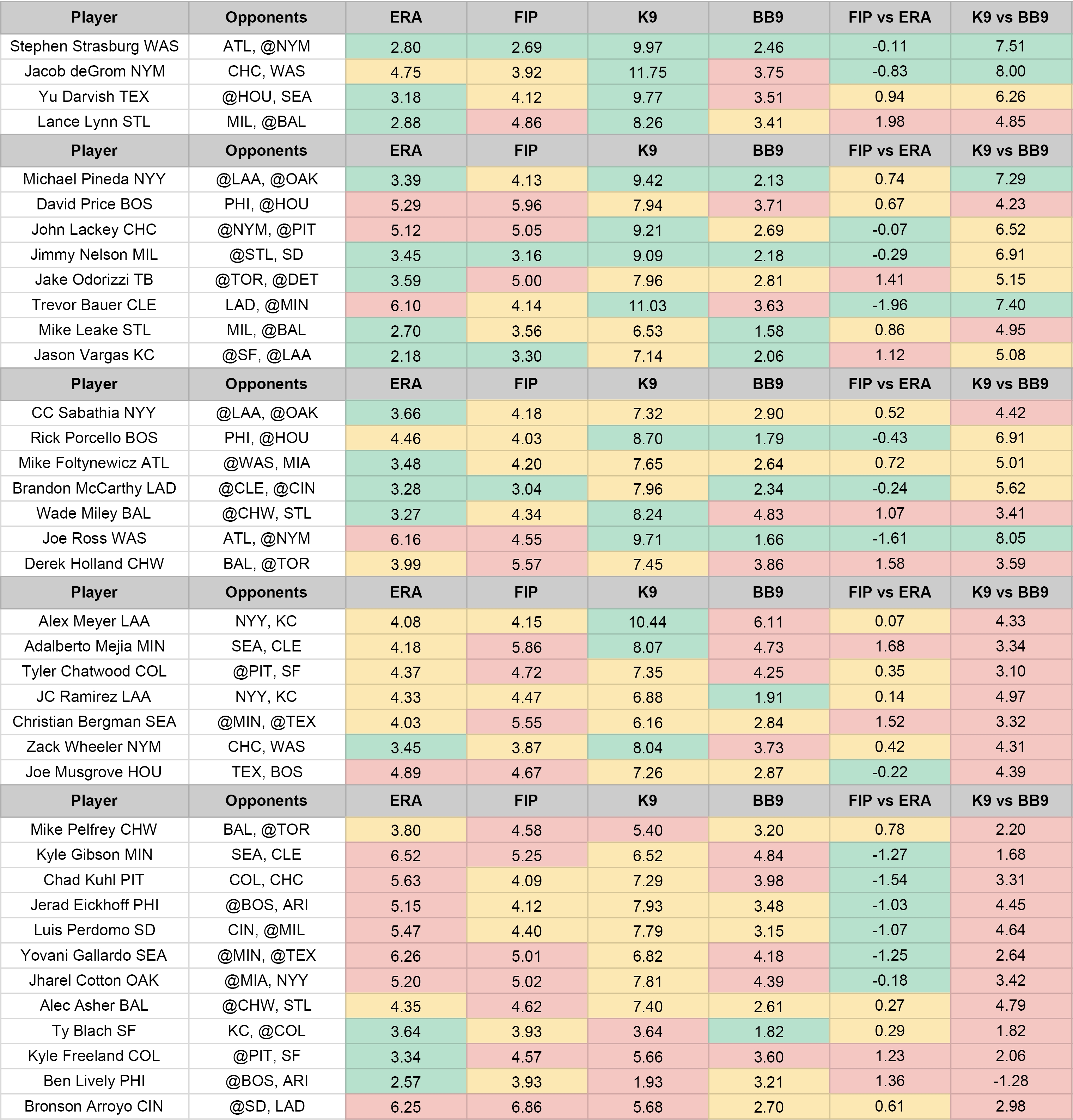 As always, disagree with anything here? Have any questions or comments? Want to tell Mike how great he is or how much you agree with him? Want relationship or investment advice?
DROP THOSE COMMENTS!
If you want to talk fantasy baseball or football or have players you want Mike to feature, hit him up on Twitter at @mikeMaher or post a comment below!