HDMH is a motivational phrase created by Blue Jays starter Marcus Stroman. It stands for 'Height Doesn't Measure Heart'.
On Saturday night, Marcus Stroman twirled a 4.2 inning gem against the Dominican Republic, striking out four batters, walking none, and allowing only three ground ball singles. When Stroman was removed before his 65th pitch – the limit for starters in the pool round of the WBC – Tanner Roark, David Robertson, and Andrew Miller proceeded to give up seven earned runs on seven hits. Combined, that trio recorded only nine outs and threw 19 more pitches than Stroman, producing substantially less impressive results. Needless to say, I was thoroughly impressed with how the Blue Jays starter carved through the Dominican Republic's lineup.
Razzball Commenter Leagues are open! Play against our contributors and your fellow readers for prizes. Join here!
During Spring Training, fantasy owners are constantly told to disregard results of games. We've seen numerous players inflate with helium on draft boards in the past. Their names are a standard every time this idea surfaces; Maikel Franco, Brandon Belt, and Taijuan Walker.
What I've hypothesized on in the past few days of inter-country play is this 'caution' not to apply exhibition stats in player valuation, incorrectly rubs off on the World Baseball Classic. It may be because the United States isn't as invested emotionally as the other countries involved, but the markets need to adjust quicker to the players that have stood out – Marcus Stroman in particular. When they don't, it leaves the door open for some great value in rounds 7 – 15, or what I call the sweet spot of drafts.
Saturday night's powerhouse matchup felt like a playoff game in the middle of March. This was competitive baseball, with Stroman facing the lineup I now expect to take the 2017 crown in the Dominican Republic, and he dominated.
With this stellar performance now behind us, I've thought about starting my own brand of motivational clothing called HDMS. Height Does Measure Strikeouts. Marcus Stroman would be the brand ambassador and outlier of sorts, as you'll soon see. But seriously. Does anybody know Kevin O'Leary? Can we get this on Shark Tank?
In each of the last two seasons, every starting pitcher inside the top 30 in strikeout rate has been at least 6'0″ (min. 100 IP).
Marcus Stroman is 5'9″.
His K rate last season was 19.4%, up 1.9% from 2015. Aaron Nola had almost an identical swinging strike rate as Stroman (9.6% versus 9.3%) and was able to magically post a 25.1% strikeout rate, due in part to how good his curveball was and its high usage. Nola was also the only pitcher in the top 30 strikeout rates to have a swinging strike rate below 10%. We're meddling on percentage points, but if that doesn't bring about at least a bit of hesitancy regarding Nola's ability to maintain an elite strikeout rate, you have more confidence in Nola than I do. What does this mean for Stroman? For one, players can often amass success greater than their peripherals suggest is possible. And even more appealing, maybe we're looking at a bit of room for improvement on the 19.4% mark from last year in the Jays righty.
If we want Stroman to be our outlier and spokesmen for the HDMS brand, his swinging strike rate would need to climb in order to see a corresponding strikeout rate near the 23% mark – which is right about where you'd need to be to finish top 30 in baseball based upon the past few seasons.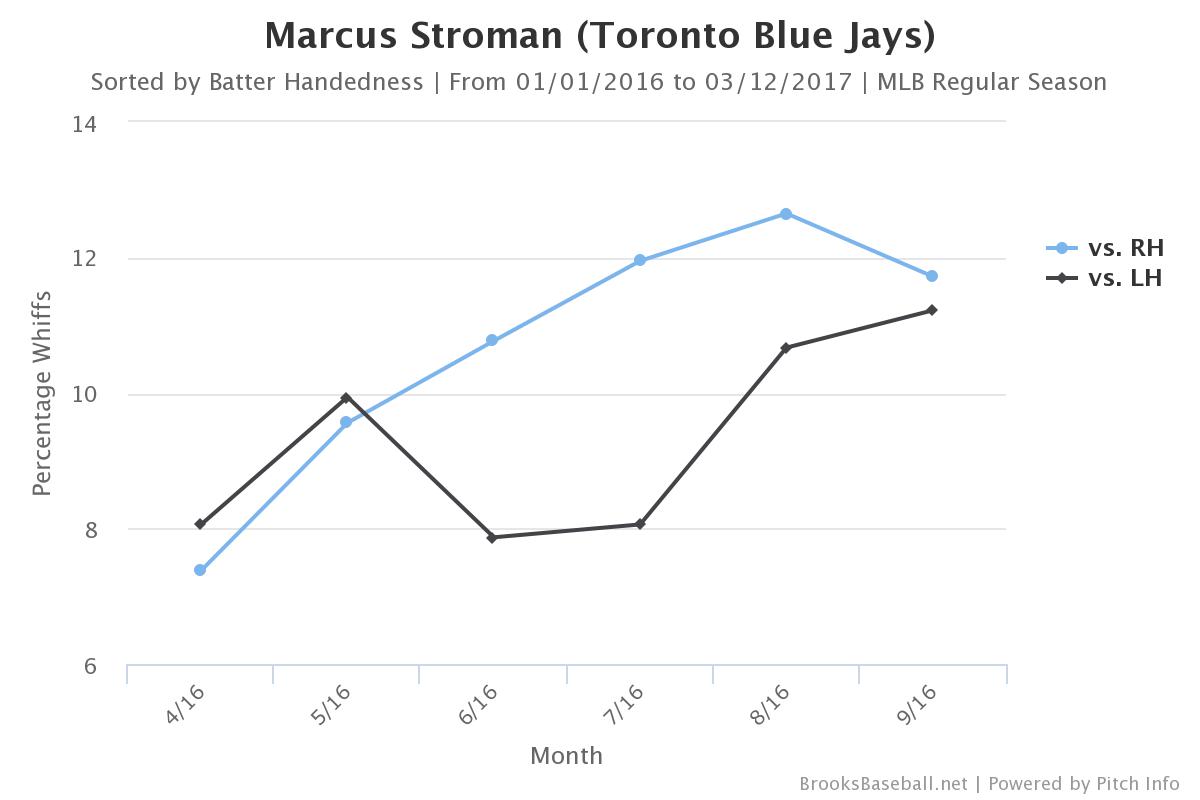 That's a rolling trend line of Stroman's swinging strikes on all pitches by month for the 2016 season. This line for lefties was a roller coaster, but the overall trend is still positive as the season went on. Facing righties, I can't think of anything else more encouraging than that blue line we see when looking ahead to 2017, especially when you consider that Stroman was likely still feeling out his mechanics post knee surgery from early 2015. He simply found his groove as the season progressed. Sometimes the most obvious explanation is the one that holds up best.
This in-season recovery to the Stroman we know from the minor leagues is precisely the reason why we should be more confident in his second half stats when projecting out for 2017. Saturday's dominance of the Dominican Republic simply validated what we would want to see early from Stroman. The more accurate assessment of his actual swinging strike rate when performing at full health and comfortably with that knee is conservatively in the middle of this chart. Let's say around 10.5%. If we're correct on Stroman's real swinging strike rate sitting above the 10% mark, it will be tough not to expect something in the realm of a 2% jump in strikeouts, to 21% overall. Only five of the 48 pitchers with swinging strike rates at or above 10.5% had strikeout rates under 21%, and while Stroman isn't going to be a 9+ K/9 pitcher, he can teeter on that fence despite what the aggregate prior year stats show.
Here are the splits between his first and second half…

NFBC ADP has Stroman as the 38th pitcher off the board, around 158th overall, which places him somewhere in the 12th to 13th round.
Grey on the other hand is a bit more bullish, which I was happy to see. Stroman is ranked 31st among starters and 128th overall, projected for a 12-8 record with a 3.54 ERA, 1.24 WHIP, and 184 strikeouts over 204 innings.
The one thing we haven't even considered yet is the amount of ground balls this righty generates with his two-seam fastball.
At a time in baseball where a fly ball revolution may be in full effect (Travis Sawchik of Fangraphs interviewed J.D. Martinez on that exact idea), Stroman was able to post the only ground ball rate above 60% in the major leagues among qualified pitchers last season. Groundballs aren't exciting to any extent, and that's cause they do the least amount of damage among batted balls. Good for pitchers, bad for hitters. If some sick universe exists where Stroman can pitch 200 innings, increase his strikeout rate to 21-22%, put the ball on the ground better than anybody in the majors, and isn't a top 40 pitcher, we need to consider abandoning that universe.
I'll admit, I hadn't looked too deeply into Stroman's progress throughout the 2016 season before releasing my SP rankings, focusing more so on the other big starter in question for the Jays, Aaron Sanchez, whom I nuzzled just outside my top 30 even with his peripheral concerns.
With my 'Stroman-enlightenment' in full blossom, I'm in the process of moving our HDMS brand ambassador up about eight spots, to 'Grey territory', about my 30-31st overall starting pitcher. I'm very comfortable taking him as a high floor option inside the top 120 overall with all the ground balls he generates and swinging strike uptick I expect to come.
Looking back to the World Baseball Classic. This isn't spring training baseball. Disregard it as much as you want, but I'll be watching guys like Stroman, Baez, Joey Bats, Lindor, Yelich, and others very closely as I stitch up any loose ends on my top 400 overall. Take a close look at any second half trends players had during 2016 and see if they're still lingering over the next few weeks. Don't overreact, but a hard look at a guy who is showing signs of mid-season form or better as the level of competition ramps up after pool play isn't a crazy thought.
You can follow Lance on Twitter, @LanceBrozdow, if you prefer to act like a proper millennial.