Here's a picture of Reds' outfielder, Jesse Winker: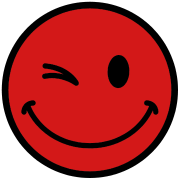 The first thing people notice about him is he looks drunk and half-Asian.  He was throwing back soju and partying in an 8×10 room with three other people singing karaoke?  No, siree!  Or, no Siri, if a female computer is reading.  Next, you might wonder why the big grin.  He doesn't have a body, ears, hair, arms, anything but a head really, so how can he keep such an upbeat attitude?  Well, let me put it to you this way, maybe it's a body, ears, hair, etc. that bums people out.  You never thought of that, did you?  Okay, I'm being silly, but it's Friday.  By the way, the other day, I realized that the days of the week MTWTFSS have WTF in the middle of them.  Mind –>blown.  So, with Schebler DL'd for an indefinite period of time, Winker has taken over right and started batting 2nd.  His power was goofy low in the minors this year (2 HRs in 85 games), but he doesn't strike out, does walk and could hit .290.  I know, a lot of good that does with diddly poo on power, but he has homered twice this week, and did have more power before this year in the minors.  I'd grab him in all leagues to see if he found his stroke, even if we're not sure what exactly he'd be stroking with.  Is that why he's smiling?  Anyway, here's some more players to Buy or Sell this week in fantasy baseball:
BUY
Christian Vazquez – Catchers suck, and, ironically, they're the straw that broke my last nerve, a drunk Yogi Berra once said.  Just thought of something, what if the whole time Yogi was a little high on marijuana?  "It ain't over 'til it's over" makes a lot more sense now, doesn't it?  He was doing bong hits with his son.  "When you come to a fork in the road, take it."  Um, yeah, because he had the munchies!  As for Vazquez, well, he's hot.
Tommy Joseph – This is a strictly Hitter-Tron pick, like the pick it makes at the junkyard to find something greasy to stick its dipstick in.
Lucas Duda – Ever since he went to the Rays, there's been a blue jay on his shoulder, singing, oh, Duda, Duda, day.
Dominic Smith – I'm not super impressed with Smith.  He has 16 homers in the PCL, which translates to…*doing math*  Could this be right?  He actually owes the league two homers?  I might've forgot to carry the one somewhere.  Either way, he looks like a Loney clone, a Cloney.
Joey Gallo – All he does is hit homers!  Seriously, I looked through his game log and couldn't find a non-home run hit.
Steve Pearce – One of those types that gets scolding hot for about ten days to two (stutterer!) weeks, then disappears again.  I think we're about eight days into his hot streak.
Cesar Hernandez – Actually has had a solid year if you prorate it to a full season, 14 HRs, 25 SBs, .290.  By the way, when someone asks me what I do, I tell them, "I'm a prorater."
Rafael Devers – *researches how many leagues Prospector Ralph is in, subtracts that from total number of ESPN leagues*  So, it seems like everyone who's in a league without Prospector Ralph can pick up Devers, I'd go ahead and do that.
Kaleb Cowart – His minor league numbers are gorge — 12 HRs, 19 SBs, .311 in only 90 games.  Unfortch, the league and parks are doing him no justice by inflating his numbers.  Is it me (it's not me) or does every MLB team that plays in a pitchers' park have their minor leaguers play in hitting friendly parks?  Every team with a minor league hitter in the PCL is filming a baseball version of Shallow Hal.
Matt Davidson – Next year, I'm gonna call Davidson a poor man's Moustakas, and rename him Muttonchopkas.
Amed Rosario – Next time your lady friend says you don't do enough foreplay, you tell her, "The Mets did too much foreplay with Rosario, and now no one's interested in him anymore!"
Ozzie Albies – I just gave you my Ozzie Albies fantasy.  It was written at the Albies Square Mall.  Go shopping….go shopping…go shopping… I love that song.
Bradley Zimmer – This always happens with rookies (okay, not always, but a lot of the times).  Before they're called up, people are crazy for them.  Want them so bad!  Then a month-plus after they're called up, no one cares anymore about owning them.
Manuel Margot – Who's having a better season on the Player Rater:  Margot or Zimmer?   I like both, but Zimmer, and it's not that close.
Shane Greene – Okay, half the league changed closers, so I'm gonna run through these like a hot knife through a cow sculpture made of butter.  Then take said butter and spread it real slow on a steaming biscuit.  Then move that biscuit towards my mouth, pausing briefly to doff my cap towards a lady– All right, now I'm just imagining myself in Westworld.
Brad Ziegler – The guy that wins the Spongebob at the local carnival who throws 89 MPH and did time for armed robbery?  He could prolly close for two months on a major league team.  It's all we're asking of Ziegler.
Sean Doolittle – I'd love to be Jeff Goldblum on the wall when someone asks Dusty why he didn't go to Ryan Madson for saves.  Or what about Kintzler?  Garbled, Dusty replies, "That's not even worth removing my toothpick to answer."
Blake Treinen – The A's should start a campaign, where their fans raise their arms, smell their deodorant and scream, "By…Treinen!"  Damn, I'm like Bill Veeck Jr.
Arodys Vizcaino – Like Anne Heche, the Braves seemed to have permanently moved on from Johnson.
Trevor Rosenthal – This isn't a trading deadline change, so not sure why Rosenthal isn't owned in more leagues.  You don't like guys that sound like Jews?  Is that it?  That's messed up!
Matt Belisle – If you think you're going to enjoy owning this guy, you are on a Belisle all to yourself.
Luis Castillo – Yes, this is a Stream-o-Nator call, but, unlike most SON calls that involve second-guessing life choices, I like Castillo in the big picture, and could see holding him in deeper leagues.
Ricky Nolasco – Sunday's Stream-o-Nator call, like the call it makes to its local public access TV station to chat about programming.  So sad!
SELL
Mike Trout – Nope, have nothing bad to say about Trout ever, so don't think this is going to be that.  By saying I'd sell Trout, I'm saying I'd sell anyone this week in redrafts.  Trade deadlines are barreling towards us like we're a gorilla and this is Donkey Kong.  You need to win this year.  Not next year (well, maybe next year too), not last year (hopefully last year, but nothing we can do about that now).  You need to win if it means trading away one of the top players of all-time.  If you need pitching, saves and a middle infielder, you know how much Trout's doing for you?  I'm holding up a sign that reads, "Nothing," like I'm in an INXS video.  Would I trade Trout for swimming lessons with Robert Wagner and Christopher Walken?  No, but I would explore options.