A couple of weeks ago, I took a look at hitters who are being priced cheaper in 2020 than their 2019 stats would dictate. This week, it's time to assess Starters using the same approach.
Recency bias suggests that 2019 performance weighs most heavily in our minds when making 2020 decisions. That certainly plays out in many scenarios, but there are other players who's 2020 price is discounted compared to what just happened. I'm guessing that's mostly due to the prevalence of projection systems in player valuation. A good projection system should absolutely be the baseline for your 2020 valuations. But as we know, these systems are slow to pick up on skill changes. Three year weighted averages & regression to the mean helps the systems get the most players right; but it also means they systematically devalue 2019 stats. The goal of this post is to look at what just happened (2019 performance) and find places where the market (ADP) isn't pricing in those stats.
For a couple of reasons, with the reduced schedule & delayed opening day, I'm focusing even more heavily on skills over playing time:
The compressed schedule increases the cost of injuries, but not the predictability. A 1-month/28-game injury would have cost a pitcher 17% of their stats in 2019; in a projected 100 games, that's a full 28%. There's no time to recover your value if you get hurt. Since there's no reason to think we're any better at predicting injuries than we used to be, I'll be buying talent and crossing my fingers on health.
I expect teams to adopt a "sprint" approach. Rather than workload management over 162 games with an eye on the playoffs, in a shortened season, the standings will be compressed and teams should likely be pitching their best guys. Top prospects and "injury prone" SP may get all the IP they can handle.
Today's chart looks at 2019 dollar values per game, to measure recent skill, and 2020 ADP to measure the cost. Click to enlarge: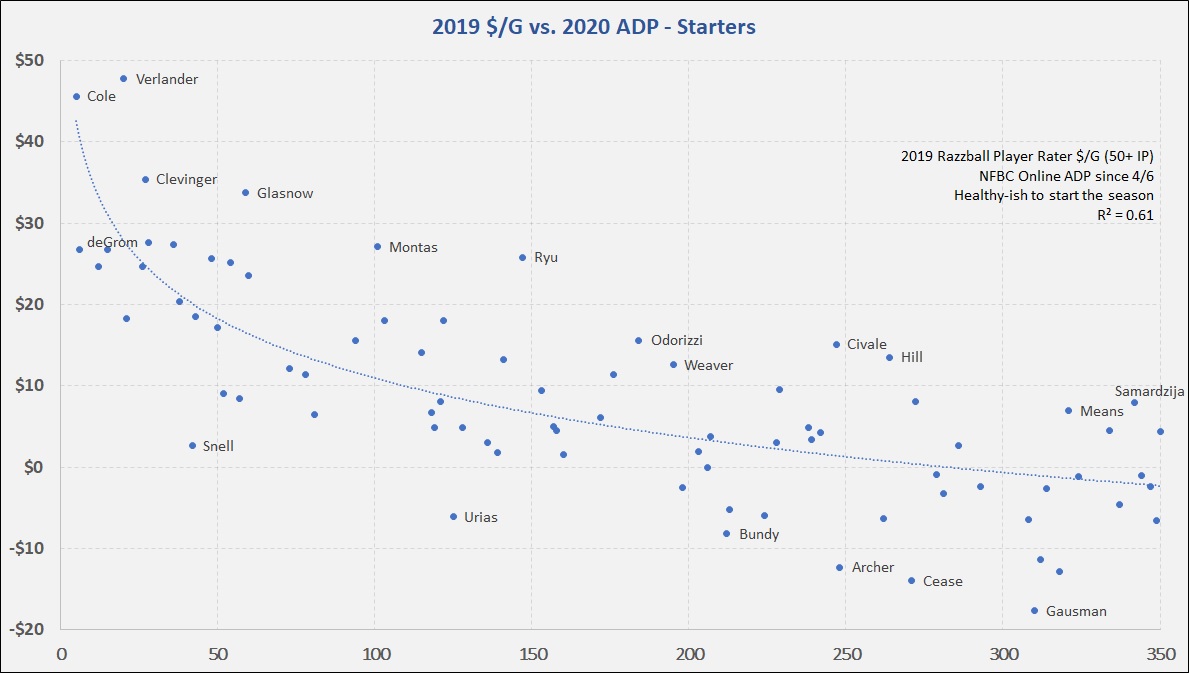 (For clarity's sake, I've only labeled those players notably far from their peers. You can see the full chart, with all players labeled, here.)
The chart can be read in two ways:
First, if you look at a player and draw a horizontal line, you can find out what he should cost (ADP), if you were buying a repeat of 2019. Jake Odorizzi, for instance, earned over $15 per game last year; on average, that production costs a top-75 pick, and Odorizzi is going at 184 overall. A bargain!
Second, if you draw a vertical line from a player, you can see about how much value you should expect to obtain from that pick. If you're drafting around pick 150, for instance, you should expect to get a player worth around $8 last year.
Based on this approach, who's cheaper in 2020 than their 2019 performance would dictate?
On the flip side, the guys sitting below the line underperformed in 2019 compared to their ADP cost this year. In other words, you are paying for a bounceback on these players:
Blake Snell gets a few extra months to get healthy; his poor performance last year could be a result of the balky elbow. He's going as SP 12 in drafts which is paying for a full bounceback, something I won't do.
Julio Urias appearance is a role-based issue. His 2019 doesn't look great because of low-IP and therefore few wins & Ks. With a rotation spot locked up and innings limitations likely out the window, he has a lot of potential. Still, at pick 125, you're paying for him to hit a ceiling he hasn't approached yet.
Dylan Bundy is a guy I've always faded, and always been happy with the result. He actively hurt you last year, yet is being drafted at pick 212 based on… ? A new location & prospect dreams?
Chris Archer has been terrible for two years in a row. He'll pile up the Ks but at a big cost to ratios, and of course we shouldn't expect many wins.
Dylan Cease is young, and his teammate recently made a big jump. That's about all the positive spin I can find.
Kevin Gausman was the worst pitcher in our pool last year on a per game basis. Yet, he's cheap (pick 310), now pitches in San Francisco, no longer has to face the AL East lineups, and actually piled up a lot of Ks last year. Still under 30, I'm interested in a later flier.