If you had just one stat to use for your drafts this year, what would it be?
A common complaint I see from fantasy experts is recency bias, that cognitive bias whereby we depart from the most rational decision based on an over-reliance of the most recent data because it's fresh in our minds. Most of us are aware that this bias exists, and try to counterbalance. We use 3-year weighted projections; analyze exit velocity and launch angle instead of RBI; and pay more for a young player with perceived "upside". In my view, there's a danger amid smart fantasy owners of going too far the other way and discounting what just happened. Today, I want to take a look at the way a brand-new fantasy owner might answer my initial question: who played the best in 2019?
A tangent: For a couple of reasons, with the reduced schedule & delayed opening day, I'm focusing even more heavily on skills over playing time:
The spread of Games Played should be compressed. Marcus Semien racked up 747 PA last year over 162 games, nearly 100 more PA than Cody Bellinger accumulated in 156 games. If we project 100 games in 2020, that gap is only 40 AB. There just isn't time to distance yourself from the pack by sheer volume.
The compressed schedule increases the cost of injuries, but not the predictability. A 1-month/28-game injury would have cost a hitter 17% of their stats in 2019; in a projected 100 games, that's a full 28%. There's no time to recover your value if you get hurt. Since there's no reason to think we're any better at predicting injuries than we used to be, I'll be buying talent and crossing my fingers on health.
Today's chart, then, looks at 2019 dollar values per game, to measure recent skill, and 2020 ADP to measure cost. Click to enlarge: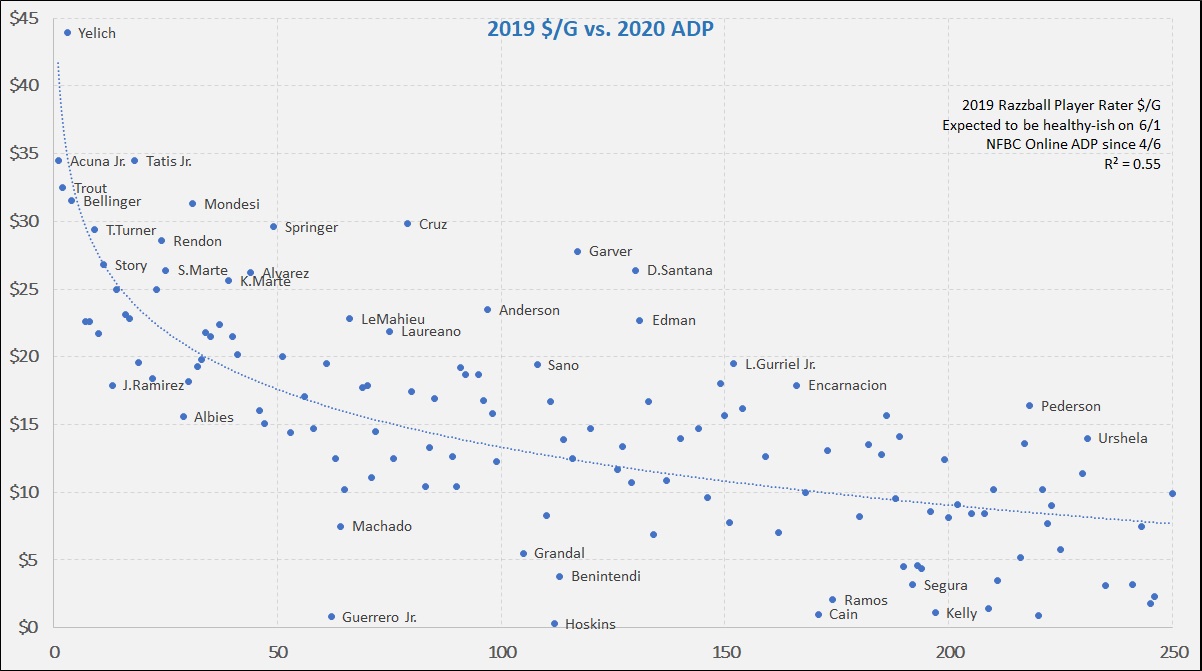 (For clarity's sake, I've only labeled those players notably far from their peers. You can see the full chart, with all players labeled, here.)
The chart can be read in two ways:
First, if you look at a player and draw a horizontal line, you can find out what he should cost (ADP), if you were buying a repeat of 2019. Miguel Sano, for instance, earned over $19 per game last year; on average, that production costs a top-50 pick, and Sano is going at 108 overall. A bargain!
Second, if you draw a vertical line from a player, you can see about how much value you should expect to obtain from that pick. Manny Machado will cost you pick 64; on average, that pick is worth about $17 in production per game, but Manny only gave you ~$7.50.
Based on this approach, who's cheaper in 2020 than their 2019 performance would dictate?
On the flip side, the guys sitting below the line underperformed in 2019 compared to their ADP cost this year. In other words, you are paying for a bounceback on these players: