Coming into this season Yu Darvish owners had a lot to be excited about with his off season signing with the Chicago Cubs. With the Cubs potent offense averaging 5.07 runs per game in 2017 and Darvish's career 3.41 ERA coming into this year, he was set to get all the run support he'd need to prosper. Unfortunately even with a career K/9 of 11.04, Darvish's 2018 season has been a disappointment. Even though he's still striking out at least 11 batters per nine, he's only averaging 9.38 points per start over his eight starts. For comparison, Miles Mikolas is averaging 19.09 points per start. Darvish is currently on the disabled list with inflammation in his right triceps which I'm sure owners are hoping will explain his less than stellar start to 2018. In the meantime, let's take a look at some other players that are not living up to our preseason expectations.
I'm going to go out on a short limb (think Jim Abbott) and say that if you were able to exit this year's draft with the following starting lineup that you'd be awfully excited for the coming season.
C: Gary Sanchez
Mr. Sanchez has 117 points. While that is the fourth most amongst catchers, those that drafted Sanchez had to use a high draft pick considering he was the first catcher off the board and were probably expecting better than 0.58 points per plate appearance. ADP: Round 3
1B: Paul Goldschmidt
I'm not even sure where to start with Paulie G. So far he's probably the most disappointing superstar in fantasy baseball. With only 99 points (0.41 PPPA), he's been nothing more than fools gold. He is currently the 30th best first baseman. Put that in your gold pipe and Justin Smoak it. Speaking of Smoak, he's besting Goldschmidt in every offensive category. I'd like to repeat what I said about him last week. "Excluding an injury shorted 2014 in which he was on pace for over 500 points he hasn't scored less than 500 since 2013". ADP: Round 1
2B: Brian Dozier
For the last four years Dozier has been a top five second baseman. Over the last three years he has averaged 450 points per season. Currently he has 136 and is on pace for 391. That makes him twelfth on the list of 2B. ADP: Round 3
3B: Josh Donaldson
Knock knock. Who's there? Vladimir Guerrero Jr. Vladimir Guerrero Jr. who? Listen Josh, just pack your bags and the funk out of Toronto. I have never been a fan of Donaldson. I know he's hurt, but that just doesn't surprise me. Nor does it make his shit season any more acceptable. He's got 75 points with a 0.47 PPPA. Knock knock. Who's there? Mr. Myagi. Mr. Myagi who? Donald-san, you baseball no good. ADP: Round 4
SS: Corey Seager
Ok, this one is kinda cheating considering he's out for the season with an injury. However, before exiting stage left Seager had 2 home runs in 101 at bats and 0.54 PPPA. Not exactly what you'd be hoping for from a top shortstop. Hey, at least his brother Kyle is doing well. Oh wait, he's not. My bad. ADP: Round 4
OF: Rhys Hoskins
Rhys lightning is not quite living up to the preseason hype either. His season started off pretty good, but it seems to have fallen off of a cliff. In fact, his 107 points (0.51 PPPA) has him outside the top 50 outfielders. As far as 1B is concerned, he's outside the top twenty. ADP: Round 4
OF: Marcell Ozuna
Ozuna had a breakout season last year with 37 home runs and 472 points. Couple that with his move to the Cardinals, he was riding a high coming into this year. Well his high has quickly worn off. He has only 102 points and is on pace for just 287. I've got to assume Ozuna owners just threw up in their mouths when they read that. They knew things were bad, but not 0.46 points per plate appearance bad. Marcell Marsold you a bill of goods. ADP: Round 5
OF: Cody Bellinger
From one disappointment to another. Bellinger is nearly exactly as disappointing as Ozuna. With just 113 points (0.48 PPPA) he has become nothing more than a bench bat in fantasy leagues at this point. Some might call it the sophomore slump, but I call it a damn shame. What was it that Eminem said? And Cody? You can get stomped by Odie. Ok, maybe that wasn't the line, but I'm running with it for now. ADP: Round 4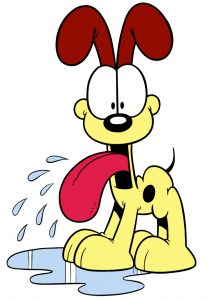 While Stanton hasn't been horrible, in points leagues he hasn't been that great either. His 123 points have him outside the top 30. That's not exactly what anyone was expecting from a player drafted so high. Brett Gardner has been more valuable! ADP: Round 1
Now let's take a quick look at another lineup which unlike the one above was absolutely possible on draft day.
C: Francisco Cervelli – 125 points (0.75 PPPA) – ADP: undrafted
1B: Carlos Santana – 153 points (0.64 PPPA) – ADP: 11th round
2B: Ozzie Albies – 184 points (0.68 PPPA) – ADP: 12th round
3B: Mike Moustakas – 169 points (0.69 PPPA) – ADP: 12th round
SS: Andrelton Simmons – 180 points (0.77 PPPA) – ADP: 15th round
OF: Nick Markakis – 196 points (0.75 PPPA) – ADP: undrafted (current points league MVP)
OF: Michael Brantley – 178 points (0.85 PPPA) – ADP: 17th round
OF: Mitch Haniger – 160 points (0.67 PPPA) – ADP: 20th round
DH: Mitch Moreland – 125 points (0.80 PPPA) – ADP: undrafted
Not one of these players was drafted before the 11th round and several went undrafted. You could have loaded up on stud pitchers in the first six+ rounds and then still had time to play with your picks before drafting this team. I understand that hindsight is 20/20, but this just shows you how possible it is to draft a winning team without using big names or relying on your first few picks. Perhaps this will make you think a little longer when someone proposes you a trade which includes you giving up you first round pick for the next season in exchange for players that will help you win now. How important is that pick after all?
And just in case you though the above list of players was a fluke, here's another roster that would likely have you near the top of your league. Notice again that not one player was drafted before the 11th round.
C: Yasmani Grandal – 120 points (0.61 PPPA) – ADP: 18th round
1B: Justin Smoak – 140 points (0.61 PPPA) – ADP: 14th round
2B: Scooter Gennett – 160 points (0.69 PPPA) – ADP: 15th round
3B: Yangervis Solarte – 158 points (0.66 PPPA) – ADP: 14th round
SS: Javier Baez – 160 points (0.73 PPPA) – ADP: 15th round
OF: Eddie Rosario – 175 points (0.76 PPPA) – ADP: 11th round
OF: Nomar Mazara – 162 points (0.64 PPPA) – ADP: 14th round
OF: Corey Dickerson – 155 points (0.71 PPPA) – ADP: 17th round
DH: Jesus Aguilar – 123 points (0.74 PPPA) – ADP: undrafted
Follow malamoney on Twitter at @malamoney