There's embarrassment and then there's having to cover in detail a fantasy baseball league you're nearly dead last in. So begins our first monthly update on the in house dynasty league "The RazzNasty". For those of you that are new here, "The RazzNasty" is a Razzball founded dynasty league made up of Razzball writers, readers, commenters, and Methodists! It's a 16 team roto with semi-weekly adds/drops via blind auction. We have 30 man MLB rosters and 10 man minor league rosters. Since we last updated you in early March there's been a flurry of activity including trades, wire adds, a second commissioner switch, and a banana or two in the tailpipe. So yes it's more or less high stakes Mario Kart.
With a 20 point lead founding member Mentok sits atop the table. With a core of Anthony Rizzo, Jake Arrieta, Neil "Mickey Mantle" Walker, a good pen, and  solid depth across the squad, he should stay in the mix. He's immediately proceeded by frequent commenter Shill Team 6 in second, The Hippos managed by RCL Czar Matt Truss in third, new commish Yes Cheese in fourth, Razzball's very own villan "Ra'zbhal" Al Ghul in fifth, followed by the J-FOH managed Dr. Gonzo ESQ in sixth, while the top half of the standings are rounded out by former Prospector Mike, and first year manager Raskals. The remaining 8 are made up of sleeping giants like last season's runner up Hannibal Montana, under performing squads like the Smokey managed Smoke Show, and prospect heavy rebuilders like yours truly. It's sure to be an up and down fight all season with probably ten or so teams in the mix. Now let's take a look at some of the transactions.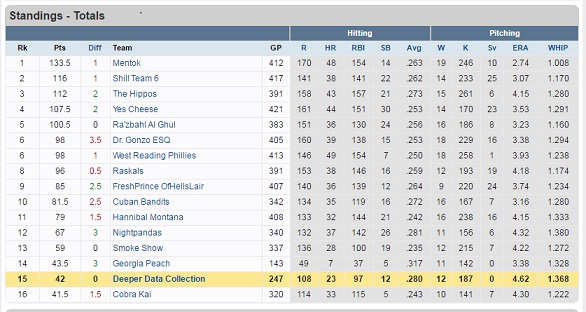 Trades
Since we last updated you a handful of trades have taken place.
Deeper Data Collection trades: Matt Carpenter, Zack Greinke, Mark Teixeira, and Desmond Jennings To Smoke Show for: Andrew Benintendi, Sean Manaea, Xander Bogaerts, and Dilson Herrera.
This trade had been in the works for awhile, as I continued my rebuild and Smokey turned some of his high end prospects into win now talent. It's yet to pay dividends for Smoke Show, but it's early.
Nightpandas trades: David Price, Adam Jones, Collin McHugh, and Drew Storen To Hannibal Montana for: Brett Phillips, Anthony Alford, Francis Martes, Dalton Pompey, Willson Contreras.
Nightpandas commits to rebuilding while Hannibal clears out his prospect talent to upgrade his already stacked squad. The level of minor league talent headed NP's way should not be ignored, as all 5 of these players have prospect pedigree with Phillips, Martes, and Contreras looking like potential impact fantasy players. Alford is raw and a little further away, while Pompey has lost some of his shine following an up and down (literally) 2015. Hannibal's side is easy to appreciate as he adds an ace, a top 30 outfielder, a reliable starter, and well, Storen, a demoted closer who's since been dropped.
Hannibal Montana trades: Michael Brantley To Deeper Data Collection for: Todd Frazier
I'm a big fan of Brantley, and with my window probably a year away I was willing to move the older Frazier for Brantley a player with across the board production who should be a veteran presence in my virtual clubhouse as the youngsters matriculate. Hannibal adds a powerful corner bat to pair with Adrian Gonzalez, Eric Hosmer, and Evan Longoria.
Nightpandas trades: Chris Carter, David Ortiz, and Fernando Rodney To Shill Team 6 for: Zack Wheeler, Keon Broxton, Joey Rickard, Trent Clark
This is your classic dynasty trade of rebuilding team unloading older players for young MLBers and prospect(s). Shill upgrades his power and adds some saves from an archer with a tilted brim. Conversely NP continues his rebuild adding a high ceiling arm in Wheeler, a high end hitting spec in the low minors in Trent Clark, maybe the surprise of the season in Joey Rickard, and a high minors player with a speed/power profile in Broxton.
Wavier 
Adds
There's been a flurry of wavier activity in our semi-weekly auctions.
Mentok: Steven Wright ($0), Aledmys Diaz ($1), and Donnie Dewees
Shill Team 6: Alex Meyer ($2), Tyler Thornburg ($2), Jhoulys Chacin ($6), Tony Kemp ($0), Tony Cingrani ($6),
The Hippos: David Freese ($0), Alex Guerrero ($0), Andrew Bailey ($6), Eduardo Nunez ($6), Bartolo Colon ($2), Cody Anderson ($39)
Yes Cheese: Logan Verrett ($0), Edwin Diaz ($1), Ronald Acuna ($4), Stephen Gonsalves ($2), Nate Jones ($1)
Ra'zbahl Al Ghul: Adam Warren ($2), Silvino Bracho ($15), Melvin Upton Jr. ($0), Miguel Castro ($7), Jordan Guerrero ($1), J.J. Hardy ($4)
Dr. Gonzo ESQ: David Phelps ($0), Rafael Ortega ($0), Justin Wilson ($0), Francisco Cervelli ($0), Ross Stripling ($3)
West Reading Phillies: Koji Uehara ($2), Joe Smith ($2)
Raskals: A.J. Griffin ($4), Joe Kelly ($3)
FreshPrince OfHellsLair: Hector Neris ($0), John Jaso ($1), Jedd Gyorko ($0)
Hannibal Montana: Michael Lorenzen ($0), Justin Wilson ($1), Ryan Cordell ($0), Carter Capps ($0), Pablo Sandoval ($0), Monte Harrison ($0), Jesus Sanchez ($0), Jeimer Candelario ($1)
Cuban Bandits: Yadier Molina ($0), Jordy Mercer ($0)
Nightpandas: Justin Smoak ($3), Jarrod Saltalamacchia ($0), Jeanmar Gomez ($21)
Smoke Show: Jon Jay ($1)
Deeper Data Collection: Andy Ibanez ($1)
Georgia Peach: Caleb Cotham ($12), Colin Rea ($4), Jimmy Cordero ($5)
Cobra Kai: Jeremy Hazelbaker ($4), Jed Lowrie ($0), Zack Cozart ($0), Kendall Graveman ($0)
Thanks for reading and to my RazzNasty leaguemates airhorn salute.